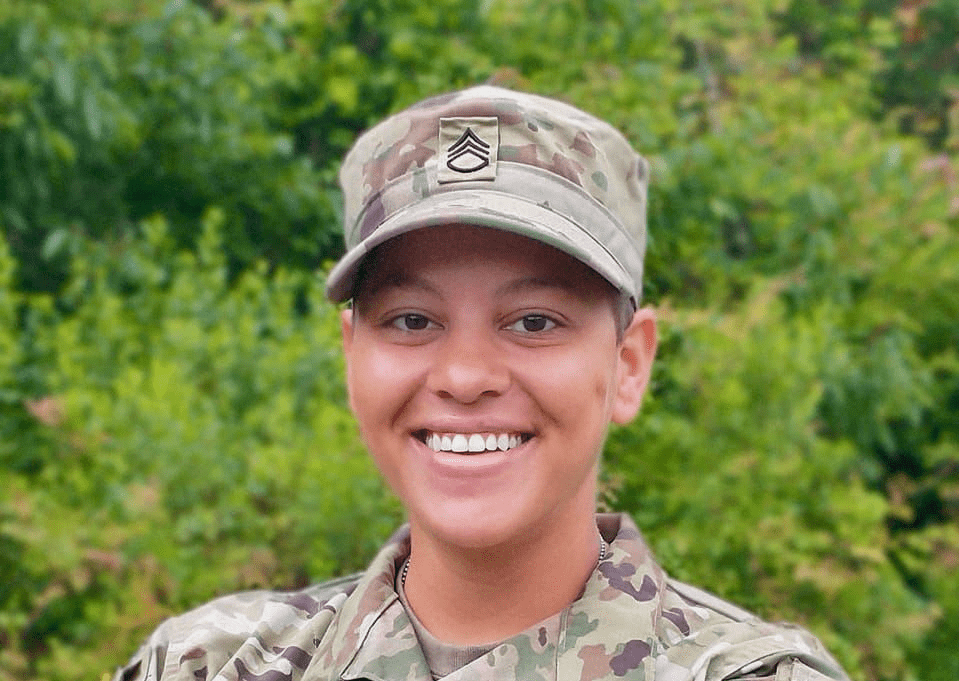 This Sunday, Joie Byrd will be representing the Virgin Islands as she competes in the Ms. Veteran America competition for a chance to provide resources for homeless women veterans, win $15,000, and become the official spokesperson for Final Salute, Inc.
Byrd is a music teacher and member of the V.I. National Guard. She is one of 25 women, out of 100, who advanced to the final round of the competition that will take place in Orlando, Florida on Oct. 30. Preliminary activities consisted of a talent competition and interview.
"Now this interview isn't just fluff questions like 'What makes you the best choice for Ms. Veteran America?'," said Byrd. "Instead, we are asked stats about the crisis of veteran homelessness in our country and about what the non-profit, Final Salute, Inc., is doing about it. The judges want to be sure that if we earn this title, we know our stuff backwards and forwards."
Byrd said she decided to compete because she was looking to challenge herself with something new while giving back.
"Part of the 'Soldier's Creed', something every soldier has ingrained in them, is to never leave a fallen comrade. The funds raised from this event all go toward providing resources for homeless women veterans. Lifting up these fellow veterans who have fallen on hard times really appealed to me and got me interested in competing," said Byrd.
So far, Byrd has raised more than $3,700, which will provide over 140 days of transitional housing for homeless women veterans and their children. All proceeds from the event help to provide housing and resources to women veterans experiencing homelessness.
The contestants in this weekend's final competition will be scored and ranked in interview, talent, military history, and advocacy categories. As for talent, a new format is being introduced via a lip-synch competition.
"At first I was like, really, lip-syncing?" said Byrd. "But the judges explained that they wanted to level the playing field and see how far we could go and how creative we could get with this untraditional talent format. And all of the contestants have just taken this and ran with it! There are people who have added choreography, background videos, props, and backup dancers. It's really impressive for what seemed like a basic talent."
Byrd is excited to be taking part in the competition.
"I have never competed in an event like this, and it is far from my comfort zone, which makes it very exciting," she said.
When asked about the most challenging aspect, Byrd replied that it has been feeling like she's not doing enough or good enough to compete.
"I learned that the rest of my cohort has felt the same way at times, and this is a pretty normal feeling when embarking on a big task. I keep coming back to the fact that every dollar raised makes a difference and every conversation educating people on the issue of homelessness among women veterans truly does matter," said Byrd.
She added that the most exciting part has been getting to meet and hear the stories of the other women veterans who are competing.
When asked if there is any advice she would like to give a fellow veteran or person wanting to participate in a pageant, she said that "for anyone else hoping to compete in an event like this, I would say that the first step is the hardest, so just go ahead and submit that initial application, and see where it takes you. I would also say don't be afraid to lean on those who are around you because we are stronger together."
Supporters can donate to Final Salute, Inc. using their website www.finalsaluteinc.org.
"Another way this competition differs from a pageant is that there are no popularity votes. The judges primarily care about our knowledge and the quality of the product we are presenting, not about votes we earn. So the biggest support would be to donate to the cause, and to consider purchasing a ticket to view the final event either virtually or in person if you'll be in the Orlando area," said Byrd.
For tickets or more information about the pageant, visit the Ms. Veteran America website.