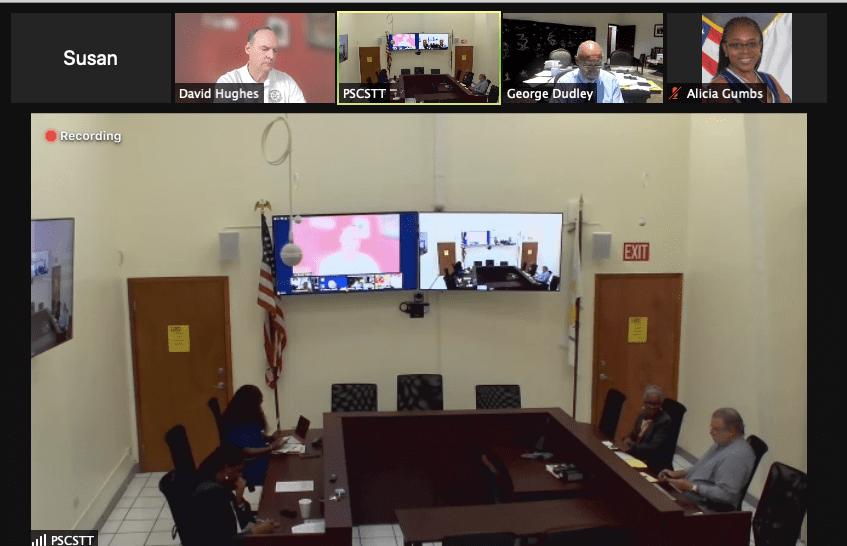 The Virgin Islands may be closer to solar energy power on a grand scale after the Public Services Commission approved Haugland Virgin Islands and Leeward Energy as qualified facilities to negotiate agreements to provide power to the V.I. Water and Power Authority.
The PSC held their regular meeting Wednesday, via Zoom, and first listened to Larry Gawlik, of Georgetown Consulting Group, who reviewed the applications.
Haugland wants to install two photovoltaic units on St. Croix and one on St. Thomas — each supplying 10 megawatts of power with up to 80 megawatts of storage. The St. Thomas unit would be 4.8 megawatts with 80 megawatts of battery storage. The company has not chosen locations but is looking at public sites. They did not provide financial information, Gawlik said, but they have a Virgin Islands business license.
Leeward plans two photovoltaic units with backup and storage for St. Croix, providing 30 megawatts of energy. They said they also have access to a number of solar modulars and other equipment for immediate deployment. Leeward also has not decided on a location. They do not have a V.I. business license but supplied sealed financials.
"They have completed what's required. We recommend the commissioners approve," Gawlik said about both applicants.
"The Virgin Islands is attempting to move to renewable energy as great of quantities as possible as quickly as possible."
Under questioning, commissioners were told that Georgetown's process was to verify that the companies follow a template, written 12-14 years ago, Georgetown does not render a "qualitative assessment of that information," Gawlik added.
Chairman David Hughes asked Sean Cooper, Haugland project manager, and Attorney George Dudley, representing Leeward, if any of the principles of the companies were employed by or associated with VIWAPA. "Not to my knowledge," both replied.
Although specific financial information is not required, Leeward provided sealed accounting documents, Gawlik said, but none of the commissioners had reviewed the financials before voting.
Both companies were approved by commissioners as qualified facilities. Only one of four, Pedro Williams, voted "nay."
Haugland is a construction company with subsidiaries and affiliates that provide civil infrastructure, energy and storm restoration services. Following the 2017 hurricanes, Haugland helped restore energy to the territory and then established Haugland Virgin Islands with an office on St. Thomas. Currently, Haugland works with VIWAPA's transmission, distribution and substation systems including the installation of new composite poles replacing wooden electricity poles.
According to its website, Leeward owns and operates 24 renewable energy facilities across nine states. The company was vetted somewhat by WAPA in September when they submitted a proposal to supply solar power on St. Croix.
At that time, Andrew Smith, WAPA chief executive officer, told the Source that St. Croix's peak demand is 40 megawatts.
According to the Solar Energy Industries Association, one megawatt of solar energy can power 190 homes, depending on sunshine, electric consumption, wind and temperature. Based on that number, Haugland and Leeward's units could supply energy to 3,800 to 5,700 homes.
The commissioners attending the meeting were Hughes, Williams, Raymond Williams and Andrew Rutnik.