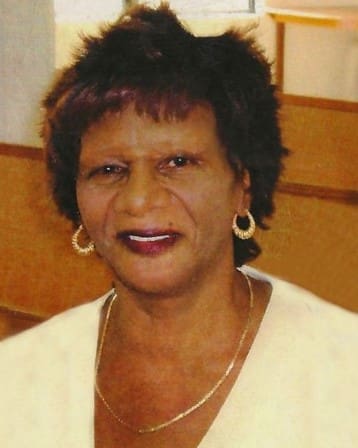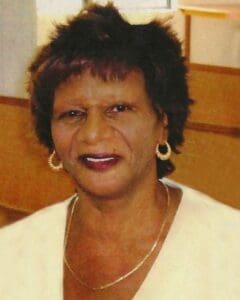 Heaven has gained an Angel…
On Aug. 29, Mrs. Enrica T. Thomas went home to eternal rest peacefully. Mrs. Thomas was affectionately called "Ma" or "Moms" by her children, "MaMoms" by her grandchildren and to coworkers/friends who worked with her at the DeCastro Bldg. / Curriculum Center, she was known as "Ms. T" or "Ms. Thomas." Her church family at The Emmanuel Baptist Church, and previously the Lighthouse Revival Center (Smith Bay) called her "Sister Thomas."
Mrs. Thomas was born on the beautiful isle where land and sea makes beauty, Antigua. She migrated from Antigua in the 60's and made the Virgin Islands her home. She lived in Savan and Crown Mountain but eventually settled and raised her family in Smith Bay. Mrs. Thomas was known in Smith Bay through the popularity of her husband as "Ms. George" or "Ms. Erica."
Preceding her in death are her son, Khan L. M. Lake; parents: Samuel and Henrietta Elizabeth "Aunty Betty" Williams (Urlings Village, Antigua); her husband, George A. "Big George" / "Chef Thomas;" and her beloved grandson, Alexander L. Thomas.
Left to find solace are her children: Juliana E. Boulai, Juliet J. Thomas-Arthurton, Agnes E. V. Thomas, Samuel G. Thomas and Cynthia J. Thomas; grandchildren: Jimmy J Boulai, Felix Boulai Jr., J. Jessica Boulai, Joshua E. Zemar Arthurton, Jeremy I. Ziyon Arthurton, Sherrell N. Gabriel, Brandon K. M. Gabriel, Knea S. Thomas, K'Nesha S.G. Thomas, Samaury G. K. Thomas, K-Jani Woolcock, Rakim K. Douglas, Sheldon S. Douglas, Daniel L. Newton and Dvonte E. L. Newton; great-grandchildren: Cierra Boulai (Canada), Darrion Boulai (Maine), Journey Boulai (Texas), Cheyenne Boulai, Shaniya Boulai (Florida), Jaylin Boulai (Georgia) and J'Alicia Boulai (Georgia); great-great-granddaughter, Maliyah Boulai (Georgia); sons-in-law: Felix Boulai Sr. and Vaughn Anson Arthurton Sr.; daughter-in-law, Knielle Phillips-Thomas; special daughter, Lorraine Smith (Arizona); dear friends and extended family: Cynthia 'Ms. B.' Hunte, Rosalind Matthew and Brenda George; Melanie Douglas, Sheldon Douglas and the Newton and Johannes family.
Mrs. Thomas was well cherished and will be missed by relatives and friends too numerous to mention.
A memorial service will be held at the Emmanuel Baptist Church at 10 am., Saturday, Oct. 1. Interment will follow the service at the Eastern Cemetery.
Born in April, Mrs. Thomas was a 'spring baby' through and through. She loved gardening and spring hues from pastels to vibrant blooming shades. Kindly wear, if possible, a color(s) of spring.
Livestreaming of the service can be viewed at https://youtu.be/1T8cwYpNv7c.
Special thanks to Simone Letang-Freeman (Elite Medical Supply), the staff and management of Continuum Care Inc., especially Ms. Browne and Tina, and to Turnbull's Funeral Home and Crematory Services.
Special heartfelt thanks and appreciation goes to all the families, friends and well-wishers who have prayed, listened, helped, offered advice/encouragement, and expressed their condolences to the family during this difficult time. Your time, attention and expressions of sympathy are cherished; thank you.
And God shall wipe away all tears from their eyes, and there shall be no more death, neither sorrow, nor crying, neither shall there be any more pain; for the former things are passed away.
Forever in our Hearts. Rest in Peace. We Love You!