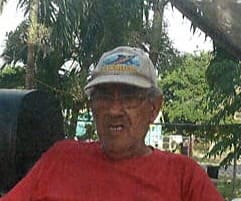 Alberto Garcia of Frederiksted, St. Croix, passed away on Thursday, Aug. 18, 2022. He was 79 years old.
He was predeceased by his parents, Amelia Rivera Garcia and Vicente Garcia.
He is survived by his spouse, Evelyn Garcia; daughters, Amelializ Garcia, Rosio Garcia, Noemi Garcia, and Candita Lopez; sons, Gilberto Garcia Jr. and Ricardo Garcia; grandchildren, Ayanna Liz'Marie Lopez, Jadean Miguel Lopez, Luis Daniel Lopez, Tymai Garcia, Kyle Babb, Jeanene Taha, Wyclef Garcia and Kahsam Taha; great-grandchildren and daughters-in-law too numerous to mention; nephews, Ricardo Felix Garcia and Juan Felix; special friends, Tazo Carino and Frank; cousins, nieces, nephews, other relatives and friends too numerous to mention.
A memorial service will be held at the Kingshill Funeral Home, located at #303 Clifton Hill, Christiansted, St. Croix, at 10 a.m. on Friday, Sept. 2, 2022.
The family requests that those in attendance dress in the colors of black or white. In lieu of floral wreaths, natural floral arrangements can be accepted.
Cremation services are entrusted to Schuster's Crematorium, LLC.