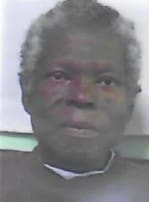 On Aug. 14, the angels rejoiced as another humble servant returned home. On that day, Steve Arthur Richards joined his mother, father, grandmother and baby sister in the heavenly choir.
Steve was born on May 8, 1963, on the beautiful island of St. Kitts. He would later relocate to St. Croix, USVI, where he was loved and admired by all that met him. To know Steve is to understand what family means, and through his life he loved his family. Steve leaves a legacy for all to remember.
He is survived by his brothers: Vincent Richards, Ishmael Claxton, George Frazier and Victor Browne (in-law); sisters: Ernsel (Ermel) Browne and Shelia Frazier; aunts: Madeline Roberts, Lauren Phipps-Hodge and Rowena Elliott; uncles: Carle Phipps and Moses Phipps; niece, Patricia Browne; nephews: Victor Browne Jr., Steven Browne, Andre Grant and Kareem Edwards (in-law); and cousins: Eugene Phipps, Beverly Davoren-Collen, Sheryl Shevington, Ursula Roberts-Allen, Pamela Roberts-Rubin and Vincent Bergen.
He is also survived by other relatives and special friends: Jacinth Sutton and family, Blandeena Bergan and family, Pastor and Sister Watts, Carmen James and family, Leroy Samuel and family, Cynthia Atwell and family, Bishop Kenneth Samuel and family, Louisa Williams, Pastor Dorothy Edwards and family, Michael Matthew, James Matthew, Theodore Phillip and the Apostolic Faith Mission family; as well as other relatives and friends too numerous to mention.
The viewing will take place at 10:30 a.m. followed by a funeral service at 11 a.m., Saturday, Aug. 27, at Apostolic Faith Mission, 487 Barren Spot, Christiansted. Interment will be at Kingshill Cemetery.