While the territory's homicide count has dropped to 13 over last July's 24, with an overall 35 arrests between January to June 2022, police officials on St. Croix said Tuesday that getting the last piece of the puzzle – information from witnesses – will help to secure the warrants they need to prosecute the murderers.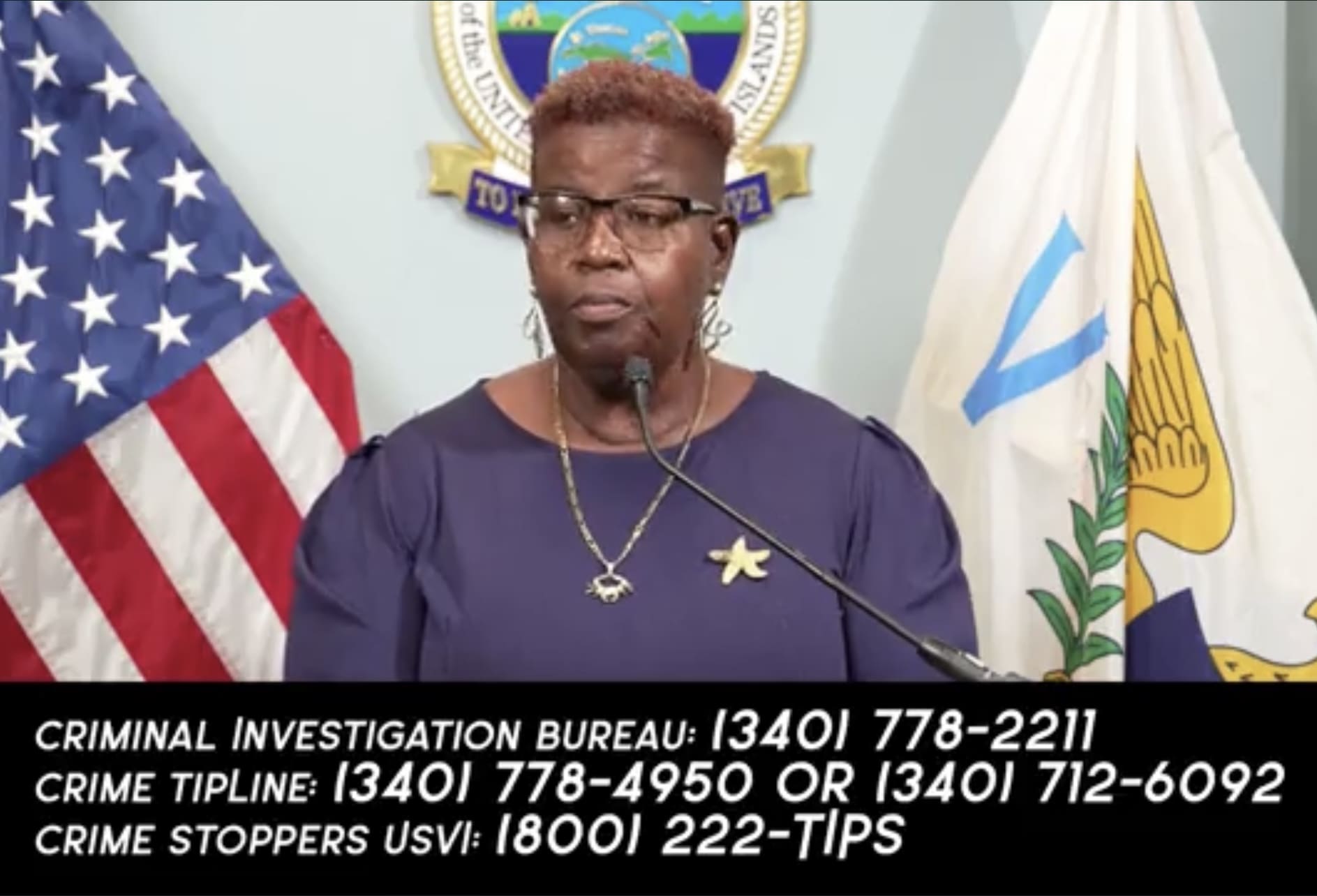 Tuesday's press conference took on a different tone, as some of the department's top brass revealed more information than ever before about the evidence they'd gathered while investigating several of the year's homicides that they say are now left hanging because witnesses have stayed silent. Going through the details on record for more than half an hour — how many shell casings, the intended target, the movement of gunplay, and even how many people were believed to be on a scene — Criminal Investigation Bureau Chief Naomi Joseph also pinpointed each hole that the department hasn't been able to fill … the "pieces of the puzzle" that she said would bring it all together.
"If you just come forward and tell us what you know, we'll do the rest of the job. We'll lock them up – we'll find it, we'll dig for it, we will do what we're supposed to do, but we need you to do your part," Joseph said.
Seeking to dispel the perception that each victim was "just another thug" who "got what they deserved," Joseph spoke about three cases in particular from 2020 and 2021 where the victims were simply kids. Tintawe Christian, 16, Joseph said, was returning from a friend's house when he was fatally shot in Sion Farm. Described by his family as a hardworking young man, Christian wanted to grow up, start multiple businesses, and have a family.
"He never made it past the age of 16," Joseph said. "I know from experience, even though the calls came in about shots firing, someone was looking outside, someone can tell us about the car, and the individuals, who we knew wore no masks, so their faces were open and exposed."
On Mother's Day 2021, 16-year-old Kimani Perdomo was also killed while he was outside with his friends, fixing bikes, Joseph added. A car went up the road, passing his building in the JFK housing community, came back down, and went up again, releasing a spray of bullets that killed Perdomo and grazed a nine-year-old playing nearby. When police got to the scene, witnesses disbursed, withholding vital information that could bring closure to Perdomo's mother, Joseph said.
With more information, closure can also be brought to the family of 22-year-old Wayne A. Jerome, whose body was found in a field near Lew Muckle Elementary School in April 2021. Police know that Jerome had put a car for sale on Facebook, was contacted by a buyer who later met Jerome, killed him, and got away with the car. Jerome had just welcomed his first child and was excited about spending time with his new family, Joseph said.
"We get to a certain point, but without you, we're stuck," she added. "If you've seen something, say something."
With stronger evidence, VIPD will also be able to develop a better case for the Justice Department and courts, who Joseph said often determine there is not enough for a warrant. VIPD is the first step in the process, but the details have to stack up in order for an arrest to be made, and prosecution launched, she explained.
Over the past six months, from January onward, the Criminal Investigation Bureau on St. Croix has dealt with a total of 169 cases – ranging from simple felonies to murders – while the department itself has recovered 35 guns – including four air rifles – and made 17 arrests. And while the territory's homicide count has dropped compared to last year, Joseph said it's not enough to make her believe that "we've all decided to put away our guns."
"We have been able to solve some of the cases, but in order for us to bring closure to all the others, we just need help," she repeated.
Tuesday, the department also announced a "Rep Your Neighborhood" Bike Coasting Competition, which will be held at 4 p.m. on July 23 on Queen Mary Highway near the Superior Court building. Initiatives like these offer a chance for neighborhoods to come together and give young people in the community something to do, officials said. For more information, call (340) 712-6062. Registration is open until July 20.