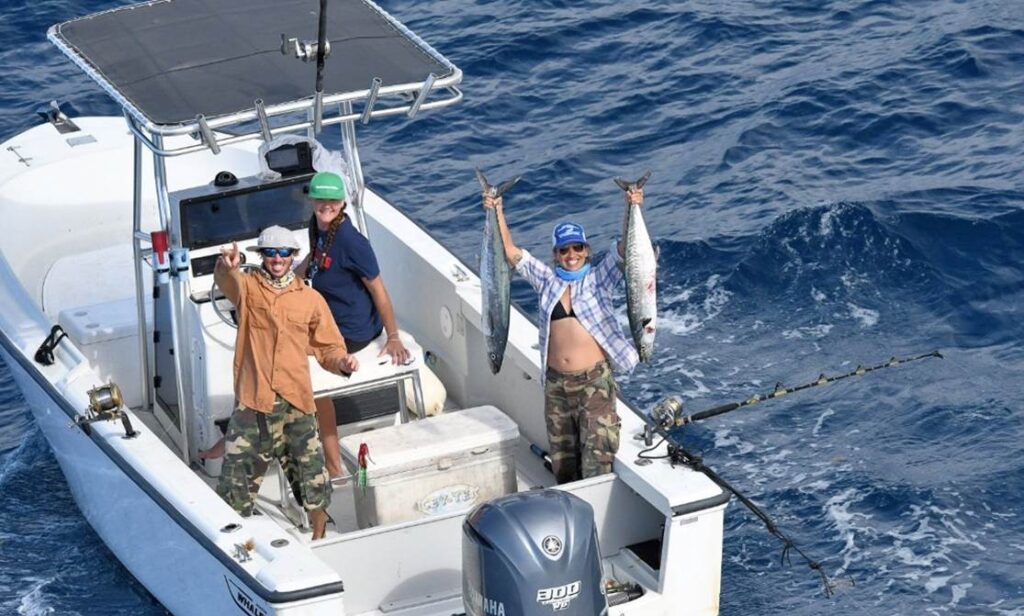 The annual Bastille Day Kingfish Tournament returns to Hull Bay on Sunday for the first time in two years, with a nod to its roots as a family-friendly fishing event, organizers say.
There is still time to register for the 32nd annual event, organized by the Northside Sportfishing Club since 1988 as a celebration of the island's French heritage.
Entry forms are available starting Wednesday at Neptune Fishing Supplies in Red Hook. Registration continues at the Captain's Meeting on Friday at 7:30 p.m. at The Hideaway at Hull Bay, and final registration takes place on Saturday at the same location from noon until 4 p.m.
Thanks to the generosity of sponsors, entry fees are $45 for adults and $35 for juniors ages 8 to 17, according to a press release announcing the event. All registered anglers will receive an official Bastille Day Kingfish Tournament T-shirt, hat, and goodie bag. More than 200 anglers – adults and juniors of all skill levels, as well as more than 60 boats – are expected to enter.
The winning catch will take the $3,000 prize, but even if you don't hook the big one, there are more than a dozen other ways to win, with thousands of dollars in cash and prizes, according to the release.
"We look forward to again hosting the annual Bastille Day Kingfish Tournament," said Catherine Bryan, one of the organizers, who noted the event will be scaled down as the territory emerges from the COVID-19 pandemic that saw the tourney canceled in 2020 and 2021.
"Event-goers will notice some changes since we last held the tournament pre-pandemic in 2019. We have gone back to the beginning and the basics. In 1988, the goal was to have a fun family-friendly fishing event in Hull Bay. This is what we'll offer this year. No band, no performances, no kids' corner; just fishing fun in Hull Bay," said Bryan.
"While we do hope to bring these elements back next year, this year is all about celebrating our community coming out of the pandemic. So, get your fishing gear ready, and be sure to make your carpool arrangements," said Bryan. "Seriously, we cannot stress enough to park at a family member's house close by or take the free shuttle running from Sib's parking lot from 10 a.m. to 8 p.m. on Sunday, July 10."
The shuttle will depart from the parking lot at Sib's On the Mountain Bar & Restaurant (intersection of Routes 33 and 37 in Estate Elizabeth) to The Hideaway at Hull Bay on July 10, with riders able to flag it down along Hull Bay Road that day and hop on, according to the press release. There will be two shuttles operating simultaneously. Shuttle service starts at 10 a.m. and the last ride will depart Hull Bay at 8 p.m., organizers said.
Boat owners take note: Tri Island Energy will have a fuel truck available at Hull Bay Beach on Saturday from 2 to 4 p.m. so that tournament boats can easily fuel up.
On Sunday, lines in the water will start at 5:30 a.m. and end at noon, sharp. To assure fairness for all, tournament participants are not allowed to leave shore until 4 a.m. on Sunday, the press release stated.
"Conservation-oriented organizers of the Bastille Day Kingfish Tournament have eliminated the Jack species and increased the minimum length of barracuda to 40 inches in length," according to the press release. From noon until 2 p.m., while the weighmaster and judges go to work, registered anglers can quench their thirst with free Coors Light and water or juice, depending on age. The awards ceremony will take place at 6 p.m. at The Hideaway at Hull Bay.
Prize categories include Largest Kingfish, 2nd Largest Kingfish, 3rd Largest Kingfish, 4th Largest Kingfish, Best Captain, Best Boat, Best Male Angler, Best Female Angler, Best Junior Male Angler, Best Junior Female Angler, Largest Barracuda, Largest Bonito, and Largest Mackerel.
First organized by the Northside Sportfishing Club in 1988, the tournament has become one of the highlights of French heritage celebrations on St. Thomas. The event benefits the Joseph Sibilly School, St. Thomas Rescue, Civil Air Patrol, and Nana Baby Children's Home, as well as provides college scholarships. Over the past nearly three decades, the nonprofit Northside Sportfishing Club, by way of its annual Bastille Day Kingfish Tournament, has donated more than $210,000 to community organizations, the press release stated.
The tournament is sponsored by Coors Light and Captain Morgan, distributed by Bellows International; Offshore Marine, the YAMAHA distributor in the Virgin Islands; NEMWIL; Red Hook Agencies, Inc.; TOPA Insurance Services Inc.; Caribbean Gifts and Things; Scoops & Brew Gelato and Coffee Bar; Frank's Electric; Amalie Car Rental; Cyclone Fencing; and the Shack at The Hideaway.
For more information, email nssfcvi@gmail.com or call 340-998-0854. Follow the Northside Sportfishing Club on Facebook and Instagram.
Editor's Note: A previous version of this story referred to the Hull Bay Hideaway. The correct name is The Hideaway at Hull Bay.