Hurricane season is here, and so are predictions that it will be a busy one.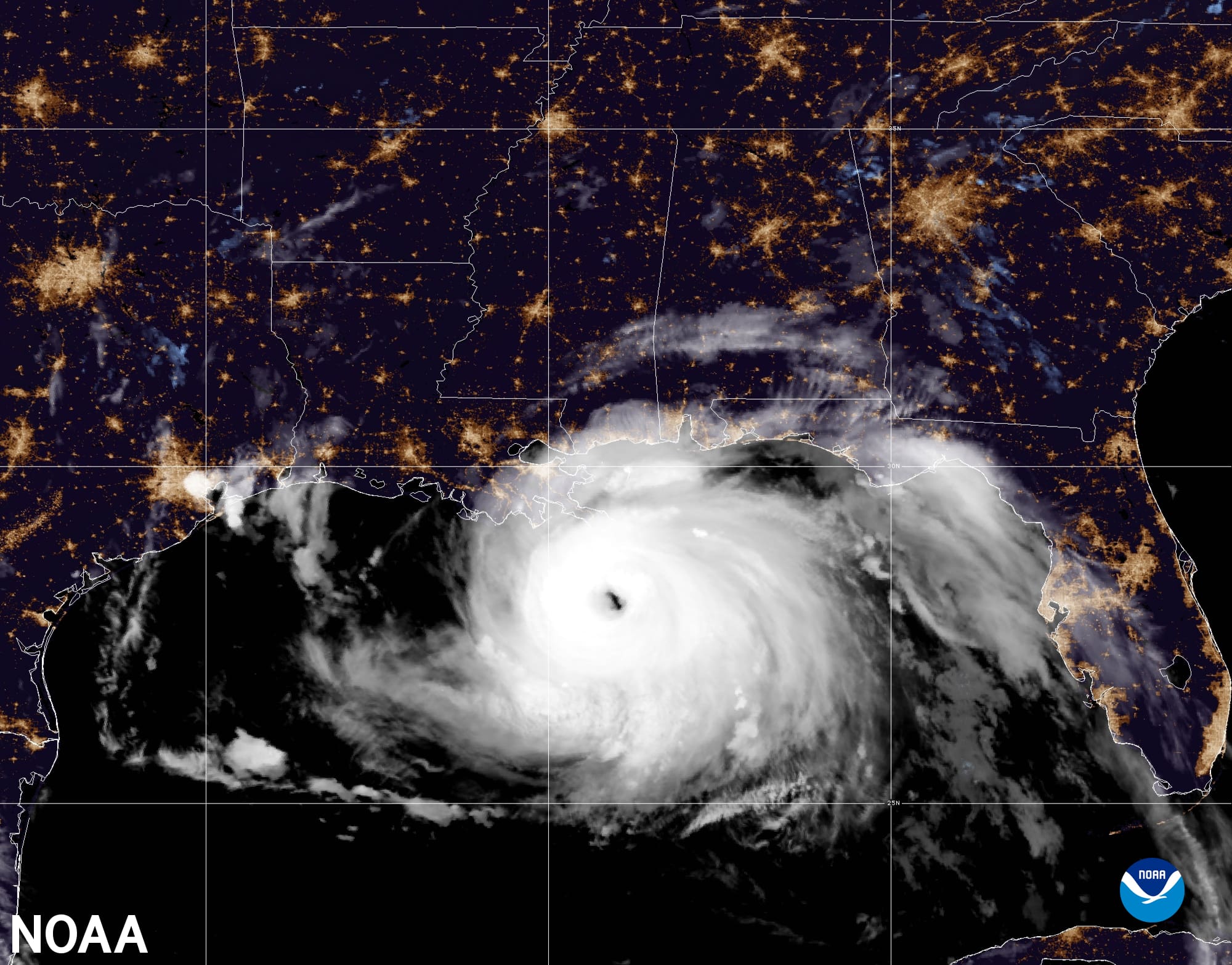 Officially, both the Pacific and the Atlantic seasons run from June 1 through Nov. 30. Although the Atlantic/Caribbean season typically ramps up in mid to late August and can wrap up by the end of October, history holds numerous exceptions to the typical season.
Storms have been jumping the gun more and more frequently. A named Atlantic storm (one with sustained winds of at least 39 miles per hour) has appeared prior to June 1 in each of the last seven years, according to the World Meteorological Organization.
A Pacific category two hurricane just hit Mexico on Monday, and forecasters said there was a chance that it might take an unusual path, moving overland, reforming, and heading to Florida, dropping its Pacific name, Agatha, and taking on the Atlantic name, Alex.
Each year for the last six years, the number of Atlantic tropical storms and hurricanes has been "above normal," – and the National Oceanic and Atmospheric Administration is predicting that this year will again be above the norm.
NOAA's current forecast for the Atlantic hurricane season is a range of between 14 and 21 named storms, with six to 10 of them becoming hurricanes with sustained winds at or above 74 miles per hour and three to six of them turning into major hurricanes. A major hurricane has sustained winds of 111 miles per hour or above; that is, it is a category three, category four, or category five.
In a "normal" season, as defined by NOAA, there are 14 named storms, seven of which are hurricanes and three of which hurricanes are category three or above.
The agency said it will update its predictions in early August.
NOAA presented its initial 2022 forecast with what it said is 70 percent certainty of its accuracy. The agency points to myriad advances in observational equipment, historical record-keeping, and understanding of climate science as reasons for its confidence.
In addition to satellite tracking, hurricane hunter aircraft, and aircraft drones, technical advances now include sail drone uncrewed surface vehicles. Researchers have also developed sophisticated systems for modeling possible weather outcomes in given situations.
NOAA based its forecast of a heightened season on several climate factors, including sea surface temperatures that are warmer than average, weaker than normal tropical trade winds, and an enhanced west African monsoon, which serves as the progenitor of tropical cyclones. Also, the ongoing La Niña, a complex weather pattern that heightens the chance of hurricanes in the Atlantic, is expected to continue for several months.
Research studies concerning the effect of climate change on hurricanes indicate that it has not increased the overall number, which fluctuates year to year and period to period, but that it is increasing storm intensity.
"We had more category four and category five landfalls in the USA (in five years) from 2017 to 2021, than from (the 53 years between) 1963 to 2016," according to Ken Graham, chairman of the World Meteorological Organization's Hurricane Committee.
The committee oversees the lists of names that are used for tropical storms and hurricanes. It maintains and rotates six different alphabetical lists of names. There are none starting with Q, U, X, Y, or Z because there are relatively few easily recognizable names starting with those letters.
Since 1953, when the system was started, 94 names have been retired and replaced on the lists because they were used for storms that caused unusually massive loss of life and property damage. Most recently, the committee retired "Ida," after 2021's Hurricane Ida's deadly and costly impact on numerous Caribbean countries and states on the U.S. mainland.
The 2022 list of names is Alex, Bonnie, Colin, Danielle, Earl, Fiona, Gaston, Hermine, Ian, Julia, Karl, Lisa, Martin, Nicole, Owen, Paula, Richard, Shary, Tobias, Virginie, and Walter.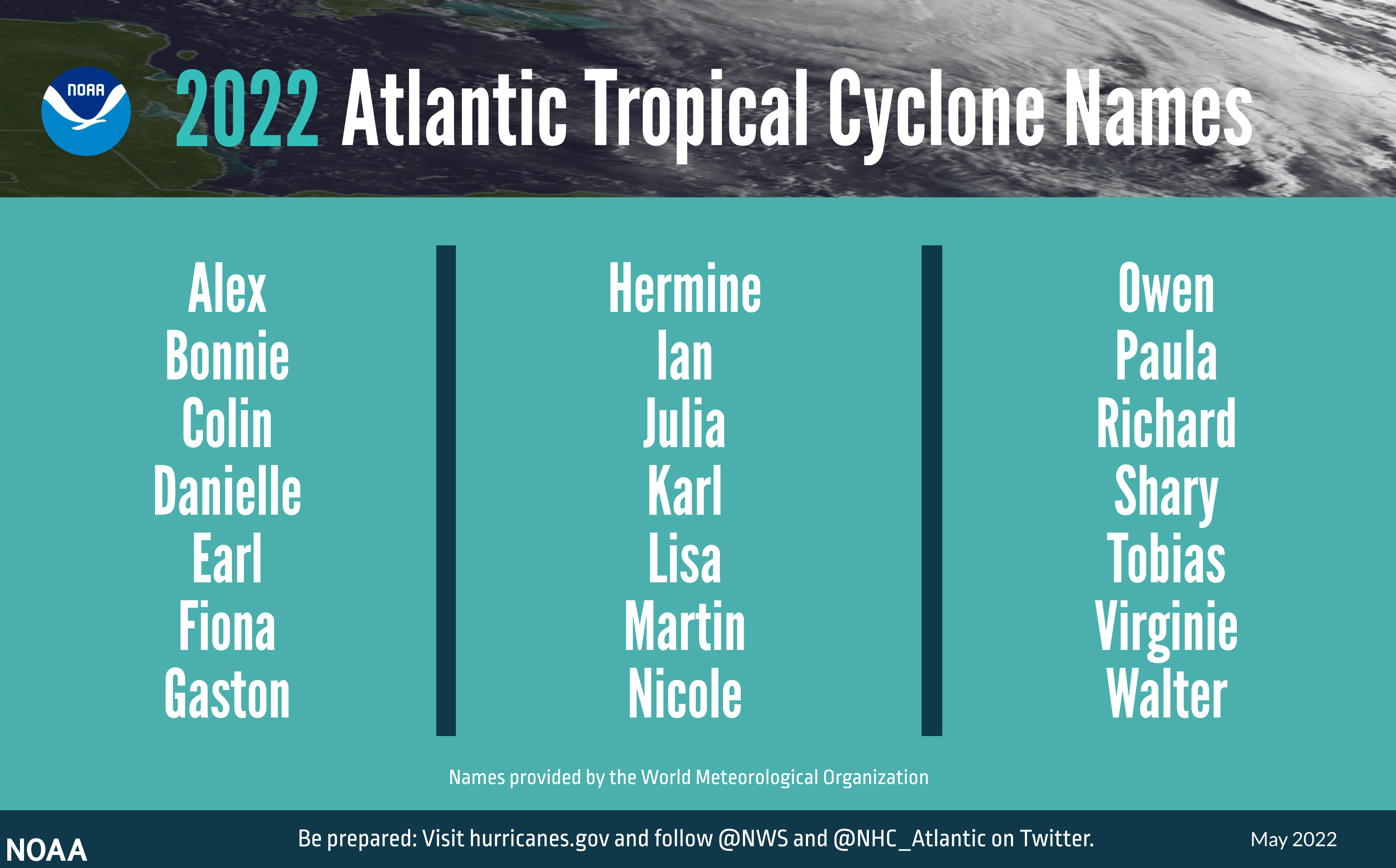 The official opening of hurricane season traditionally serves as a time for local disaster officials to remind people of the importance of advance preparation.
The Virgin Islands Territorial Emergency Management Agency website urges residents to check the status of their home insurance, remove damaged trees and limbs from their property, and be sure their home generators are in working order. It also reminds people never to operate a generator indoors.
VITEMA also says residents should assemble and maintain a disaster supply kit containing a flashlight and batteries, cash, first aid supplies and medicines, and copies of important documents, as well as stock up on water and non-perishable foods – enough for each member of the household for several days.
More information on hurricane preparedness is available from VITEMA click here.