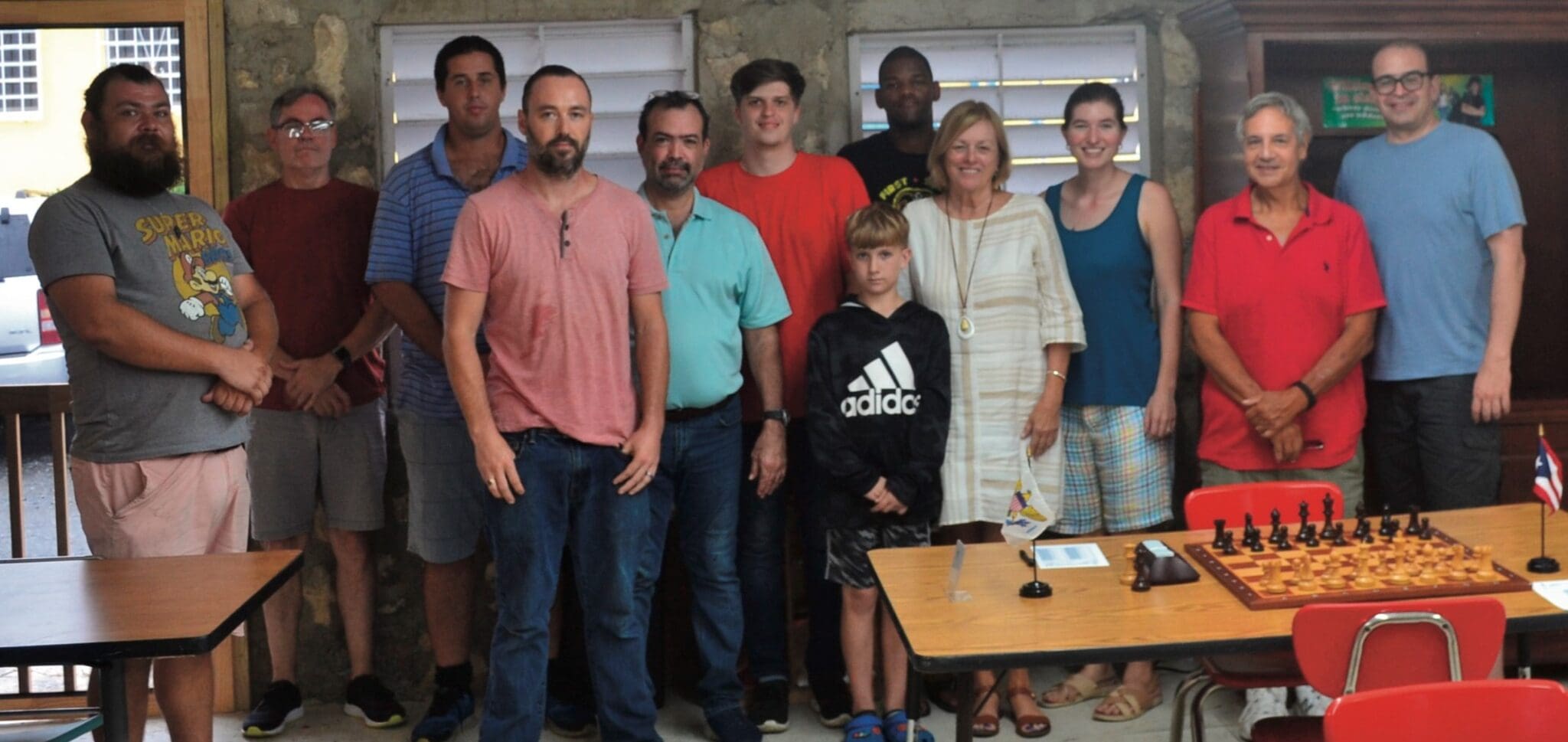 The USVI Chess Federation held their 2022 World Chess Federation (FIDE) Spring Festival Chess Tournament at Education Connections VI in La Grande Princesse, St. Croix, from April 29 – May 1. USVI Chess Federation President Margaret Murphy, FIDE international organizer and FIDE arbiter, served as the FIDE official for these tournaments with the assistance of USVI Chess Federation Secretary James Hoffman, ASP (athletic support person).
This was a three-day, seven-round Swiss style chess event, providing 14 hours of chess competition. The tournament players included Margaret Murphy, Anthony Mongiello, Colin Peter Heim, Justin Hair, Matthew Caffee, Akelam Romain, Malachi Monday, and Michaela Lynn Cowart from St. Croix; Ernest Thyberg from St. Thomas; and Ivan Mendez Serrano, Edwin G. Delgado and Logan Childers Pickett from Puerto Rico.
Omar Abdel Aneses Bocanegra of the Punta Borinquen Chess Club, Puerto Rico, served as FIDE arbiter for this chess tournament.
Final Rankings with total points scored were:
Logan Childers Pickett (Puerto Rico) 6.5 points (FIDE Rating 1794)
Edwin G. Delgado (Puerto Rico) 5.0 points (FIDE Rating 1538)
Ivan Mendez Serrano (Puerto Rico) 4.5 points (FIDE Rating 1707)
Justin M Hair (St. Croix) 4.0 points (FIDE Rating 1505)
Colin Peter Heim (St. Croix) 4.0 points (FIDE Rating 1455)
Margaret Murphy (St. Croix) 3.5 points (FIDE Rationg 0)
Akelam Romain (St. Croix) 3.5 points (FIDE Rating 0)
Anthony Mongiello (St. Croix) 3.0 points (FIDE Rating 1435)
Malchi Monday (St. Croix) 3.0 points (FIDE Rating 0)
Michaela Lynn Cowart (St. Croix) 2.5 points (FIDE rating 0)
Ernest Thyberg (St. Thomas) 1.5 points (FIDE Rating 0)
Matthew Cafee (St. Croix) 1.5 points (FIDE Rating 0)
A special thanks goes to the FIDE Planning and Development Commission for its international support and the donation of $5,000. This tournament was also made possible by the generous support of the local community of St.  Croix.
USVI Chess Federation greatly thanks Mr. and Mrs. Allen of Education Connections VI for providing the playing venue, and Titan Service Station for once again providing the ice, bottled water and sodas for the three days. Jim Hoffman donated his homemade pastries and snacks for all the participants for the three days of the tournament.
FIDE Instructor Margaret Murphy and Anthony Mongiello will resume the Saturday Chess lessons at Education Connections VI between 10 – 11:30 a.m., Saturday, May 7. This will be the final instructional session before the USVI Chess Federation begins the summer break. There will be weekly Open Play 10:00-11:30 a.m. each Saturday throughout the summer for all ages; therefore, come out and have some summer fun playing with people with all levels of chess experience.
For more information, contact the USVI Chess Federation at usvichess@gmail.com or visit their Facebook page.
The U.S. Virgin Islands Chess Federation will be posting on the federation website more chess events being scheduled throughout the rest of 2022 to grow and enhance the chess community in the territory.