Representatives for support organizations spoke Tuesday at a press conference to increase awareness during sexual assault awareness month, where they highlighted the large numbers of women and men who have suffered this abuse, and the small number of perpetrators punished.
Jacqueline Heyliger, executive director of the V.I. Domestic Violence and Sexual Assault Council, and staff hosted the U.S. and V.I. Justice Departments, U.S. House of Representatives, the V.I. Police Department, The Women's Coalition of St. Croix, The Family Resource Center and the Office of the Governor.
Each person had his/her own perspective, but they agreed that each agency and nonprofit is important in dealing with abuse and assault in the territory.
Gretchen Shappert, U.S. Attorney, called sexual assault "a pernicious crime, usually committed in secret." Forty percent of all American women have been sexually assaulted and 80 percent of those assaults were before the age of 25. That doesn't occur in just women and girls but also men and boys. She said an estimated 20 percent of males will be assaulted in their lifetimes, and a quarter of those assaults would be before the age of 10. Sexual assault includes penetrative rape as well as other forms of unwanted, non-consensual sexual contact.
According to Shappert, sexual assault creates shame in victims and must be dealt with from various angles including prosecution, education and outreach. To help deal with it, the U.S. Congress through the Violence against Women Act granted $270,000 to DVSAC for their work.
Delegate Stacey Plaskett said there is an assault every 68 seconds, and every nine minutes a child is abused. She said that 82 percent of juvenile victims are female, and that one out of six women and 3 percent of men will experience an attempted or completed rape. Only 25 of every 1,000 perpetrators are punished, she added.
President Joe Biden recently signed into law the Violence Against Women Act, and Plaskett said she helped get double funding for the Virgin Islands. The act provides education, services and support for underserved communities and culturally specific services.
Denise George, V.I. Attorney General, called sexual assault a public health crisis that she considers "among the most heinous of crimes." Currently, her office is prosecuting 19 cases of first-degree aggravated rape, 15 cases of unlawful sexual contact and other lesser charges. Rape is non-consensual sex and aggravated rape is non-consensual sex with a minor.
"A child, or a person under the age of 18, is incapable of giving consent to any sexual act or act of violence. For instance, rape constitutes sexual intercourse inflicted upon a non-consenting adult. However, this same act of sexual intercourse upon a child would amount to aggravated rape with or without her consent," she said.
Later, George listed some of the prison sentences for those found guilty in sexual abuse cases. First-degree rape incurs a sentence of 10-30 years in prison and aggravated second-degree rape is 10 years to life. Underage sexual contact has a sentence of zero to 15 years in prison and those guilty of sexual trafficking risk not less than 30 years to life in prison.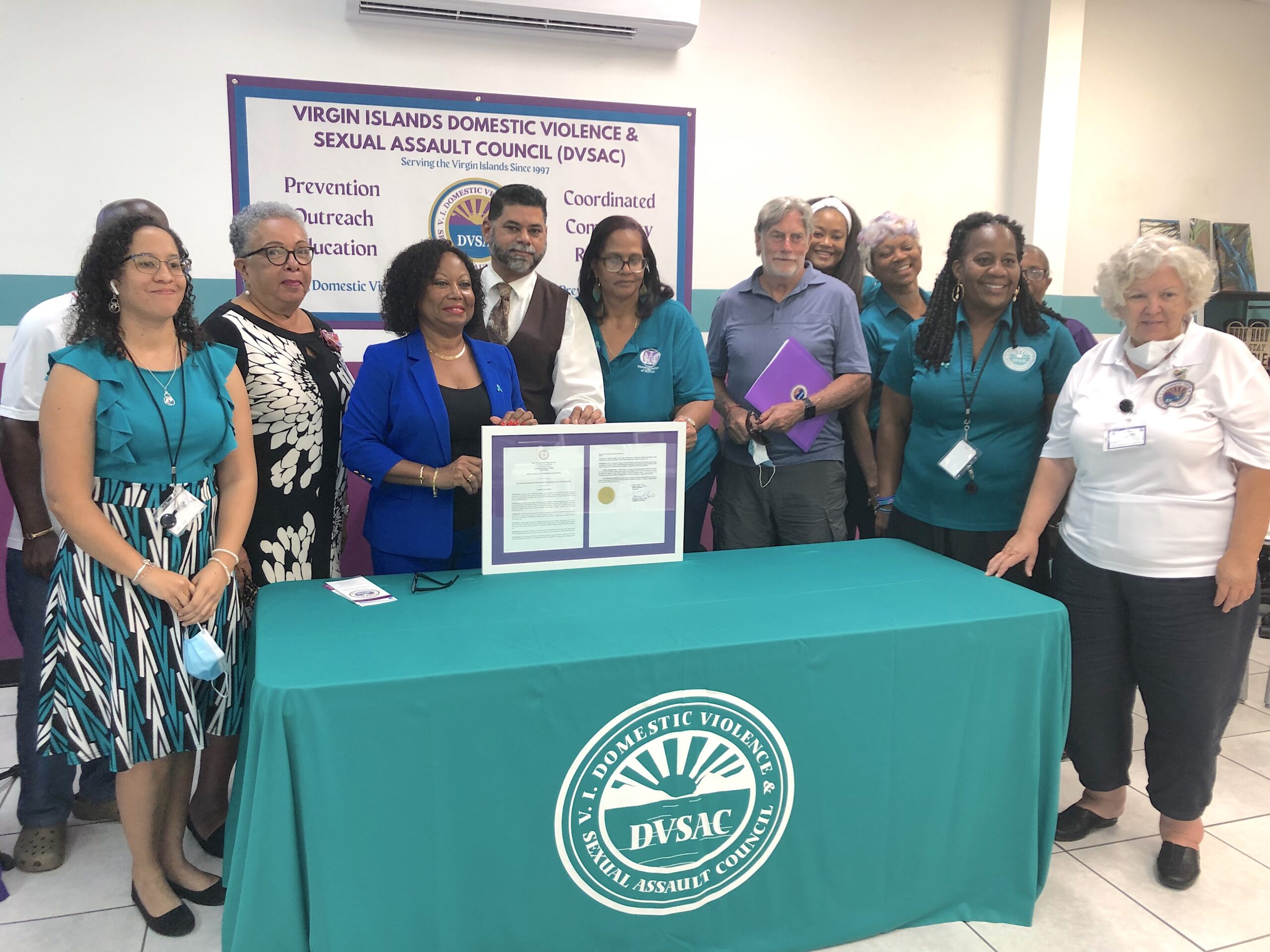 Mario Brooks, assistant police commissioner, said from Jan. 1 through the end of March, there have been 107 domestic violence cases. There may be more, he said, because victims are reluctant to come forward — they may feel shame or the perpetrator may be a family member.
In addition to calling the police, victims and families can reach out for support and services to the Women's Coalition, DVSAC and Family Resources on St. Thomas.
All of the law enforcement agencies congratulated the support organizations for their work. The briefing ended with Sammuel Sanes, island administrator, saying his dream is to see those organizations out of business. He also said it's up to Virgin Islanders to prevent sexual assault and domestic violence.
"It's up to the community to step up to the plate and do more," he said.
For more information:
V.I. Domestic Violence Sexual Assault Council
340-719-0144 (STX)
340-774-0144 (STT)
info@vidvsac.net
Women's Coalition of St. Croix
340-773-9272
info@wcstx.org
WCSTX.org
Family Resource Center
340-776-3966
340-776-7867 (hotline)
info@usvifrc.org
Legal Services of the Virgin Islands, Inc.
340-718-2626 (STX)
340-774-8686 (STT)
stxoffice@lsvilaw.org
sttoffice@lsvilaw.org
Sexual Assault Hotline
800-656-HOPE
Strong Hearts Native Helpline
844-762-8483
Teen Dating Abuse Hotline
866-331-9474
Victim Hotline
855-484-2846