Gov. Albert Bryan Jr. emphasized the positive effects of the recent government bond sale aimed at keeping the Government Employees' Retirement System solvent "forever" at a press conference on Monday at Government House on St. Thomas.
He said the system's 9,000 retirees won't have to worry about their annuities getting cut, and 8,000 current government employees can stop wondering if there will be any funds left for their retirement.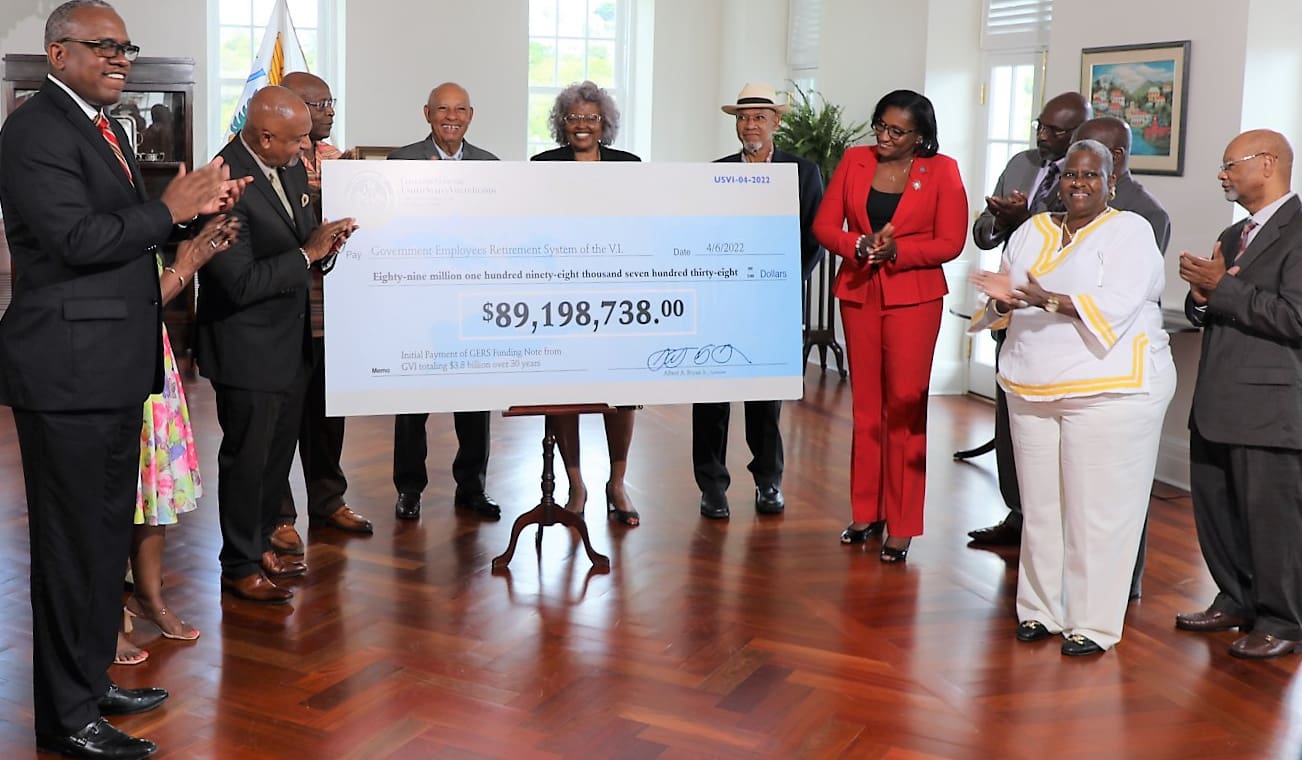 However, he added that plan would entail the government coming up with another $40 or $50 million in annual revenue to keep its budget balanced as rum revenues that normally go to that effort are now dedicated to the bond effort. He said the people of the territory would have to get used to paying that bill. Bryan estimated that it would only be a five percent increase in the next budget, and last year he estimated the budget was increased by 15 percent.
Bryan said he sees no need for a tax increase, saying the "Virgin Islands is on a trajectory for excellence." One possible source of income he mentioned is cannabis. In 2019 the Office of Cannabis Regulation was established to allow the use of medical cannabis. In March, the cannabis board met to draft licensing fees for cultivating, manufacturing, dispensing, and registering fees for customers.
But the focus of the press conference was a giant check for $82.9 million representing the money the government is giving to GERS this month. The next check is scheduled for Oct. 1 and is to be for $158 million. That sum is also to be given to GERS in October of 2023 and again in 2024. The sum is to drop to $82 million in 2026 and to $73 million in 2026. The total to be donated to GERS over the 30 years is $3,805,294,438.
Many of the officials who played a part in forming the plan, such as Senate President Donna Frett-Gregory, Senate Vice President Novelle E. FrancisJr., and Nellon Bowry, chairman of the GERS Board of Trustees, were present.
When asked if any strings were attached to the funds being transferred to GERS, Bryan responded no. He said, contrary to some public comments, GERS has a high rate of return on its investments. He said he hoped GERS would invest this money and get a high rate of return on it. In recent years GERS has been losing $20 million a month because annuities paid to retirees are that much higher than employee contributions.
While almost all the comments on the government Facebook page were positive about the GERS rescue plan, criticism has surfaced elsewhere. David Silverman, a resident of Coral Bay on St. John, posted on his Facebook page a graph he created after comparing the cost of the old bonds to the cost of the new bonds. His post says, "Yes, we pay much less for three years. Hurray! But from year five and beyond, we pay more – MUCH MORE – than we would have paid with the old bonds. Over the life of this 'new deal,' we pay a half a billion dollars in interest."
Bryan, however, held an optimistic focus Monday. "Today is about the more than 9,000 active government employees who can now rest assured that they will receive the full benefit of the pension promised to them when they retire," he said. "And today is also about those Virgin Islanders we want to recruit to work for the Government of the Virgin Islands …. You see, today, we delivered on the promise made to them by the Government of the Virgin Islands all those years ago."
Bryan told the audience at Government House on St. Thomas and the online audience that with the threat of insolvency gone, he was lobbying for GERS to reinstate its popular loan program for employees and begin educating employees about planning for retirement and not depending completely on GERS.
The Source asked the governor about the figure of $15 million, which was documented as the cost of the bond issuance. Bryan responded that he was not certain that was the cost but, in a deal selling over $1 billion in bonds, $15 million was "just a drop in the bucket."