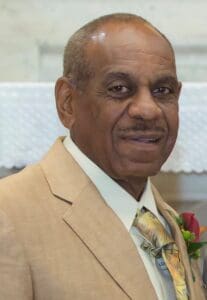 Andre Antonio Francis, better known as "Gravy," died on March 8.
Andre A. Francis is survived by his wife, Delia Francis; son, Akeem Francis; daughters: Jermaine Francis-Estrill, Andrea Francis, Shabre Providence, Aneka Francis and Shatel Noel; brothers: Adrian "Ben" Francis and Winston Francis; aunts: Aldrina Myers, Ramona Camacho, Carmen Camacho, Marcolina Camacho and Racquel Camacho; uncle, Ralph Francis; mother-in-law, Bernice Harrigan; sisters-in-law: Cecelia Hawley, Loralee Hendricks and Marucha Harrigan-Labaraca; and brothers-in-law: Cecil Cleve Harrigan and Clyde Vanterpool.
He is also survived by granddaughters: JerShaun Estrilll, De'Janae Estrill, Azariah Providence, Hailey Freeman and Jnae Noel, Sernia Noel; grandsons: Vernon Carr, Ki'Andre Thomas, Me'Kaj Freeman, Jaden Providence, Ayden Francis, Andre Arturo Francis, Preston Noel Jr. and Ahmir Francis; great-granddaughter, Ryan Riley; sons-in-law: DeShaun Estrill, Patrick Providence and Preston Noel; daughter-in-law, Artra Watlington-Francis; and nieces: Marlo Phipps-Bey, Timeca Phipps-Young, Latticia Trotman-Washington, Amber Francis, Shenel Potter, Jeune Provost, Jillian Harrigan-Falcon and Camilia Harrigan-Labaraca.
Other survivors include nephews: Gerald "Suki" Phipps III, Lindel "Butch" Esannason, Akeel Francis, Asheal Francis, Asim Francis, Adrian "Mikey" Francis, Samuel "Sonny" Daley, III and Sebastien Harrigan; special cousins: Cletis Clendenin Sr., Christian Clendenin, Nancy Camacho and Marilyn Krigger; adopted daughter, Shamang Straun; close friends: Dale Benjamin, Albert Brathwaite, Leslie Hodge, George Hoheb, Charles "Juanjoe" Frazer, Louis "Skippy" McBean, Glen Blyden, Richard "Richy" Connor, William Daniel, Amos Frett and Julio "Beck" Francis; as well as many other surviving families including: the Camacho, De Lugo, Garcia, White, Krigger, and Clendenin, Milliner, Gifft families.
Relatives and friends are respectfully invited to attend first viewing from 5-7 p.m., Thursday, March 24, at the Omar Brown Fire Station. The second viewing will take place at 9 a.m. followed by a funeral service at 10 a.m., Friday, March 25, at Wesley Methodist Church. Interment will be at Western Cemetery No. 3.
Funeral arrangements are under the care of Dan Hurley Home for Funerals and Cremation Center of St. Thomas, St. John and St. Croix.
To share a special memory or tribute please visit our website at www.hurleydavisfuneralhome.com