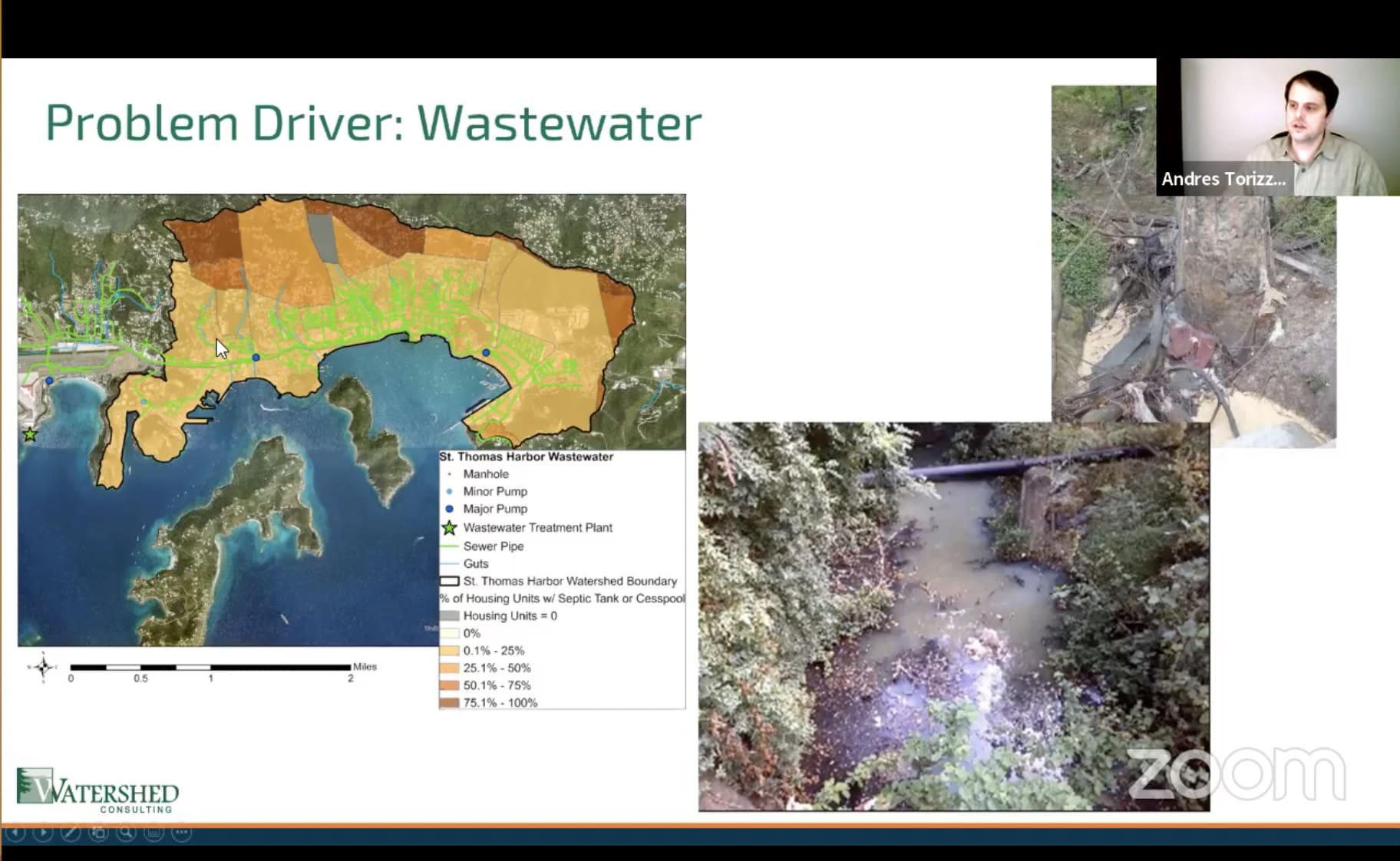 The Virgin Islands' fresh waterways are in rough shape, resulting in dangerous pollution and erosion, according to an in-depth study of the territory's watersheds.
Water-quality protection measures range from the expensive and complex to the extraordinarily simple. Pollution mitigation is easy as covering a dumpster to keep stormwater out, said Andres Torizzo, principal hydrologist at the Vermont-based Watershed Consulting Associates, a contractor hired by DPNR through a FEMA grant.
The pervasive need across the territory is proper education on what fouls water and why it is important, the researchers found. People discarding engine oil or car batteries on the roadside may not realize the toxic chemicals they are releasing or may not realize how harmful it is. Poorly maintained septic systems might seem like a personal problem to a homeowner, who may not consider how every plant, animal, and person downhill — including fish in the sea — is impacted by their sludge.
"Wastewater contamination has with it viruses, bacteria, e-coli — also a big hazard to the environment, also a big hazard to humans," Torizzo said in live stream broadcasts
The St. Croix and St. Thomas Watershed Management Project, which submitted its last public report Thursday evening, identified flooding, pollution, and erosion hazards in eight of the territory's highest priority areas of water runoff.
In St. Thomas, that included Bolongo Bay, the St. Thomas Harbor, and the Cyril E. King Airport area. In St. Croix, researchers studied Salt River Bay, the Hovensa area, Bethlehem, Diamond, and Long Point Bay.
Studying water flow from the highest ridgelines to the ocean reefs below revealed a need for better land management practices, enforcement of existing rules, and a broad education campaign about the territory's watersheds and why they are important, Torizzo said.
"It's not just technical structures we're designing. We're also making a lot of programmatic recommendations to the government to strengthen regulations, adding new regulations, to add different layers of oversight that will help protect the watershed and help restore the watershed coming forward," he said in a review of the Charlotte Amalie harbor watershed.
Each watershed is different but has similar problems. A primary problem is development. The islands' networks of steep roadways become chutes for stormwater, which builds in momentum and volume as it descends. If there isn't sufficient green space to soak up the stormwater, it can lead to flooding. It also causes the sort of sediment and pollution blooms that close beaches and kill coral reefs. The researchers urged developers to plan ahead, only clearing the land that is needed and doing so only when it's needed. Removing vegetation from an entire lot months before work starts is a recipe for massive erosion, they said. Silt screens can help mitigate runoff, but only if they are properly used and maintained.
As parking lots, roadways, rooftops, and other so-called impervious surfaces overtake water-retaining green spaces, overall water quality will worsen and flooding increase, the researchers suggest. They recommended transforming these hard surfaces when possible, either by adding green spaces in and around these concrete and asphalt areas or by using underground ducting to safely transport stormwater away.
Anything over 25 percent of impervious spaces leads to environmental degradation, according to the researchers' scale. The St. Thomas Harbor zone, stretching from Crown Mountain Road to the waterfront, is 34 percent impervious.
"There's a lot of impervious surface out there that doesn't need to be impervious, and it's not doing anything, and it could really be reverted back to green space. Those are opportunities out there that could be taken advantage of," Torizzo said. "One of the recommendations in our plan is to try to protect the remaining blocks of green space."
Torizzo and team noted ghuts on both islands were vital paths for stormwater but remain clogged by trash or damaged by storms.
"It's not only a problem because it clogs up the drainage system. You know, in heavy rains, the drainage system gets plugged up and overflows, but a lot of that plastic material makes its way down to the bay. So that's obviously a bad thing," he said.
This is another area where public education is vital but where infrastructure is needed as well. Not only do the ghuts need to be repaired, but they may also benefit from installation of giant underground trash trappers. These structures — invisible from the surface — suck up floating trash like plastics and oils and store them until maintenance crews can clean them out to be disposed of safely.
The programs were not all gloom, however. A point of celebration is a large spillway at Bolongo Bay where stormwater is routed away from the beach, mitigating erosion and allowing the water to seep into the ground along the way.