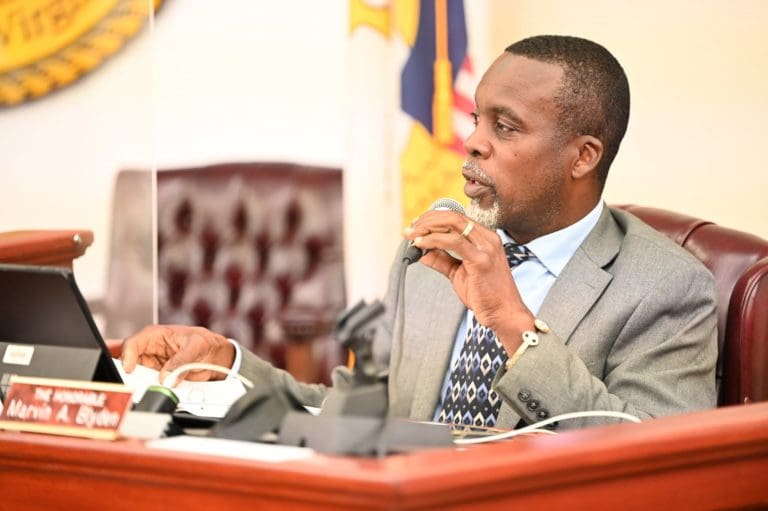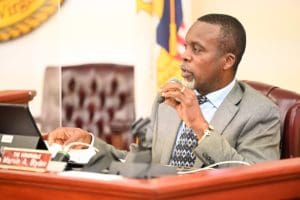 Health Commissioner Justa Encarnacion told senators Wednesday that strides have been made, but there are staffing shortages and other challenges to assisting those with behavioral health issues. She and staff updated senators on that and the status of millions of dollars in federal American Rescue Plan Act funds.
Encarnacion said the Health Department needed psychiatrists, behavioral health nursing staff, case managers, behavioral health technicians, therapists, counselors, and a mobile crisis response team.
"There still is a need to onboard additional staff to not only meet the current demands but also the projected increased need for a range of behavioral health services resulting from pandemic," said Encarnacion.
The Health Department's Division of Behavioral Health, Alcoholism, and Drug Dependency Services provides behavioral health services and operates from six locations in the territory, with almost 500 outpatients, according to testimony provided Wednesday. The division also reportedly has 39 patients at off-island facilities receiving treatment.
Department officials highlighted their expansion of behavioral telehealth services for patients, the addition of mobile outreach vans, and the soon to be constructed Eldra Schulterbrandt Resident Annex where those residents off-island will have the opportunity to instead receive care at home in the territory.
Sen. Marvin Blyden asked about the "type of savings" the department would see as a result of the patients returning to the territory to receive care.
"We're looking at close to four to five million dollars annually if we're able to bring those patients back home," said Encarnacion.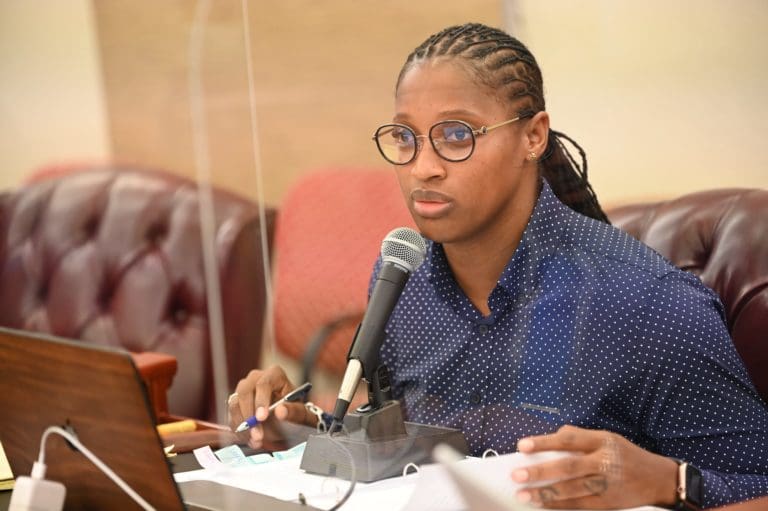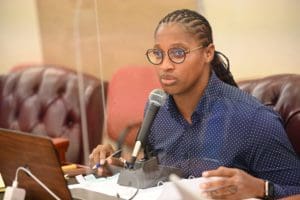 Sen. Janelle Sarauw asked about aging patients with mental health conditions who might be lacking resources for assistance and outreach efforts, citing a personal experience with a neighbor who needed service.
"What is the department's plan to address the psychiatric geriatric patient?" asked Sarauw.
"First of all we need space," said Encarnacion. "Eldra Schulterbrandt, we're at our capacity."
Relating to COVID–19, according to the commissioner, the U.S. Virgin Islands remains among the third-lowest in case and mortality rates in the nation.
"Grant funding now is providing us with more access to human resources," said Encarnacion, who said that additional staff will assist with efforts to reduce the impact of COVID–19.
Of the virus, Sen. Alma Francis Heyliger asked about the status of herd immunity since there are new variants of the virus.
"As it relates to vaccinated and the booster shot, what I would like to know is since those shots came out initially it was for the original form of COVID," said Francis–Heyliger. "Is herd immunity still an option?"
Dr. Tai Hunte-Ceasar, an infectious disease specialist, responded that, "This is a global pandemic. Therefore, we would really have to hope that we vaccinate and immunize the entire world. It's a global goal. If we don't have herd immunity around the entire world what will happen is, we will continue to have variants that will emerge. Herd immunity is always a part of the equation."
Encarnacion updated legislators on the status of ARPA funds. According to the Congressional Office website https://www.congress.gov/bill/117th–congress/house–bill/1319, ARPA provides additional relief to address the continued impact of COVID–19 on the economy, public health, state and local governments, individuals, and businesses.
In the territory, ARPA funds have been allocated as follows:
Behavioral Health and Drug Dependency Services
– Project V7028 Block Grants for Community Mental Health Services Mitigation ARPA funding $125,000 with an end date of September 30, 2025
– Project V7024 Substance Abuse Block Grant Mitigation ARPA funding $125,000 with an end date of September 30, 2025 (spend plan mimics that of V7028)
– Project V707J Substance Abuse Block Grant COVID ARPA funding $590,398 with an end date of September 30, 2025
–Project V703J Block Grant for Community Mental Health Services ARPA funding $590,398 with an end date of September 30, 2025
Epidemiology and Laboratory
– ELC Detection & Mitigation of COVID–19 Among People Experiencing Homelessness $449,760
– ELC Detection & Mitigation of COVID–19 in Confinement Facilities $490,000
– ELC Epi & Lab Capacity for Genomic Sequencing $958,344
– ELC Epi & Lab Capacity for School Testing $3,198,692
– ELC State-based Nursing Home and Long–Term Care Strike Teams $31,987
– ELC Strengthening Healthcare Associated Infections and Antibiotic Resistance Programs $189,669
– Public Health Laboratory Preparedness $25,000
Communicable Disease
– Strengthening STD Prevention and Control for Health Departments award amount $1,000,000.
– Implementing the COVID–19 module in the Behavioral Risk Factor Surveillance System 2022 questionnaire received $25,000. Award Period (Aug. 1, 2021, to July 31, 2022)
Public Health Preparedness Division.
– Cooperative Agreement for Emergency Response: Public Health Crisis Response 2018 was awarded $760,742 for the 2021 Workforce Development Crisis Cooperative Agreement. Award period (July 1, 2021, to June 30, 2023).
– COVID–19 Vaccination was awarded a total of $2,393,005 via three supplemental grants issued in 2021 to be expended by 2024. To date, $412,631 (20 percent) has been expended.
Maternal Child Health
– Pediatric Mental Health Care Access Area Expansion in the amount of $2,225,0000
– Maternal, Infant and Early Childhood Homevisiting Grant Program in the amount of $100,000
Senators Marvin Blyden, Kenneth Gittens, Alma Francis–Heyliger, Janelle Sarauw, Novelle Francis Jr., Samuel Carrion, Kurt Vialet, Carla Joseph, Donna A. Frett–Gregory, and Genevieve R. Whitaker were present for the hearing.