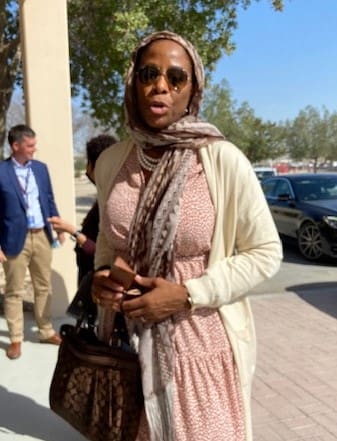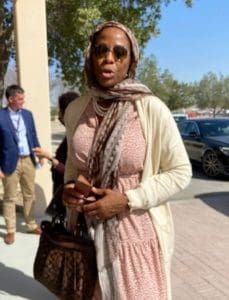 Congresswoman Stacey E. Plaskett, a member of the House Ways and Means Committee, released the following statement regarding her recent trip to the Middle East:
Congresswoman Plaskett and her colleagues — Reps. Eric Swalwell and Sean Patrick Maloney of the Intelligence Committee and Lou Correa, a veteran and a member of Homeland Security and Judiciary Committees, held high level meetings with government officials on Qatar/ U.S. relations.
The group also were briefed by U.S. Defense, Homeland and (non-governmental organizations) NGOs on the work to support Afghan individuals and their families who supported American efforts during the Afghan war. Plaskett visited an Afghan refugee camp and got to speak with servicemen and women, and Afghan guests being processed.
"Seeing first-hand the tremendous work that has been done to bring more than 70,000 individuals out of harm's way in Afghanistan and our government continue to keep its promise as we streamline and process thousands of individuals is more than impressive. I learned a lot from the work of AfghanEvac, a coalition of groups — primarily veterans working to support the mission," said Plaskett.
Congresswoman Plaskett also met with Qatar's officials charged with driving economic development. "Before 1950, Qatar faced bleak economic depression with natural disaster, health pandemics and regional instability. Not only the rise in wealth but the specific calculations on how to invest and grow an economy are fascinating and instructive.  I was happy to talk with the CEO of the Qatar Investment Fund about projections and ideas in the Caribbean. I am always trying to learn and find ways to support our Caribbean region," said Plaskett.
Plaskett also visited one of the nine soccer stadiums being built and not renovated for the 2022 World Cup. "Standing on the pitch of one of the stadiums was pretty awesome. More impressive was the work and preparation being done through Doha for the event this summer," said Plaskett.
In conclusion, Congresswoman Plaskett thought the trip was successful. "This was a pretty timely trip as our meetings came immediately before President Biden's meeting with the Emir of Qatar on a range of topics, but front of mind [is] Qatar's support of Europe with liquefied natural gas LNG as we shore up our defenses as necessary to deal with the Russia/ Ukraine conflict," said Plaskett.