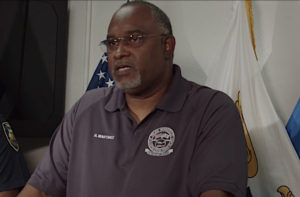 A St. Croix woman was standing by her bedroom window Thursday morning when people driving nearby began shooting at another car. A stray bullet came through the bedroom window and killed 46-year-old Stacie Schjang instantly, said V.I. Police Lt. Naomi Joseph at a press briefing Thursday.
Police pleaded with home and business owners in the Castle Coakley area to share any surveillance camera footage they may have to identify the shooters' white sedan.
Schjang was an innocent victim otherwise completely disconnected from the violent crime outside, said an emotional Police Commissioner Ray Martinez.
"An innocent young lady lost her life when a stray bullet entered her bedroom and took her life. One bullet. She had nothing to do with this violent crime incident this morning," Martinez said.
The commissioner and St. Croix Police Chief Sean Santos said the incident was a turning point in policing the territory, vowing swift adoption of so-called broken-windows policing — where even minor infractions may lead to arrests.
Martinez was particularly adamant, saying police are coming for people on their "watch list."
"It's a very simple message to the guys and girls out here who choose to be on the wrong side of the law. We are coming to get you. We are going to start kicking in more doors. We are going to start stopping more vehicles that tint — the smallest of incidents — we're coming for you," he said. "These bunch of punks on our streets that continue to carry out these acts, it's high time we cut them off at the knees — high time."
Martinez said he met with the victim's family and was at a loss for words. He said it was time for a heart-to-heart with the community about everyone's role in preventing crime but acknowledged the V.I. Police Department's shortcomings.
"I stand before you today and tell you I accept responsibility for the failures of my police department, for the failures of our community because I run the department that is responsible for safeguarding our community, our territory. And today, and last week, and the week before, and going back to July 13 of 2021 when I first took this job, I have not been able to safeguard this community to the level that is owed to you. So I tell you what, I've got a whole different mindset right now. And the mindset is that of shaking things up," the police commissioner said. "We're going to turn these streets up."
The shooting took place not far from where two 17-year-old boys were shot to death Jan. 17.
Schjang's death was the third homicide of the year on St. Croix and the fifth for the territory in 2022, according to the Source Homicide List.*
*The Source Homicide List is a chronological log of the homicides recorded in 2022 in the U.S. Virgin Islands, as reported by the VIPD. Cases are broken down by island. While this listing is based on VIPD reports, the Source does not include suicides or vehicular homicides in its listing that the police and some other media do. This can lead to a discrepancy in the number of incidents reported.