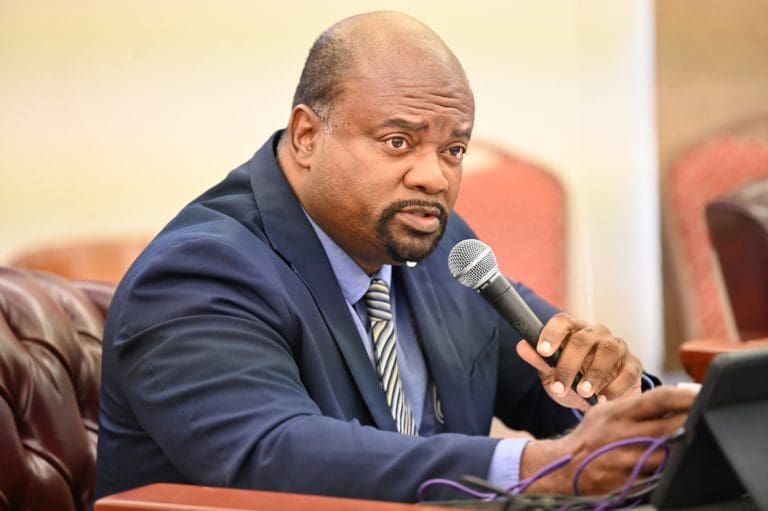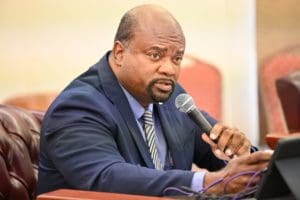 The Rules and Judiciary Committee advanced nine pieces of legislation on Thursday including the Complete Streets Policy bill which aims to increase the usability of the roadways in the U.S. Virgin Islands by creating designated bike lanes, connected sidewalks, and taking into consideration those with disabilities.
According to the legislation, nearly 90 percent of the territory's streets are without sidewalks, nearly 50 percent lack overhead lighting, and over 75 percent of streets have no walkable destination.
But one of the bill's sponsors, Sen. Steven Payne Sr., said complete streets are "the wave of the future when it comes to designing our roadways and sidewalks" and "if you build it, they will come."
Should the Complete Streets Policy bill be adopted as law, it would trigger the assembly of the Complete Streets Task Force comprised of the Department of Public Works as well as various other departments and stakeholders. This team would create the policy, and according to the bill itself would "plan, develop, and provide a more integrated multimodal transportation network that will enhance the quality of life of all Virgin Islanders."
All committee members loved the grand vision of sweeping promenades, bike lanes, and connected sidewalks, but alas the issue of funding and feasibility for such a venture was raised.
"It's definitely a far-reaching legislation," said Committee Chair Sen. Milton Potter. "My only concern is whether or not we have the funding to make good on it. And that the task force will in fact do its job."
After visiting Pittsburgh, Pennsylvania, Potter said he has witnessed how the integration of designated cycling and jogging lanes had a "tremendous impact on the quality of life of folks in the area."
"It is a dream to think that we could, as a territory, find ourselves in a situation where we have well-thought-out, well-planned roadways and streets in the territory. I know we have limitations in that we have small islands with small roads and it might be challenging for us to accommodate some of the really important bells and whistles that communities should have, but I think where it is possible for us to do so we should do so," Potter said.
The committee advanced the bill, and a video supporting the need for such an undertaking to be taken seriously was shared by Payne.
Within the video presentation, Health Commissioner Justa Encarnacion said the territory, like other regions, faces chronic diseases associated with a sedentary lifestyle and everyone should be walking at least 30 minutes each day.
Separately, eight other bills were voted on and advanced to the full body.
Bill No. 34-0198: Sponsored by Sen. Novelle Francis Jr., the act would adjust the name of Virgin Islands Board of General Construction Contractors and broaden its scope of responsibility to include the licensing of specialty trades like plumbing.
Bill No. 34-0156: Also sponsored by Francis, if adopted as law the Virgin Islands Uniform Electronic Wills Act would provide guidelines for how to create, attest, and revoke a will created electronically.
Bill No. 34-0096: Sponsored by Sens. Janelle Sarauw and Donna Frett-Gregory, if signed into law the act would establish the Virgin Islands Virtual Information System commonly referred to as VIVIS. The operating system would be set up within the Office of the Governor and, in part, used by departments and agencies when in need of evaluating eligibility for government services.
Bill No. 34-0090: Sens. Javan James Sr. and Potter sponsored the legislation, which if adopted as law, would extend the Career Incentive Program to peace officers.
Bill No. 34-0182: Sens. Marvin Blyden and Francis sponsored a bill pertaining to the University of the Virgin Islands, which if signed into law, would allow the university to seek endowments in exchange for the naming of campus buildings and property.
Bill No. 34-0146: Sponsored by half the Legislature, if signed into law, the act acknowledges the memory of all involved in the historic Labor Uprising of 1878, referred to locally as "Fireburn."
Bill No. 34-0157: Sens. Kenneth Gittens and Genevieve Whitaker sponsored a resolution, that if adopted as law aims to honor Gloria H. Canegata Waterman for her contribution as an educator and in public service.
Bill No. 34-0174: Sponsored by four senators, the resolution would commemorate the Ivanna Eudora Kean High School's 50 year anniversary.
Sens. Payne, Whitaker, Potter, Francis, Carla Joseph, and Franklin Johnson were present for the hearing. Sen. Gittens was absent.