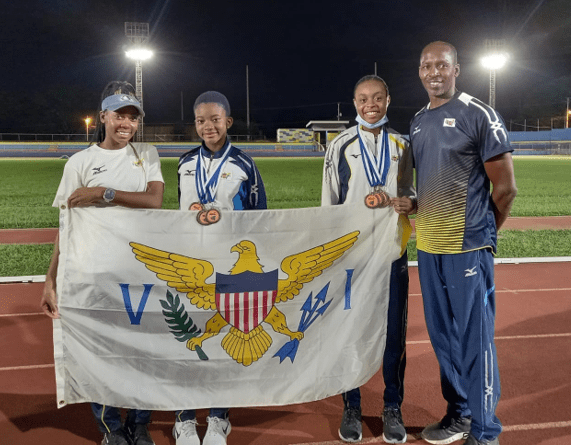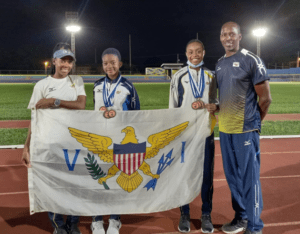 On Monday, the Virgin Islands Track and Field Federation (VITFF) announced that Akyra Joseph and Jeniqua Weekes represented the Virgin Islands at the North American Central American and Caribbean (NACAC) Athletic Championships. Joseph and Weekes are members of the St. Croix Track Club. Joseph attends the St. Croix Education Complex High School and Weekes is a student at John H. Woodson Jr. High School.
Both athletes qualified earlier this year during the track and field trials for the NACAC competition. This competition, which was held in Managua, Nicaragua, Dec. 17 and 18, is for athletes under 15 and under 13. It's a multi-event competition where there are have seven events for the under 15-age group and five events for the under-13 age division. Joseph, who competed in the female under-15 competition, and Weekes, who competed in the female under-13 competition, accumulated a total of 10 medals. Joseph medaled in the 60m hurdles, 80m dash, high jump, long jump, shot put and baseball throw. Weekes medaled in the 60m dash, high jump, long jump and baseball throw. In this competition, the top eight athletes were awarded medals.
Preparing for this competition and getting to Nicaragua to compete was a challenge for many federations, including the VITFF. The COVID-19 pandemic has changed the dynamics of hosting regional competitions and the travel to get to those competitions. The president of NACAC, Mike Sands, commended the countries that attended the NACAC competition.
He said, "We have to adapt to the COVID-19 situation since it is going to be with us for a while."
The athletes truly enjoyed the competition and many friendships were made.
Full results can be found at: https://eventos.fecoa.org/EventoNew.aspx?eve=767&orden=F