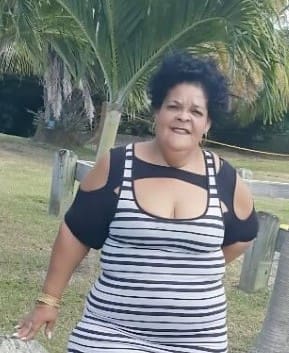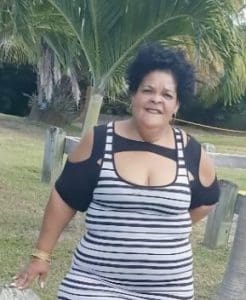 Paula Marrero Velazquez of Estate Williams Delight died on Nov. 9. She was 61 years old.
She was preceded in death by her husband, Mario Velazquez.
She is survived by her sons: Alejandro Velazquez, Mario Velazquez Jr. and Gerard Velazquez; daughters: Angelica Velazquez, Zoraida Velazquez, Janet Velazquez and Tamara Velazquez; and granddaughters: Zularian M. Serrano, Jahsmarie M., Jashaleyn M. and Jahnayrie M. Estrada, De'Myra A. Francis, Odalys Jeffers, Soryliz Matta, Alejandra, Maishalys, Mayrah and Aleida Velazquez, and Wadehjah Knight.
She is also survived by grandsons: Alejandro Jr., Adiel, Alexziel, Mario III and Jomario Velazquez, Waldo III and Wadiel Knight; brothers: Jose Luis, Angel Mario, Luis Daniel, Julio Angel and Ricardo Marrero and Luis Gilberto Cotto; sisters: Maria L. Montanez, Migdalia Marrero, Gloria Marrero, Luz Maria Morehead and Lissette Marrero; and brothers-in-law: Juan Montanez, Jose Anibal and Julio Felix, and Marquez Moorhead.
Other survivors include great-grandchildren: Idalys, Mikaela and Malaysia Hamlin, Amea Matta, Alleyna Wesley, Analiz Haynes and Kyandre J.C. Nieves Jr.; sons-in-law: Rodney Richardson and Waldo Knight; daughters-in-law: Keisha T. Smith and Aisha Thompson; step-grandchildren: Waldo Knight Jr. and Eyan Henry; special friends: Anna Rosa Melendez, Carmela Montanez DeJesus, Julio Estrada Jr., Ozanie Cornelius and Jahmal Quinones; as well as other family members too numerous to mention.
Tributes will start at 10 am. followed by a funeral service at 11 a.m., Saturday, Dec. 4, at Iglesia de Dios El Triumpho Pentecostal (Mon Bijou). Interment will be at Kingshill Cemetery.
Due to the COVID-19 pandemic and public health regulations, all attendees must wear a mask and adhere to social distancing guidelines.