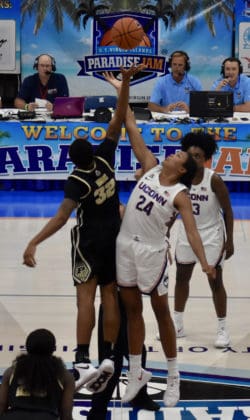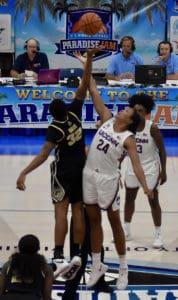 "There is no place like home" was the prevailing theme at the Paradise Jam meeting for local staff held Monday at Sabroso Restaurant.
The popular phrase, recited by Dorothy in the movie The Wizard of Oz, was passionately communicated by Paradise Jam Director of International Programs & Events, Jennifer Ashley. "I haven't been here in almost two years which is the longest time in twenty-three years. I miss you guys when we aren't together. I am so thankful to be able to have this event, here, this year, with you guys," said Ashby while a sea of tears flowed down her face.
Executive Director Nels Hawkinson wished the process of returning the popular collegiate tournament back to its place of origin was as simple as closing his eyes, clicking his heels together and reciting the popular phrase. Instead, he and his staff are facing the reality of multiple challenges head-on. One example is the closure of Marriott Frenchman's Reef and The Sugar Bay Hotel & Resort, which were the primary locations to house participating teams and off-island staff. "When the two largest hotels aren't even open, that takes away 800 rooms. Presently, we have room for everyone but our staff. We are presently working on that," Nels said.
Paradise Jam staff is not only working hard on-island but also nationally as they have secured the major cable sports network ESPN, to cover the entire event. "One of the greatest things is we have ESPN for the first time here in St. Thomas. All twenty-four games will be broadcast live on ESPN 3. That is 48 hours of programming from the Virgin Islands," Hawkinson said, "I don't know what that is worth, but it's immeasurably valuable publicity for the territory."
In the movie, Dorothy woke up to a room filled with love and family, Nel's Hawkinson and his executive staff were greeted by the local staff with love and excited anticipation for this year's event.
Paradise Jam 2021 – Men's Tournament – November 19 – 22, 2021
Paradise Jam 2021 – Women's Tournament – November 25 – 27, 2021
All games will be played at the University of the Virgin Islands.