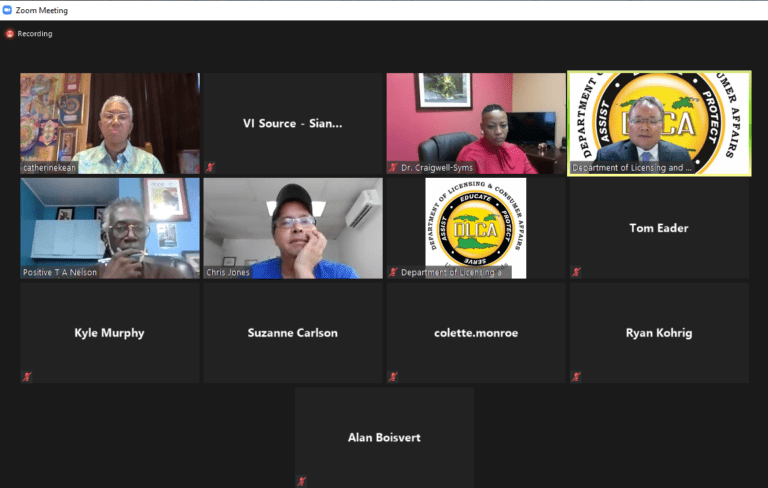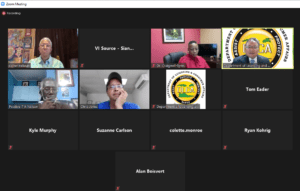 St. Thomas native Hannah V. Carty has been named the first executive director of the fledgling V.I. Office of Cannabis Regulation, putting the territory one step closer to enacting medical marijuana legislation that was signed into law more than three years ago.
Members of the Cannabis Advisory Board announced Carty's unanimous selection Wednesday afternoon during a meeting held via Zoom and said the expectation is to begin qualifying patients for medicinal marijuana starting in January.
Carty, currently the deputy commissioner of Agriculture, will earn a starting salary of $100,000 per year plus the usual government benefits such as retirement and health insurance, said Licensing and Consumer Affairs Commissioner Richard Evangelista, who is an advisor to the board that his office oversees.
"Cannabis in all its facets has demonstrated its ability to improve health outcomes, increase sustainability, and has the potential to be a revolutionary driver of the economy here in the Virgin Islands," Carty said in a statement from Government House.
Evangelista said Carty, who was selected from a field of seven candidates, will assume her new role in six to eight weeks, to give Agriculture Commissioner Positive Nelson – also a Cannabis Advisory Board member – time to find her replacement.
"She's doing a tremendous job, so it's going to be a great loss to him," Evangelista said of Carty following Wednesday's meeting.
Carty was born and raised on St. Thomas and holds a Master of Arts in Food Studies from New York University, concentrating on food policy and advocacy, and a Bachelor of Science in Hospitality and Tourism Management from the University of New Haven.
Carty's appointment – she accepted the post Wednesday during the executive session portion of the meeting – comes as the territory has struggled to enact the Medical Cannabis Patient Care Act – Act 8167 – that was passed by the 32nd Legislature in December 2018 and signed into law by Gov. Albert Bryan Jr. in January 2019.
That is about to change, said Evangelista.
"It was integral to the process that we get a director on board to actually ensure that once that person's onboard, there is no stopping this train. It may be leaving the station tardy, however, once it gets out of the station it is going to be zooming down the track. I'm asking for everyone's continued patience, but buckle up, this train is going to be speeding down the tracks," said Evangelista.
A key first step will be creating the rules and regulations that will govern the medical marijuana industry in the territory. They were supposed to be in place within 120 days of Act 8167 being signed into law more than three years ago but have been stalled as efforts to form an advisory board dragged on and during the search for an executive director.
Chairman Dr. Catherine Kean said that with an executive director now in place, the board hopes to accomplish that task in the next three to four weeks.
Carty will be responsible for ensuring those rules and regulations are published and that public comment is gathered, said Evangelista.
"The director actually is going to have a number of responsibilities, including qualifying patients in the territory, ensuring the effectiveness of the dispensaries and the cultivation facilities, the effectiveness of the cannabis testing facilities, the sufficiency of the regulatory and security safeguards," among other duties that are outlined in Act 8167, said Evangelista.
"Essentially this person is going to be, a play on words, the cultivator of the Cannabis Advisory Board. They are now tasked with running the Office of Cannabis Regulation. They are going to be our liaison to the actual office that is going to be charged with this – we just have oversight responsibility," said Evangelista.
Carty is authorized to hire an assistant, though conceivably the office will grow along with the medical marijuana industry, said Evangelista.
"The sky's the limit. Initially, to start off with though, we're going to assure that she has at least one person to assist her with this endeavor, but, of course, as the momentum picks up – that is part of the task of the director, to report to us what is needed to ensure that we have a successful medical cannabis industry in the United States Virgin Islands," said Evangelista.
As for when medical cannabis will be available, "with the director on board, we've been having discussions, we can't pinpoint when exactly, but we're hoping by the beginning of next year we'll have qualified patients and at least begin contemplating some cultivators," said Nelson.
"Right now, the medical practitioners are preparing themselves through various educational means, and with the director on board, now we are expecting someplace in early January we will be able to start qualifying patients," said Nelson.
In other business, the board selected its officers, unanimously naming Kean chairman, and Assistant Health Commissioner Dr. Nicole Craigwell-Syms the secretary-treasurer.
Board members present at Wednesday's meeting were Kean, Craigwell-Syms, Nelson, and Chris Jones. Dr. Gary Jett had an excused absence and provided proxies for the votes taken, said Kean.