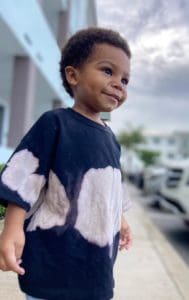 The month of September has new meaning for Anais Cruz and her son Logan Monsanto as Childhood Cancer and Leukemia Awareness Month is important for them when it comes to spreading awareness. Known to Virgin Islanders and others abroad as just "Logan," the 2-year-old's Facebook page "The Logan Miracle Foundation," has touched the lives of almost 10,000 followers and 2,000 followers on Instagram.
Logan's battle began on Dec. 2019 when at only the age of 7-months he was showing symptoms of what his mother and medical professionals thought were signs of teething. He was irritable at night, tossing and turning in his sleep. After a visit to the Emergency Room and being sent home, his mother's world turned upside down when she found out her son was battling Leukemia.
This Sunday, friends, family and well-wishers held a second annual march for Leukemia awareness month on behalf of Logan to bring awareness to those suffering in silence. The participants marched from the Police Department in Christiansted to Fort Christiansvaern. Once at the fort, prayers and stories of survivors were shared. Cruz and her son were not present because the fight for Logan continues.
"We do not have any other awareness regarding any other cancer," said Cruz, who has devoted her life to understanding Logan's treatment, Leukemia, and the importance of being a bone marrow donor.
"I only wish I knew about donating to bone marrow transplant at the age of 18," Cruz said. "When you look into it, the percentage of black donors, it is so few. Kids like my son have a hard time finding donors."
Leukemia is a cancer of the blood and bone marrow. It causes a drastic rise in the number of white blood cells in the body, eventually crowding the red blood cells and platelets the body needs to be healthy.
After a year battle of intense chemotherapy at the Joe DiMaggio Children's Hospital in Miami, Florida ended, in January Logan was able to return home for outpatient treatment, visiting the hospital twice a week. Everything seemed normal, but then something unexpected happened. On July 5 and 6, Logan's mom had an unsettling feeling.
After seven months, Logan's mother felt that something was not right. "The minute that office opened I told them I am bringing Logan, I do not like how he is sleeping," Cruz said.
That unsettling feeling turned out to be right. "They did blood work and it showed up in his peripheral blood that he had a blast," said Cruz. That meant the cancer was still there.
The hospital admitted Logan and tested his bone marrow, finding it was 96 percent filled with cancer. Logan was in excruciating pain because of this.
Cruz was inconsolable at the devastating news. She was thankful for the staff, and her parents who swiftly came to her side when they heard.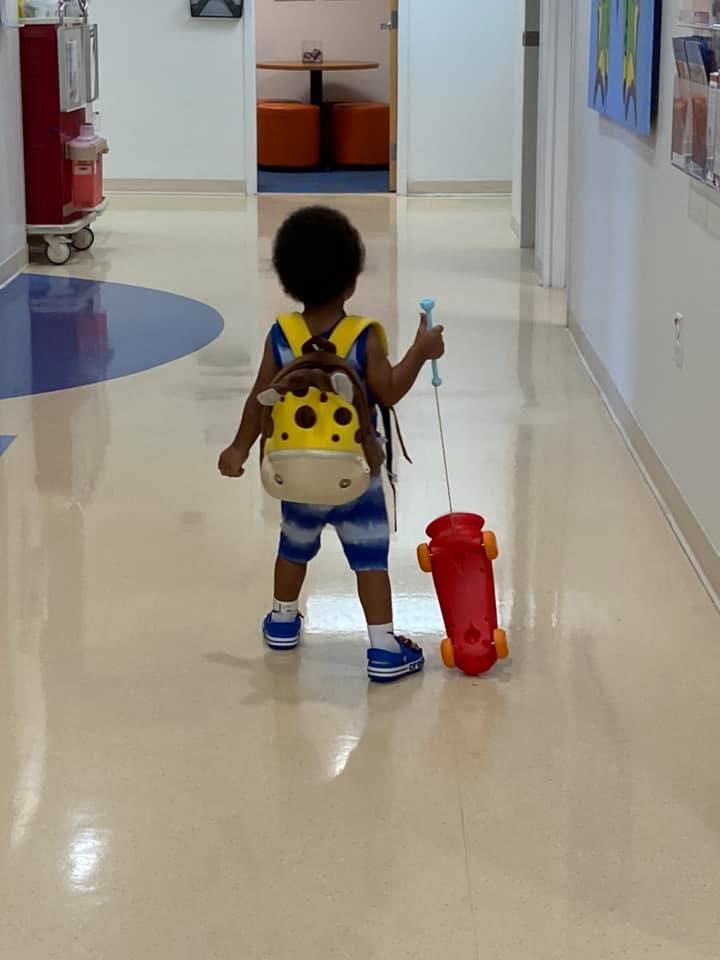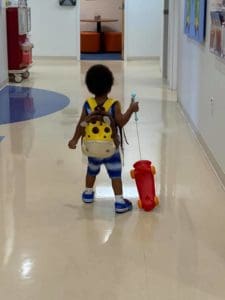 Logan entered a clinical trial although Cruz said she was hesitant when the possibility was presented to her. After discussing it over with her family, doctors administered Immunol a medicine that was not intense as chemotherapy. He wore a special backpack containing the medicine which, unlike chemotherapy, did not cause Logan to lose his hair.
During the treatment, Cruz noticed Logan was walking with a limp.
"I told the doctor he's limping; I did not like how he was limping. He was not using his right leg," said Cruz.
The hospital did blood work, determined he had another peripheral blast and admitted Logan again. The clinical trial was unsuccessful, and the decision was made to go back to intense chemo. Cruz was devastated. "I felt like I failed him, and it didn't work. This was supposed to work," she said.
Logan started the intense chemotherapy again and within a week he was allowed to go home. The same week his fever spiked, and he was admitted to the hospital with a bacterial infection in his blood.
Logan had to complete the rest of the treatment in the hospital. Doctors determined he had zero immune system, bacteria in his blood and kidney issues, all occurring back-to-back. His immune system numbers took about a month to recover.
After the chemotherapy, the hospital tested his bone marrow finding his cancer was not in remission. The chemotherapy port was then taken out because it was determined that was how he contracted the bacterial infection.
Even with the disappointments, Logan's fight is far from over. He will now undergo another treatment at the University of Miami Hospital and is still a patient at Joe DiMaggio Children's Hospital. Once Logan is in remission and after 3 to 4 months of recovery, he can undergo a bone marrow transplant.
Logan has not yet found a bone marrow match, but the focus right now is getting him into remission. Cruz, however, did have an overwhelming response of donors willing to donate bone marrow to Logan and hopes that people continue to be a donor.
"Initially when the Logan Miracle Foundation started, I didn't know what would come from it. I didn't know what I wanted from this, I kind of just let it flow. As I was going through this journey as difficult as it was, I was capturing these moments and sharing."
Today, Logan's mother's purpose is clear. She is the voice of many parents, specifically mothers who are in her position. "My son is only two, and I will always be his voice. I dedicate my life to the Logan Miracle Foundation and doing something with this. When he gets older, he will be able to tell his story."
To donate to The Logan Foundation, you can PayPal at anaismcruz13@gmail.com and you can also follow Logan's journey on his Facebook page https://www.facebook.com/TheLoganMiracleFoundation/ and on Instagram @theloganmiraclefoundation.