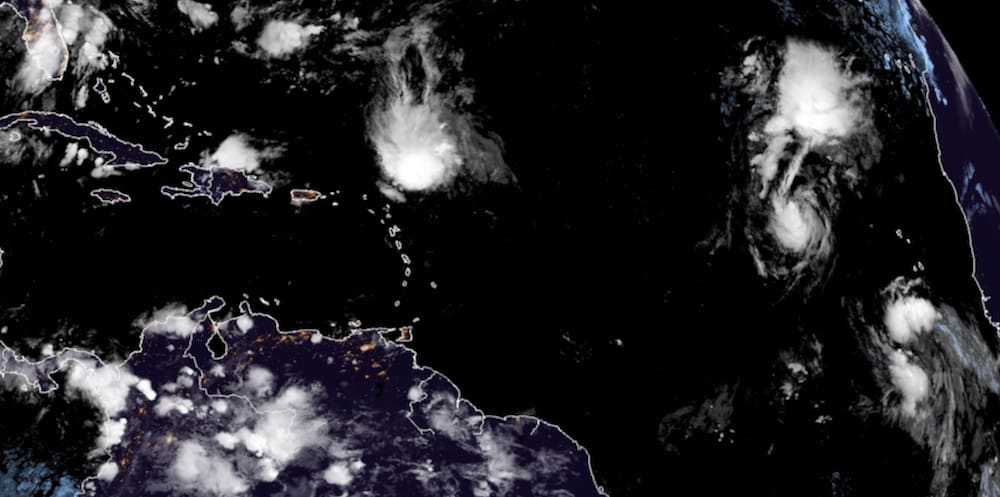 While Tropical Storm Peter makes its closest pass to the U.S. Virgin Islands Tuesday morning, bringing the potential of rain and dangerous currents to the territory, a robust tropical disturbance over the far eastern tropical Atlantic designated Invest 98-L, shows potential for tropical development in a week.
At its 8 p.m. Monday update, the National Hurricane Center issued advisories on Tropical Storm Peter, which was about 150 miles northeast of the northern Leeward Islands, and on Tropical Storm Rose, over the eastern tropical Atlantic Ocean.
Rainfall around the southern periphery of Tropical Storm Peter may lead to areas of urban and small stream flooding through Tuesday across northern Hispaniola, Puerto Rico, the Virgin Islands, and the Northern Leeward Islands, the NHC said.
As of 5 p.m., Monday Tropical Storm Rose had maximum sustained winds of about 40 mph and is moving northwest at 14 mph on a track that is expected to take it away from the territory.
Invest 98-L may become a tropical depression over the next couple of days and then a tropical storm. Less favorable environmental conditions ahead may prevent the system from reaching hurricane strength. The system is likely to continue heading westward at a low latitude throughout this week.
By the weekend, a turn more to the northwest is possible as the system reacts to an upper-level trough of low pressure pulling on it. The trough can have some varied effects on weather disturbance. For example, the effective pull of the trough will determine how close the system tracks to the Lesser Antilles. One model projects a close call on the Leeward Islands early next week. Another model, the GFS, which forecasts a turn to the northwest missing the Lesser Antilles, also forecasts a new upper-level ridge of high pressure blocking the system and pushing it back on a westerly course.
If the trough misses Invest 98-L, the threat to the Leeward Islands would dramatically increase early next week.
The National Hurricane Center gave 98-L a 30 percent chance of tropical development in the next 48 hours, but an 80 percent chance of development in the next five days.
For now, the disturbance is still at least a week away from being a potential threat to the Leeward Islands.