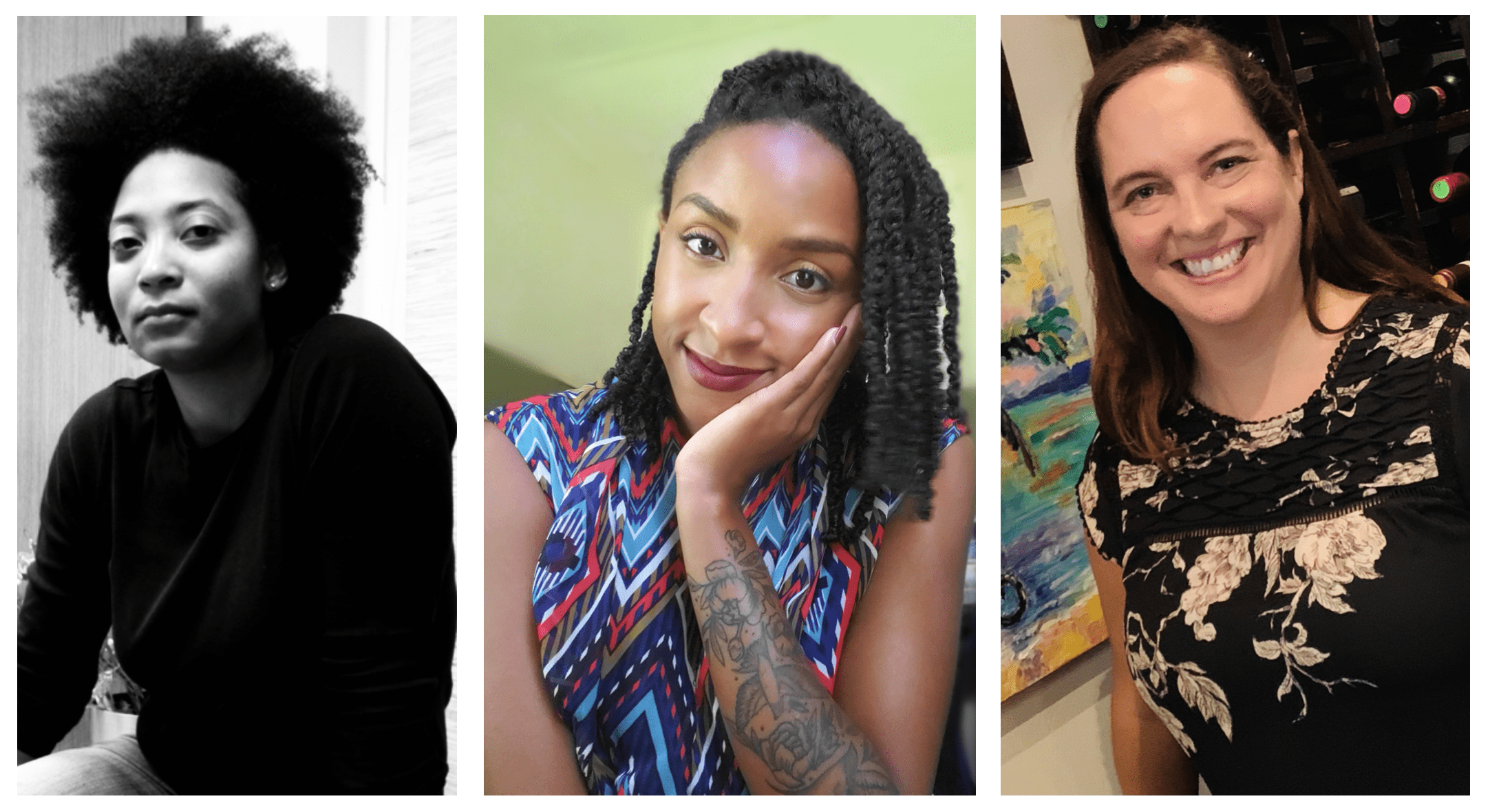 81C is honored to announce the launch of III – Ieshia George, Jasmine Lindquist, Jenny Hawkes – a group art exhibition.
The opening reception event for the show will take place at 81C on Saturday, September 25th, at its downtown location on Strand Gade in historic Charlotte Amalie.
Guests are encouraged to appear in optional creative, elegant attire. Drinks will be offered. The exhibiting artists will be present to engage with the crowd.
Show description:
III is a group exhibition featuring three artists presently living and working in the Virgin Islands. Ieshia George, Jasmine Lindquist, and Jenny Hawks, all drawing from various sources of inspiration and talent, present new works on view at 81C. Differing styles, mediums, and subjects ask viewers to reflect upon their own personal narratives and interpretations.
About the artists:
Ieshia George:  "As an artist I am often inspired by my thoughts and interactions with others. Therefore, my ongoing body of work consist of a collection of random thoughts. I am deliberate in choosing colors and creating shapes to capture the essence of these moments. As a viewer you can expect to tap into a broad range of emotions. Images may make you want to laugh, cry, dance, and love. When you attend one of my exhibitions prepare yourself for the thrill and wonderment of my mind." – Ieshia George
Ieshia R. George was born in 1976 in New York City to parents of West Indian and Central American heritage. She moved to the U.S. Virgin Islands in 1990 to live with her maternal grandmother and aunt. She is a graduate of Charlotte Amalie High School. With a focus on the emotional aspects surrounding the human condition of love, companionship, and the lack thereof, Ieshia creates stylized abstract images of her subjects. The eyes are usually a central feature in her work and often tell a story of their own, in keeping with the idea that they are portals to the heart and soul. Ieshia's preferred media are ink and color pencil on paper and acrylic on canvas. Ms. George is inspired by her interactions with people, observations, and thoughts. Ieshia has been drawing since she first "picked up a crayon" and images are her natural language. She thinks in pictures, not words, and creating is an integral part of her being. Ieshia is an artist and to be anything else would go against her nature.
Ieshia has been sharing her work with the public since 1996 to present date. Her first solo exhibition was in 2004 at Reichold Center For The Arts followed by the Caribbean Museum Center for the Arts "Calling All Artists" exhibition in St. Croix, the Delta Sorority's "Night of the Arts" in St. Thomas, two solo exhibitions at the VI Council on the Arts, works shown at St. Thomas Gallery, and various group exhibitions at other venues and creative spaces including sevenminusseven gallery.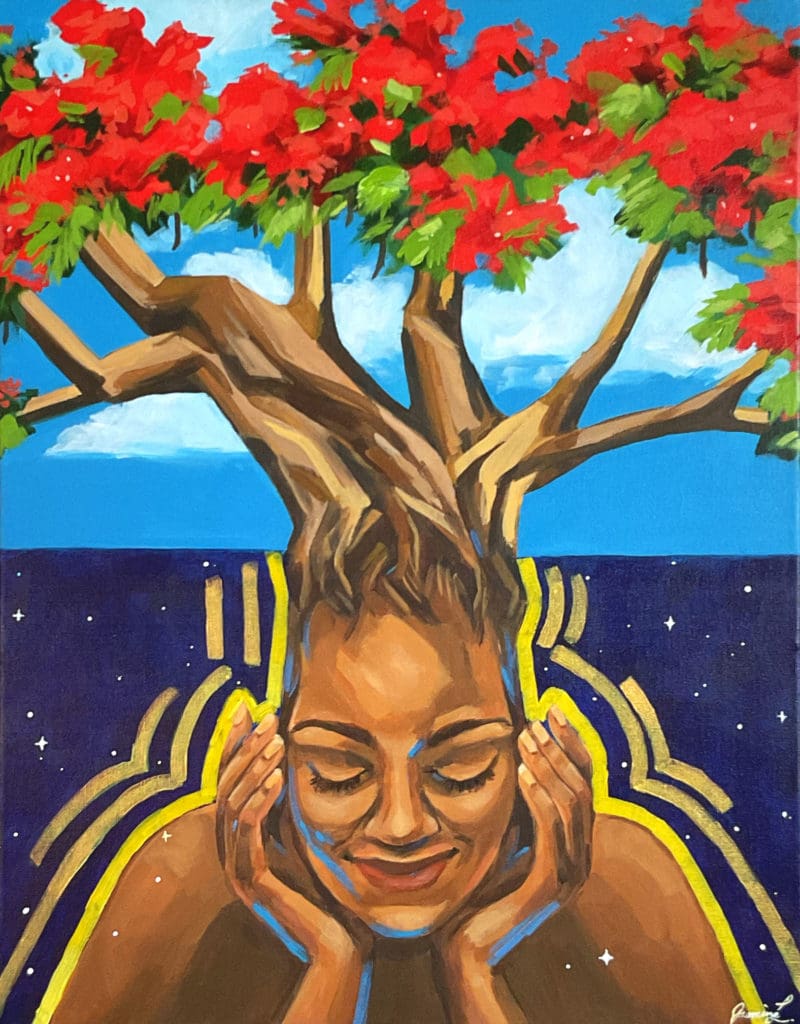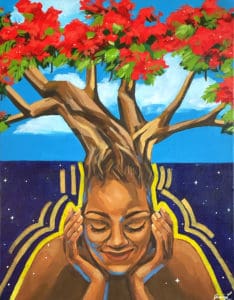 Jasmine Lindquist: "I make "happy art." In a year accented by tragedy, trauma, and recovery, I find that there is nothing more necessary than producing joy in both myself and my community. In 2021, my artistic process has leaned more towards creating joyful yet thought provoking illustrations that are still grounded in Caribbean themes. This year, I use brightly saturated colors and dream-like compositions in my works to create joy and intrigue." – Jasmine Lindquist
Jasmine Lindquist is an artist based in the U.S. Virgin Islands that specializes in acrylic painting and digital illustration. Her versatility between digital and traditional mediums allows her work to be accessible to multiple audiences. The themes of vibrant colors and high contrast that can be found throughout her work are informed by her surroundings in the USVI. From the bright sun and blue skies, to the colorful tropical flora and Danish architecture, Jasmine draws inspiration from all around her.
Jenny Hawkes: "In this year of uncertainty, living through a pandemic, some days felt so devoid of light and warmth.  My work this past year was inspired in bright colors because especially now, we need something to brighten up our lives.  My pieces showcase everyday views and objects revealing the true beauty in our daily lives, that sometimes we overlook." – Jenny Hawkes
Jenny Hawkes moved to St. Thomas in 2012 from Red River, New Mexico. Hawkes has been working for My Brother's Workshop since 2014 as their Executive Director allowing her passion of working with young people to guide her role at MBW. After the storms of Irma and Maria, Hawkes once again started painting, but now in the Caribbean. Hawkes first started painting in her early 20s under the tutelage of great Taos artists like Judy Gentry, Barbara Zaring, and Ray Vanilla. Hawkes describes herself as a "colorist" because of her consistent use of brighter colors in her work. Her work was greatly influenced by her mother who just passed away this past August from cancer. "My mom, Linda, was the first person to put a paintbrush in my hands. In my first painting I ever did, there was this one stroke of deep orange that led my mom to say I was born to be an artist. She knew then and encouraged me all these years later," said Hawkes. Hawkes has always participated in community organizations and loves to use her artwork to brighten up anyone's life. Hawkes has previously shown in two individual art shows on St. Thomas.
Event details:
Exhibition opening event date and time: Saturday, Sept 25, 2021. 5 p.m. – 12 a.m. Celebration, party, art gallery event.
Location: 81C – Downtown Charlotte Amalie. Strand Gade between waterfront and Market Square. Right around the corner from Moe's Grocery on waterfront. Visit www.81CVI.com for a map link. Or google 81C Virgin Islands.
About 81C: 81C is a newly opened event venue in historic downtown featuring a pop-up event space and art gallery. The space is available for private and public pop-up event rentals. 81C was launched by entrepreneur Zack Zook after several years of renovation and restoration to the (circa 1810) building located at 81C Kronprindsens Gade. The space is currently operated by Joseph Hewes, Augustin Kelvin Holder, and Zack Zook. Visit www.81CVI.com and Instagram & Facebook: @81CVI