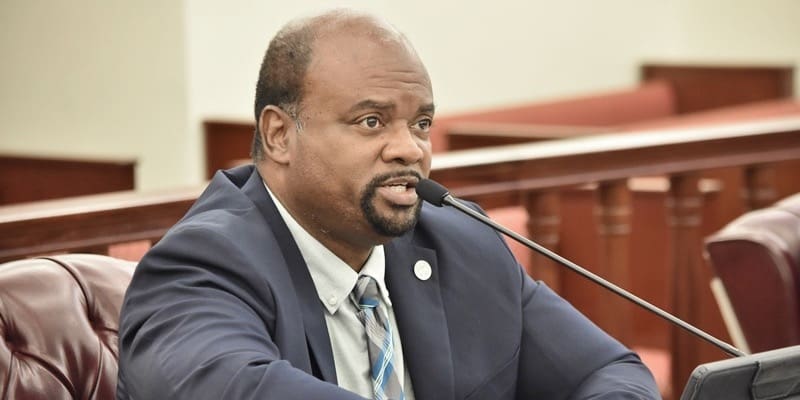 Sen. Steven Payne Sr. said getting 24 appropriations bills to the Senate Rules and Judiciary Committee Wednesday was a "herculean task," as the lawmakers passed the various budgets reviewed by the Finance Committee over the course of the summer.
Nor was it an easy task for the Rules Committee to approve and forward the bills to the full body for final consideration, though it did. The committee started more than an hour later than originally advertised and took several recesses during the course of the day before passing the bills.
Debate on the floor, however, was limited, as most of the bills were moved through on the "closed rule" process, and senators were given only a one-time, one-minute comment.
The closed rule prohibits amendments to a bill during the session. Sen. Carla Joseph said the closed rule assured that the committee would not be forwarding anything to the full body "akilter," or unbalanced.
However, after a long recess from public view, the committee did make amendments to three of the appropriation measures.
They were an appropriation to the Public Services Commission, the supplemental budget, and the appropriation from the General Fund for the government operations. The appropriation for the Public Services Commission and the appropriation from the General Fund concerned the upcoming fiscal year, as did most of the measures.
However, the supplemental budget measure was for this year. It appropriates $24 million to several departments and agencies to pay outstanding obligations and other related purposes.
Committee Chairman Milton Potter opened the meeting saying approving budget appropriations was a fundamental obligation of the Senate, and the Senate aimed to have the budget in place by Oct. 1, the beginning of the fiscal year.
The other appropriation measures forwarded with favorable recommendation included appropriations for: the operation of the Judicial Branch; the operation of the Legislature; for salaries and expenses of the Board of Elections and the Office of the Supervisor of Elections; for the salaries and expenses of the University of the Virgin Islands; for the operating expenses of the Virgin Islands Hospital and Health Facilities Corporation; for the operating expenses of the Virgin Islands Office of the Inspector General; for the operating expenses of the Public Employees Relations Board and the Labor Management Committee; and three appropriations for the Waste Management Authority.
The measures all received unanimous approval from the seven members of the committee. The committee comprises Potter, Novelle Francis, Genevieve Whitaker, Franklin Johnson, Payne, Kenneth Gittens, and Joseph.