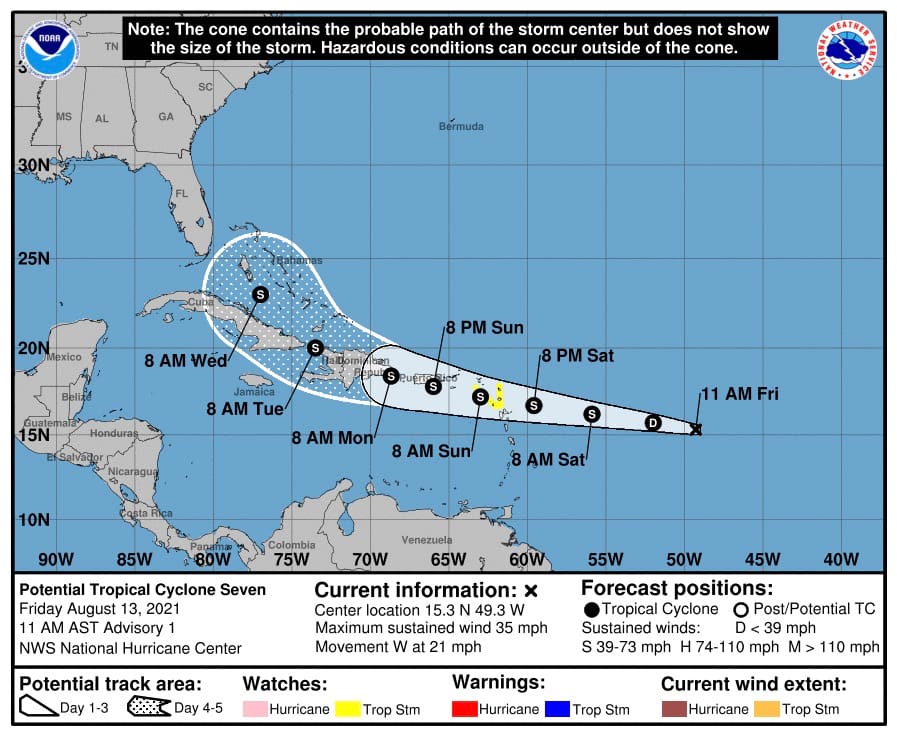 The U.S. Virgin Islands and Puerto Rico are monitoring a system, now known as Potential Tropical Cyclone 7, which the National Hurricane center forecast will be at tropical storm strength when it passes through the territory this weekend.
Tropical storm watches have already been issues for Antigua, St. Kitts and Nevis, Montserrat, Saba and Sint Eustatius.
A tropical storm watch means that tropical storm conditions are possible within the watch area, generally within 48 hours.
According to the NHC's 11 a.m. Friday update, the disturbance was centered near latitude 15.3 north, longitude 49.3 west., and was moving toward the west at almost 21 mph. This general motion with a gradual decrease in forward speed is expected into early next week, the NHC said.
The system is expected to approach the Leeward Islands on Saturday, move over the Leeward Islands Saturday night and Sunday, and then be near the Virgin Islands and Puerto Rico Sunday night and Monday.
Maximum sustained winds are near 35 mph with higher gusts. Gradual strengthening is forecast during the next couple of days, and the disturbance is expected to become a tropical depression Friday night and a tropical storm by Saturday.
The agency warned that the system is bringing heavy rainfall that might produce areas of scattered flash flooding over the northern Leeward Islands. There also is a risk of wind and rainfall impacts in portions of Hispaniola, the Turks and Caicos Islands, the southeastern Bahamas and Cuba next week, the NHC added.
The U.S. Coast Guard has already set Port Condition WHISKEY at 11 a.m. on Thursday for all maritime ports in the U.S. Virgin Islands and Puerto Rico.