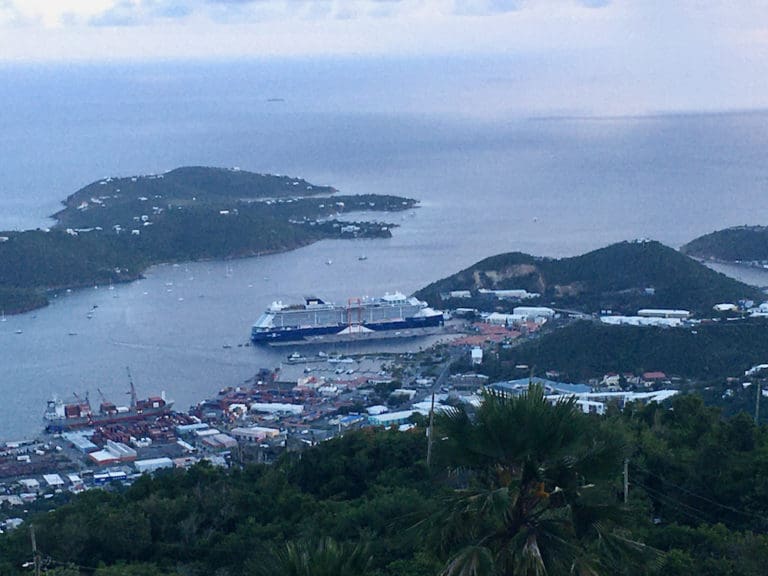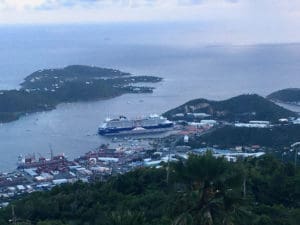 As St. Thomas welcomed thousands of Celebrity Edge cruise ship passengers on Tuesday, the U.S. Virgin Islands was listed by the Centers for Disease Control as a COVID-19 "very high" risk destination to avoid.
At the same time, the territory implemented a new policy requiring all cruise ship visitors to be vaccinated against COVID-19 if they are age 12 or older, according to a statement by Royal Caribbean International that was confirmed in a phone call to the V.I. Tourism Department on Tuesday.
The USVI was given the risk designation of "Level 4: COVID-19 Very High" by the CDC on Monday, along with 15 other destinations including St. Barthelemy, St. Martin, Martinique and Guadeloupe in the Caribbean. The British Virgin Islands, which has been battling a surge in cases since the end of June, was already on the list.
The news, which was reported by CNN, Reuters, and the Daily Mail among others, comes as the territory is confronting an outbreak attributed to the highly contagious Delta variant of the virus that has resulted in nine deaths in the last month alone, for a total of 39 fatalities as of Tuesday.
According to figures from the V.I. Health Department on Monday, there are 255 active COVID-19 cases in the territory. It said six people were hospitalized at Schneider Regional Medical Center on St. Thomas and 23 at Juan F. Luis Hospital on St. Croix, though the St. Croix hospital reported on Tuesday that its patient count had dropped to 19.
The CDC bases its travel designations on a variety of factors, including the incidence rate, or cumulative new cases over the past 28 days per 100,000 population; whether daily new cases have increased, decreased or are stable; and the population testing rate and test-to-case ratio, which is the number of tests conducted for each case during the same 28-day period.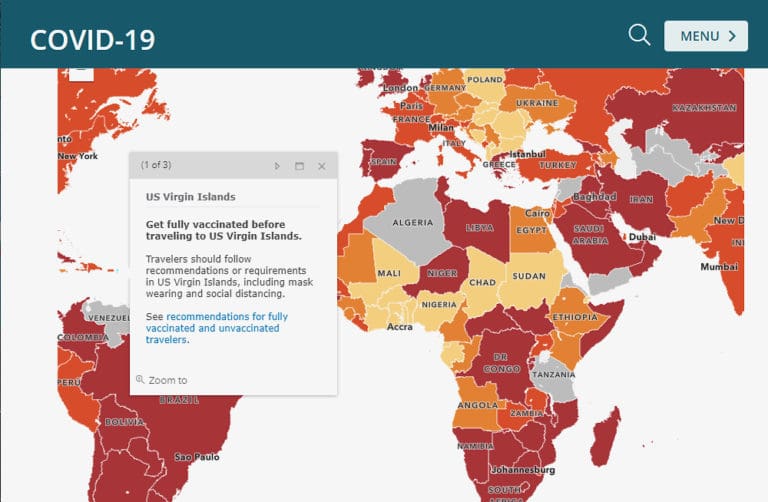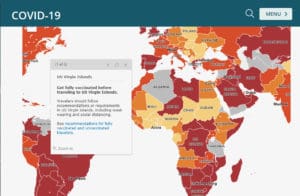 "A test-to-case ratio of less than 10 tests per case might indicate restrictive testing, or that only symptomatic people are being tested and undercounting the incidence rate (primary criteria). The preferred level is a test-to-case ratio of more than 30," according to the CDC.
According to the Health Department's Response Report of Aug. 2, it conducted 566 tests from July 30 to Aug. 1 and found 34 positive cases, which translates to 16.6 tests for every case detected during those two days.
Government House did not respond to a request for comment Tuesday about the CDC designation or the new cruise ship passenger vaccination policy, though Gov. Albert Bryan Jr. did address the COVID-19 surge and the higher rate of hospitalizations on St. Croix versus St. Thomas at his weekly press conference on Monday in response to questions from The Source.
The higher number of people hospitalized on St. Croix versus St. Thomas, which has the lion's share of active cases at 156, "is an aberration, because unfortunately there was cross-contamination at the hospital where patients went to the hospital COVID-free and ended up with COVID," said Bryan. "They are doing mitigation efforts to be able to separate out patients and make sure we control anything that is going on … but this is the reason why we have this," he said.
"I am not blaming the hospital at all, because this is what happens when our health care workers get tired, more and more people come to the hospital – I think we had four gunshot wounds this weekend – our St. Croix hospital is at capacity," he said.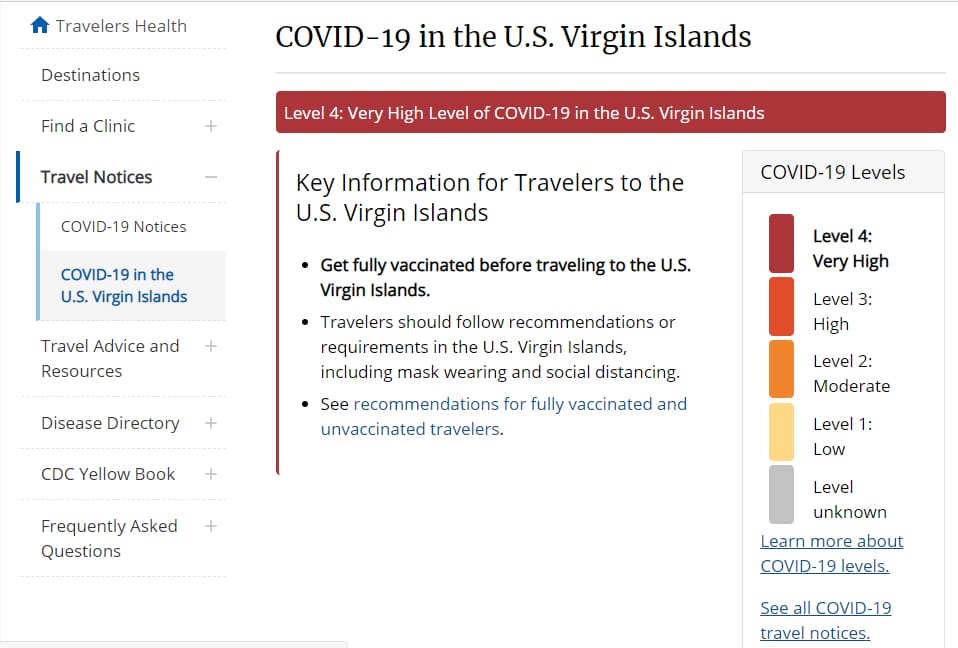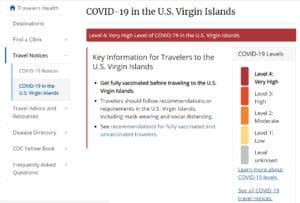 The Juan F. Luis Hospital in other news reports has disputed whether COVID cases resulted from cross-contamination or were already existing but not picked up by testing. It has implemented a no-visitation policy and has put a two-week hold on elective surgical procedures, it said in a statement.
Help is on the way, said Bryan, with more health care personnel expected in the territory by Friday as the V.I. government contracts with mainland providers such as Pafford Emergency Medical Services out of Arkansas to help with the COVID-19 response. The Health Department also is considering moving patients from the St. Croix hospital to the high infectious disease unit at Schneider Regional Medical Center on St. Thomas, he said.
However, by far the easiest solution to the current surge is to get vaccinated, Bryan said.
While the V.I. government has not issued any vaccine mandates for residents, it is now requiring all cruise ship visitors to be vaccinated if they are 12 or older, according to Royal Caribbean. Previously, unvaccinated passengers were allowed if they submitted to a strict testing protocol and limited their shore time to excursions run through the ships.
Tourism Commissioner Joseph Boschulte did not respond to an email requesting comment about the new policy, but a person answering the phone at the department on Tuesday confirmed vaccinations are now required for all passengers 12 and older.
"Guests unable to show proof of vaccination will not be allowed to sail," Royal Caribbean said in a statement in response to the new policy. According to its website, the company instituted a vaccine policy for all passengers 12 and older starting Aug. 1 – except for cruise ships departing from Florida, where Gov. Ron DeSantis has banned such mandates.
Whether the USVI's new policy is a workaround of DeSantis' legislation went unanswered Tuesday.
According to a report by Travel Weekly on Tuesday, Royal Caribbean's Allure of the Seas is scheduled to call on St. Thomas on a seven-day cruise departing Port Canaveral, Florida, on Aug. 8.
"In a communication with booked passengers, Royal informed them of the USVI's new policy and offered unvaccinated passengers a full refund or the opportunity to take a different cruise," the magazine reported.
Travel Weekly also noted the complexity of cruise companies planning multi-port itineraries in a pandemic as Royal Caribbean reported that St. Kitts, where the Allure also was slated to call, is now restricting visits to ships with 700 or fewer passengers.
"We'll now visit Philipsburg, St. Maarten, instead," Royal Caribbean said in the communication to passengers.
It is unclear whether any of these developments were responsible for Royal Caribbean's Oasis of the Seas canceling its planned call on St. Thomas on Tuesday – what would have been the first two-cruise-ship day since the start of the pandemic in March 2020. The V.I. Port Authority attributed the change to the vagaries of scheduling in the time of COVID-19.