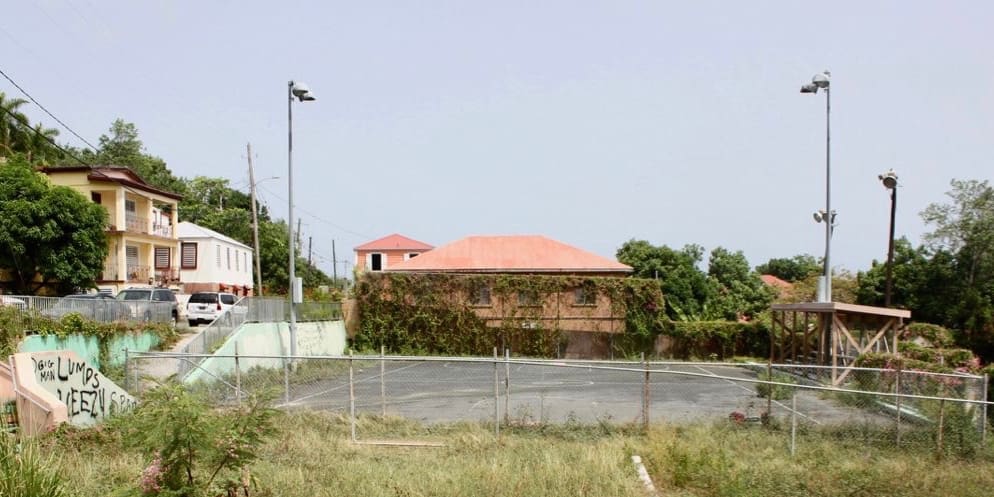 The Romeo Malone Community Center overflowed with frustration and optimism in equal measure Thursday night as several dozen Savaneros gathered to address a number of unresolved challenges in their historically significant but for years governmentally overlooked neighborhood on the western edge of downtown Charlotte Amalie.
Trash, abandoned vehicles, the stalled Army Corps of Engineers Savan Gut project, and lack of focus on the community by elected and appointed officials were highlighted, but none of those concerns loomed as large as the repeatedly abandoned Savan basketball court rehabilitation plan that seems no farther along than it was years ago.
"We've had children die while waiting for a basketball court," said Iffat Walker. "They could have been playing basketball."
Walker, the founder of Community Action NOW!, the stakeholder agency for the Savan community, is a feisty not-quite-five-foot-tall Savanero splitting her considerable energy between the Virgin Islands and Atlanta. Walker was widely heralded at the town hall meeting she had called and led for never taking "no" for an answer.
Commissioner of Sports, Parks and Recreation Calvert White, who is more than a foot taller than Walker, told the assembled group, "She came to my office and told me what I must do for her." That included allowing the group to take up residency at the Malone Center.
White was the perfect choice as an ally for many reasons, not the least of which he explained was, "The very parks I oversee is why I was able to go to college and play basketball."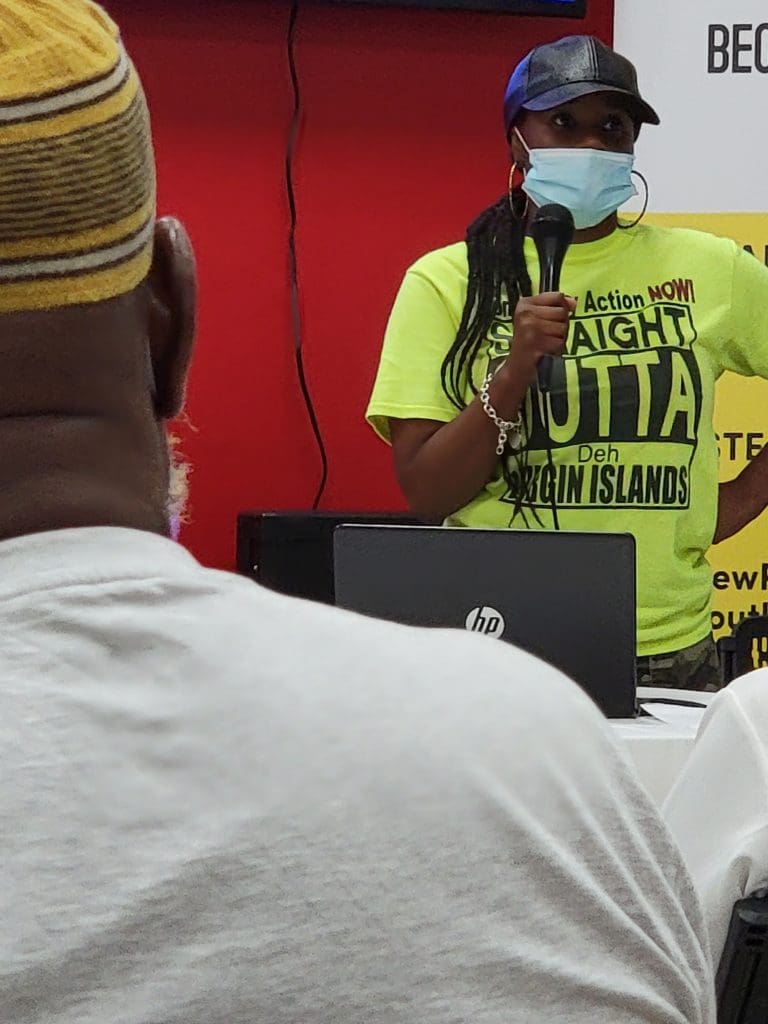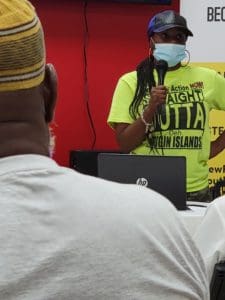 White said the Savan court project is not under his purview but is the bailiwick of the Housing Finance Authority.
He was also straightforward about the latest roadblock. The contractor initially chosen to do the work was "terminated."
They were the same group hired to work at Clinton Phipps Racetrack, where they removed the bleachers. White recognized the same bleachers at the Savan court.
"They were supposed to provide new bleachers, and they charged us for new bleachers," he said.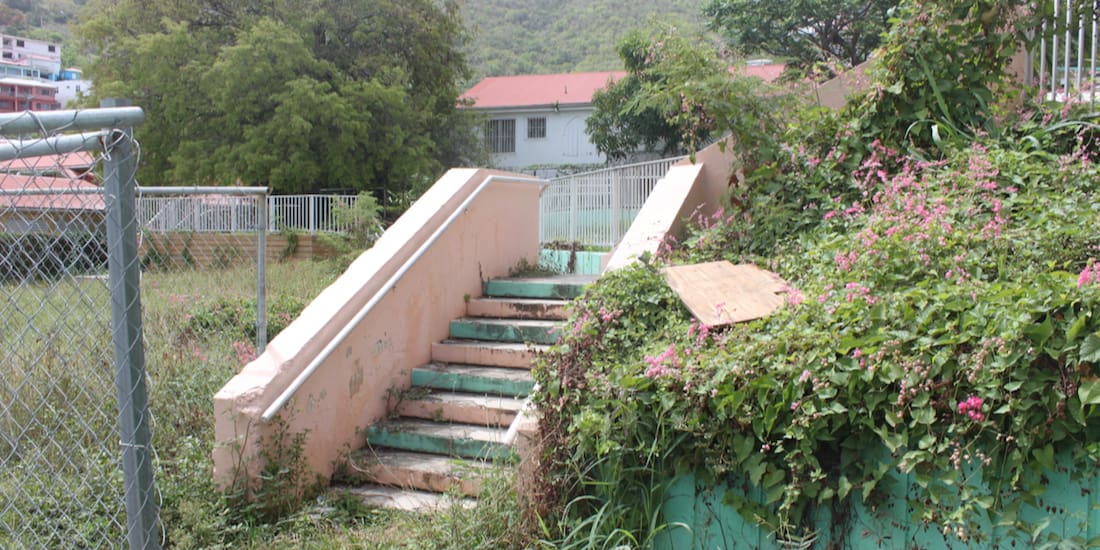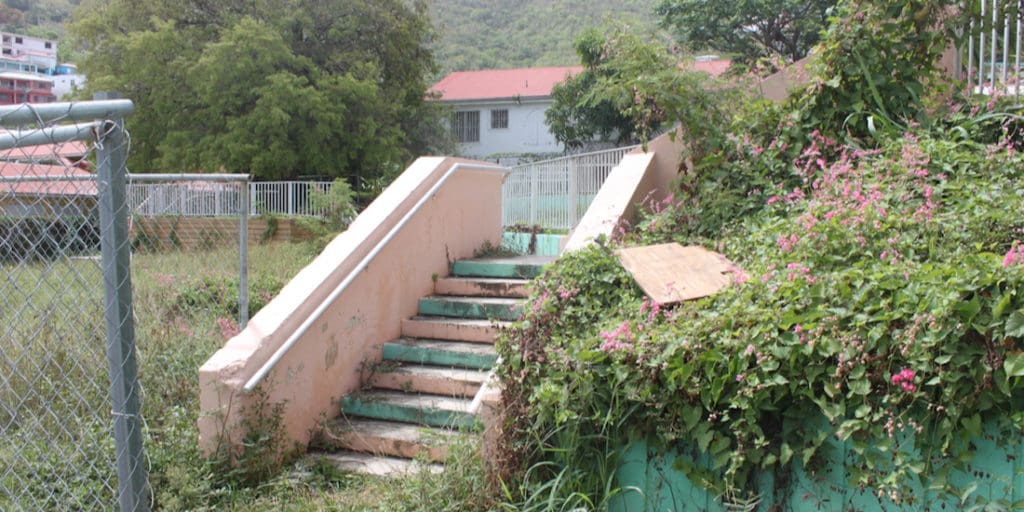 Another request for bid was put out, but with the array of hurricane-related construction and then COVID, no one could say Thursday night exactly where HFA was in the process.
On the brighter side, Walker listed several recent accomplishments, which included a summer camp for youngsters, a graduation of 15 young people from C.A.N. (Community Action NOW!) Academy with certifications in everything from Microsoft and Intuit Fundamentals to entrepreneurship and small business development; and C.A.N.'s appropriation of a ground floor section of the Malone center set aside specifically for seniors who might not want to walk the stairs to the second floor, and who she said might also not want to be around young people, "who get on their nerves."
The attendees were especially happy to learn the campers had just spent the day on the water where, Walker said, they were learning a variety of marine skills, including how to operate a boat.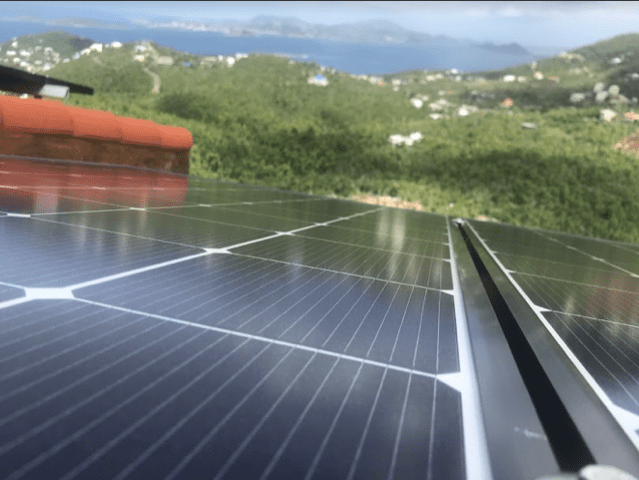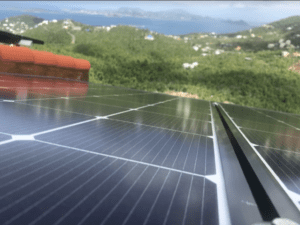 Solarizing Savan
The community also learned about a program that could, at the very least, provide them with low-cost emergency solar energy generators in blackouts. At best, the program could get homeowners of every economic stratum hooked up with rooftop solar panel systems that take advantage of bulk purchasing and installation to keep costs low. Don Moreland and Jason Budsan of Solarize St. Thomas were on hand to explain how even low-income community members can use a solar-powered portable generator to make it through the night when disaster strikes the Water and Power Authority grid. The system could be purchased for as little as $350 for qualified residents.
Moreland and Budsan had rushed to the meeting from the East End where they had spent three days conducting an open house.
The presentation raised questions and spirits for the residents at the idea they could enjoy the same benefits. The questions were mostly around why the price differential between $350 for some and $1,600 for others to acquire the three- outlet portable generator, which Moreland assured one man would definitely get him through the night. Another attendee wondered what would happen when passing storms and rainy conditions cut down on the sun.
"The unit's battery can also be fully charged by plugging it into WAPA power," Budsan said.
Walker repeatedly asked those in attendance to call 340-474-1510 for an appointment to learn more and apply for the various solar options that include full-scale rooftop solar panel installation with battery support for homeowners.
Savaneros Must Unite
In introducing the final agenda item, Walker did not kid anyone in the audience about their responsibility to their home.
"It's up to us to change the narrative about our community," she said.
To that end, she urged the community to form a legal entity that would be a subsidiary of Community Action Now! to be called Savaneros United Now! She called on those in attendance to sign up on a sheet provided in the back of the room to be part of the organization, adding there would need to be a board of directors, president, secretary and treasurer.
The mission, among other things, is to demand action from the government on behalf of the community, she said.
"We are calling for people to stand at the agencies until they get answers and dates."
A voice from the back of the room called out, "I have just signed up." Turned out it was Daryl George, fire chief and Savan resident.
"I don't want to lead this, or be an official," George said. "But I will serve in any way I am needed."
A few residents were not convinced all the talk would lead to action.
In response to a vexed attendee who left the meeting, mostly because of a misunderstanding, Walker maintained her determination while showing understanding toward the dispirited residents.
"When you walk out, nothing gets done," she said.
After the meeting ended, she explained that the man was the father of the young man she had referred to earlier who had been killed while awaiting the basketball court reconstruction.
As the meeting came to an end on time, Walker called upon her neighbors to "Have passion, not frustration."