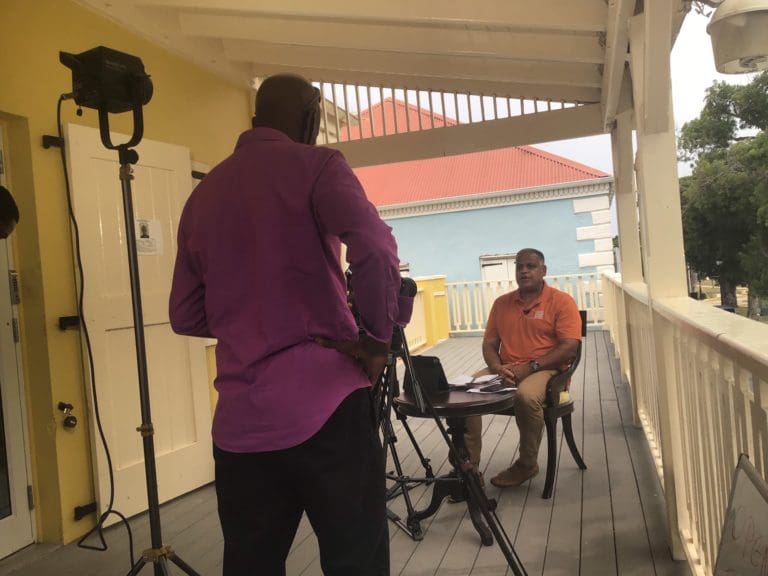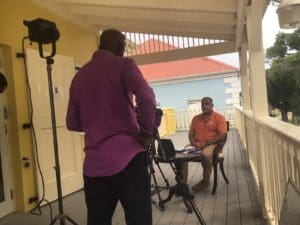 On the first episode of a new livestream series launched by Government House called "Inside the Cabinet," Tourism Commissioner Joseph Boschulte announced that residents who have been vaccinated in the U.S. Virgin Islands will soon be able to upload their vaccine cards to the travel portal in place of a negative COVID-19 test or positive antibody test when traveling. They are calling the new program "Virgin 3.0," and it is set to be launched within a few days.
On Wednesday's broadcast, Boschulte also brought viewers up to speed with what is going on at the V.I. Department of Tourism and lessons learned.
The livestream was filmed at Tourism's office on Strand Street, Frederiksted, with a view of the Frederiksted pier at sunset. There Boschulte laid out a timeline of events that has led us to the present day. "As we all know, for almost a year and a half the world has been in a total shut down from where we used to be pre-COVID."
Boschulte said that in March of 2020 when Gov. Albert Bryan, Jr. shut down the territory, the USVI took a big hit, losing 60 percent of its tourism business. "Anytime we lose our tourism business it can make things difficult."
"When COVID hit in March 2020, we actually were rebounding from hurricanes Irma and Maria that happened in 2017," he continued.
Bryan gave the mandate in June 2020 to reopen the U.S. Virgin Islands to leisure guests, and Boschulte said that the territory began to see a spike of visitors for the months of June, July and halfway through August. Soon after, the governor issued a shutdown order when COVID numbers began to increase once again. After this occurred, his department worked closely with the Department of Health to develop a method of reopening better than before, Boschulte said.
"We began and issued our travel portal that has been the backbone of our successes so far in our tourism product," he said. The travel portal allows travelers to the territory to input information that plays an important role in contact tracing. "It also gave us an opportunity to gather information from where people are traveling in from and how long they are staying in the territory," said Boschulte.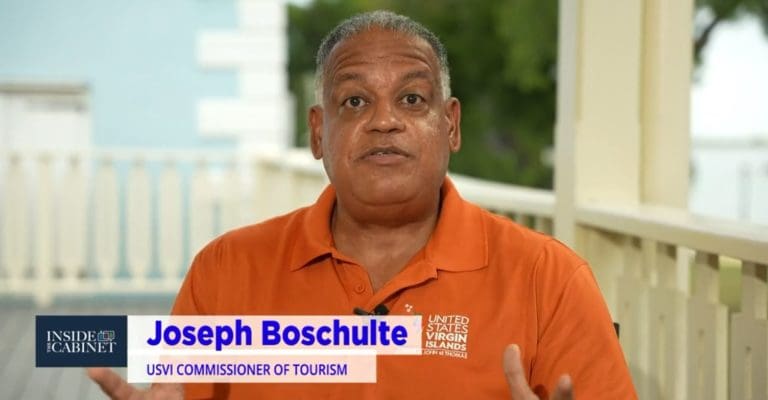 During this period, Boschulte said, the department found out the territory received over 650,000 visitors into the portal since last year. May 2021 saw 100,000 people entered the portal and June 2021 saw almost 130,000 people — and this number is without cruise ship traffic. "We are as busy as it has ever been with overnight guests."
Boschulte said that the hope is for the United States traveler to be vaccinated and Virgin Islanders getting vaccinated to allow a nice smooth transition into the fall and then a busy winter season for the territory.
"At the moment cruise ship passengers do not come through a travel portal directly. However, there is a list that is provided to leadership here in the territory, the ports and the Department of Health," said Boschulte. The report shows how many people are coming in on the ship, both guests and crew. In that subset, it also shows how many people are vaccinated.
Boschulte said that on the last cruise ship that visited the territory, there were about 1,500 passengers people and 700 crew. There was a 97 percent vaccination rate of the passengers and 100 percent vaccination rate of the crew, he said.
"If we get all those ships coming in with that high of a vaccination percentage, I feel very good about our ability to protect ourselves against any cruise ship traffic and the spread of the virus," he said.
For each cruise ship and each cruise line that comes in, Boschulte said that there will be a similar protocol that will go into place because each line will have to have an agreement directly with the Department of Health.
Once vaccinated passengers clear necessary protocols on the ship, they will wear a band to show they are vaccinated. The band will allow the passenger to move around freely. People who are not vaccinated will have a different color band and are allowed to take part only in ship excursions so that everyone knows exactly where they are.
Passengers who are not vaccinated must take a "polymerase chain reaction," or PCR, test and an antigen test three days prior to sailing. "You have to fill out the travel portal and you have to have a negative COVID test or a positive antibody test in the last four months," said Boschulte.
"We expect our next cruise ship in the Virgin Islands next Tuesday, and it is going to be the Celebrity Edge again. We expect around 1,500 to 1,600 passengers and similar vaccination numbers." He continued, "Then we will have the Royal Caribbean Allure coming the following week. We are looking at 40 to 50 percent occupancy".
Thirty cruise calls are confirmed between Royal Caribbean and Celebrity Edge. He also said that he expects the other lines to be confirmed in the next few weeks and expects their return sometime in September as far out to October.
Boschulte credited residents for assisting in accommodating 10,000 air passenger seats into St. Croix and 30,000 passenger seats into St. Thomas in a given week. He said while some of the biggest hotels are down, many residents who have listed available homes on Airbnb, Vrbo, and HomeAway have helped with providing lodging to 2,000 plus visitors.
Boschulte also said that residents will begin to see a series of events in collaboration with the Division of Festivals out of the Department of Tourism. "It will either be vaccinated events or events that will allow people to get vaccinated at the particular event," he said.
The Division of Festivals announced the 69th Festival for St. Croix is on schedule to take place in December. "We are encouraging people to get vaccinated so that they can come out and enjoy life, almost as close as we used to be," said Boschulte.
"Let us keep the consistency of behavior up to protect all of us, and we will keep our tourism product flourishing. Tourism is all of us."