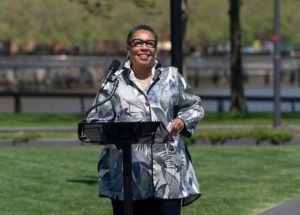 A lack of electrical power always makes Virgin Islanders' recovery from a hurricane difficult. This was especially felt in the aftermath of the 2017 hurricanes, when power was not restored to some areas for months. The discussion between federal officials and territory officials that had been going on for years concerning the "hardening" of the power grid, so it would not be devastated, routinely intensified.
The discussion came quickly but money did not. Now, with a new administration in Washington, D.C., that is changing.
The U.S. Department of Housing and Urban Development earlier this week announced that $2 billion in Community Development Block Grant Disaster Recovery funds is available for the electric power systems in Puerto Rico and the U.S. Virgin Islands.
"Today's announcement is an important step in addressing the recovery and resilience needs of Puerto Rico and the U.S. Virgin Islands," HUD Secretary Marcia Fudge said in a release. "By opening the door to this $2 billion in funding, HUD is enabling Puerto Rico and the USVI to improve the reliability and resilience of their electrical systems."
Delegate to Congress Stacey Plaskett, a member of the House Ways and Means Committee, said the announcement meant HUD was taking steps "to release much needed, long-awaited funding for our disaster recovery efforts in the Virgin Islands and Puerto Rico." She said in a press release that this funding gives the U.S. Virgin Islands the ability to improve the resilience and the hardening of the electrical systems in order to both withstand the impacts of climate change and contribute less to its causes.
Jean Greaux, director of communications at the Water and Power Authority, told the Source Thursday, "Initially, the funding was restricted to new generation for the power plants, however, the rules have been amended to allow for more flexible spending on mitigation projects. WAPA is meeting with its local and federal partners to make a final determination on projects."
In the official announcement HUD officials wrote, "In 2017, Hurricanes Irma and Maria damaged significant elements of the electricity systems in Puerto Rico and the USVI. Following the hurricanes, five months of repairs were required in order to restore power to the USVI, and approximately eleven months of repairs were needed to restore power to Puerto Rico. CDBG-DR funds for electrical power system improvements provide a unique and significant opportunity for these grantees to carry out strategic and high-impact activities to address necessary expenses and mitigate disaster risks to their electrical power systems, improve system reliability, resiliency, efficiency, sustainability, and address each system's long-term financial viability."
The HUD press release announcing the funding aid had a political message, too. It said, "Since its first days, the Biden-Harris Administration has prioritized action to enable stronger recovery for Puerto Rico and the USVI. This includes obligating long-awaited disaster recovery funds and removing onerous restrictions placed on the grants."