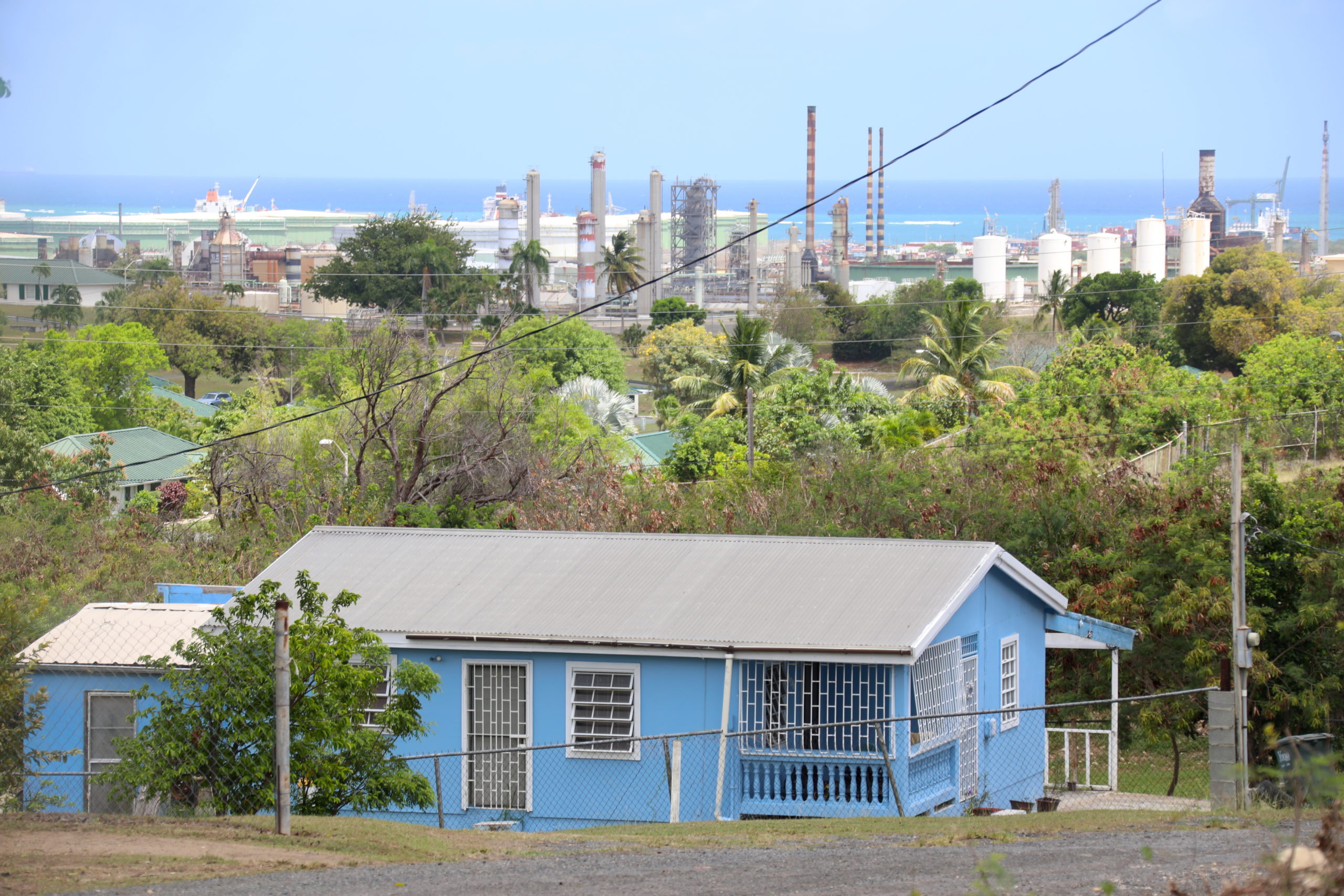 A motion filed in Superior Court Thursday could help hundreds of St. Croix residents get their cisterns, gardens and homes cleaned of oily petroleum hydrocarbons from a Limetree Bay Refinery flare mishap on May 12.
Made by Lee Rohn Associates on behalf of plaintiffs in the class-action lawsuit Cotton, Beecher, et. al. v. Limetree Bay Ventures, LLC, the motion seeks to compel Limetree to clean up the oil it spilled on dozens of neighborhoods without requiring that residents sign forms waiving their rights to possible bodily injury and property claims. (See motion here)
One of Rohn's plaintiffs alleges that Limetree inspected households after the May oil spray and offered to help those that signed its releases, leaving those who did not sign to fend for themselves.
Phyllis Blackman of Williams Delight is one who signed an early settlement offer for $3,900 after her home and two cisterns were sprayed. But when a contractor told her it would cost $1,400 apiece to clean and coat both cisterns, the 83-year-old former school crossing guard realized the money wasn't going to stretch far enough to cover her roof, she said.
"That's the water I use to cook, the water I drink," said Blackman, who's been buying water to supplement the two cases she gets every few days from Limetree. "You know, we the seniors who don't have anyone around, we get trapped in a lot of things like this."
When Blackman heard that other residents were receiving higher settlement offers, she said she reached out to Limetree to discuss a higher amount to cover her roof, but no one has responded.
Rohn's motion argues that Limetree is required by law to clean up the oil it discharged over the West End of St. Croix, "at no cost to the residents, and without demanding anything, including releases in return." Joining Pate Law and other firms that also have class actions against Limetree, it asks the court to temporarily restrain Limetree from making such settlement offers because of the manner in which they are allegedly presented to residents, without transparent or clear information when they are in need and under duress.
It also asks that releases like the one Blackman signed be ruled illegal and improper, and that a corrective notice be issued.
Limetree for its part denied any wrongdoing and minimized the impact of the recent oil spray, describing it as "an incident … which caused very small amounts of oil to disperse in certain areas downwind of Limetree." (Limetree response)
Responding on Wednesday to Pate Law's motion to restrain, the company said it has worked to "remediate any damage and amicably resolve claims," and the temporary restraining order should be denied because the plaintiffs did not show "irreparable harm" if Limetree continues to solicit releases in exchange for payments."Settling a claim and signing a release is not irreparable harm," defense attorney Robert Kuczynski wrote. At the same time, Kuczynski offered for the parties to meet to discuss the settlement issues.
Responding to Source questions in a May 27 email, Limetree spokeswoman Erica Parson said the company's handling of the oil spray was standard procedure.
"We have engaged a reputable, independent local claims adjustor, as is common practice, to meet with impacted residents and assess any damage to their property. Once a claim is approved, the resident receives notice of settlement and, as is standard practice in any claims process, is asked to sign a document stating they accept the settlement the adjustor determined was fair value for the claim," Parsons said.
The boilerplate document allegedly used by Limetree since its first oil spray on February 4 was included in Thursday's motion:
RELEASE OF ALL CLAIMS
KNOWN ALL MEN BY THESE PRESENT, THAT ______ for the sole consideration of Two-Thousand Dollar ($2,000.00); have released and discharged Limetree Bay Refining, LLC., its members, managers, officers, directors, employees, agents, parents, owners, and affiliates; from all claims, demands, damages, and actions, caused by Limetree Bay Refining, LLC., on account of all Property Damage and or Bodily Injury resulting, or to result from an incident which occurred on or about the 4th Day of February, 2021 on St. Croix, USVI.
The undersigned further declares and represents that no promise inducement or agreement not herein expressed has been made to the undersigned; and that this Release contains the entire agreement between the parties hereto, and that terms of this Release are contractual and not a mere recital.
I signed the foregoing Release and Settlement Agreement and fully agree and accept to the terms and provisions stated therein.
I declare, certify, and state under penalty of perjury under the laws of the United States of America and the U.S. Virgin Islands that the foregoing is true and correct pursuant to 28 U.S.C. Sec. 1746(2} and V.I.R.Civ.P.84 (2018), which both authorize the making of these statements without the signature of a notary.
Although Blackman, who lives on $1,450 a month from Social Security and GERS checks, no longer thinks $3,900 is fair value to return her home to normal, she said she won't join a lawsuit, even though she must dig into her own pocketbook to make herself whole.
"It's okay, it's okay," she said. "If this is the way they are going to be treating we, it's going to come back to them."
Related links: