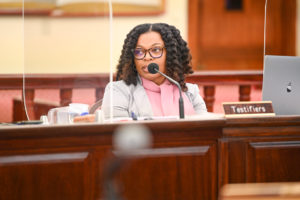 Gov. Albert Bryan Jr.'s financial team met with the Finance Committee on Thursday for the first budget hearing regarding the government's Fiscal Year 2022-2023 Executive Budget, (See: Bryan Budget Calls for Increased Revenue, Raises for Government Workers)
unveiling a biennial budget format that's been used by many stateside jurisdictions but never before in the U.S. Virgin Islands.
"At this critical juncture, where disasters happen at any time and in many forms, it is imperative that we focus on strategic and long-term planning, increased and improved management, and building for tomorrow. Biennial budgeting is one of the tools to get us there," Office of Management & Budget Bureau of Economic Director Jenifer O'Neal said.
The shift to a biennial budget has been long discussed and was once written into law that beginning in 2015 a biennial budget would start being submitted, but "due to issues relative to the way the budget was put together and the systems used at that time, this never became a reality," O'Neal said.
As a result, she added that Act No. 7342 Section 6 was "deleted in its entirety" on April 24, 2014. It wasn't until the implementation of a budgeting software called OpenGov in 2019 that a biennial budget could be created O'Neal said.
"Biennial budgets are currently used in 19 jurisdictions, including Virginia and North Carolina, and while there are pros and cons to this, as with everything else, we believe that this is best for the Government of the Virgin Islands at this time," O'Neal said.
When creating a biennial budget, departments and agencies will only be required to do a mid-budget review which O' Neal said will save time and allow for better focus of those entities' resources.
"The off-year or mid-budget review allows for a shorter compilation period for departments and agencies, giving them much needed time to actually focus on management and spending, and a shorter review time for legislators, allowing more time for actual oversight," O'Neal said.
In her closing statements, O'Neal told senators the budget should be thought of as a plan that guides government spending and to remember the budget is not tied to any particular sum of money. Instead, the budget is derived from projections of what is expected to be collected into the General Fund and other local funds.
"It is for planning purposes," O'Neal said. "It is to allow departments to know how they are going to move forward, and also to allow them an opportunity to focus on the management of their departments … versus having people taking six months or so every year focusing on putting another budget together. It is an effort to try to help the departments and help all of us manage more effectively."
Senate President Donna Frett-Gregory raised objections to the biennial format, saying in a release Thursday evening."The idea of a biennial budget is one that should have been discussed collaboratively due to its impact on Legislative authority," she said.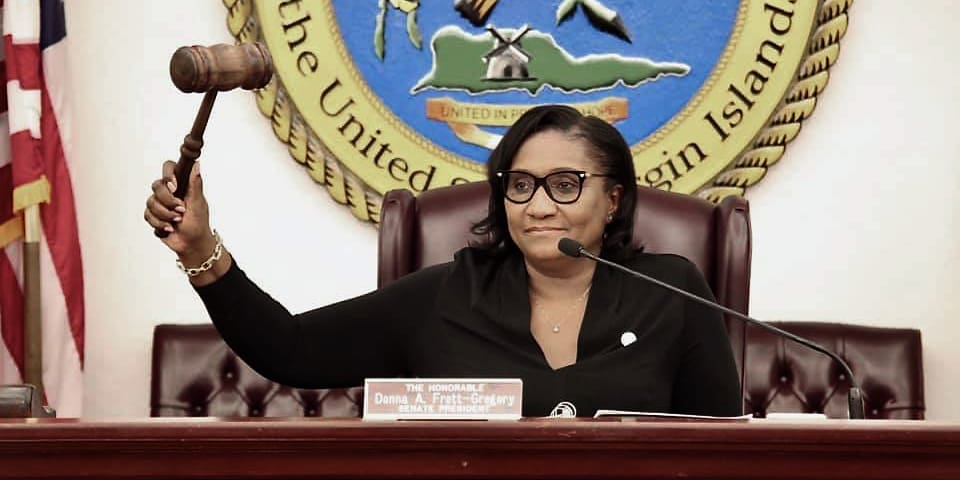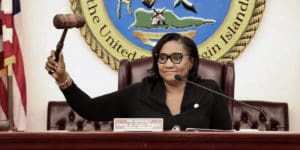 "Those conversations would have highlighted concerns regarding Section 9 of the Revised Organic Act and the implementation of a biennial budget," Frett-Gregory added.
The Finance Committee will continue reviewing the FY 2022-2023 Executive Budget on June 15. For access to the full budget calendar visit the legislature's website.
Sens. Kurt Vialet, Donna Frett-Gregory, Marvin Blyden, Samuel Carrion, Javan James Sr., Dwayne DeGraff, and Janelle Sarauw were present for the hearing. Additional non-committee members were also present.