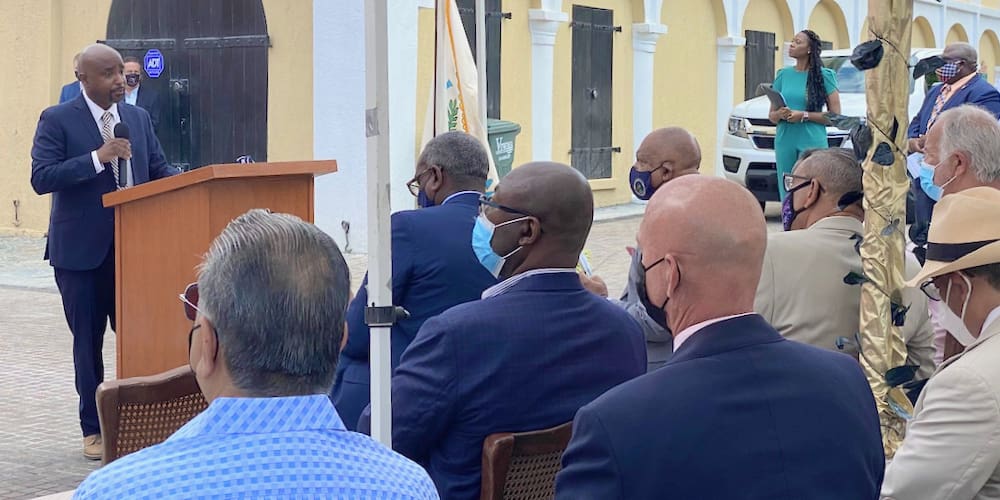 Multiple construction delays, two hurricanes and a pandemic may have stalled its completion for the past four years, but on Wednesday, the Main Street Enhancement project officially wrapped up with an outdoor ribbon-cutting ceremony on St. Thomas.
"This $15.3 million project has been a long time in the making, as it officially began in January 2016," Public Works Commissioner designee Derek Gabriel said from a podium set up at the head of Post Office Square. "Of course, there have been several challenges along the way that stalled construction, but ultimately, since restarting in 2018, we have gone full throttle."
Main Street, St. Thomas, has always been a hub of the community, and to help keep that bustling spirit alive, Gabriel said the Public Works and architectural teams intentionally designed wider sidewalks, allowing for more foot traffic, while adding cobblestones, seating and lighting enhancements to make the area appealing for all. Most notable is the removal of all parking spots on the Main Street itself, which Gabriel said was a "necessary change" to make the area more pedestrian-friendly, while preserving the new features and keeping it free from heavy vehicular traffic, but also open for emergency vehicles.
Not seen, he added, are the drainage enhancements, communication conduits and accommodations for underground utilities already in place, which Gabriel said will keep the department from "re-digging in the foreseeable future." On the horizon is the removal of all historic utility poles in the downtown area, Gabriel said.
With more improvement projects on the horizon, including the groundbreaking this week of the Cyril E. King Airport terminal expansion project, Gabriel said there is "clear evidence" that the territory's recovery is on the move.