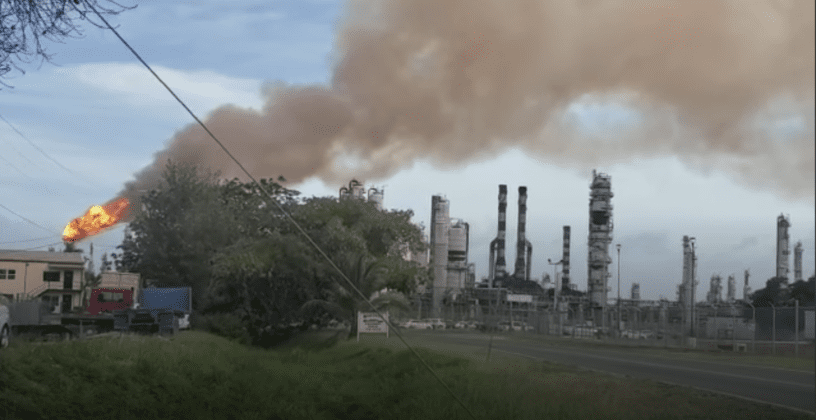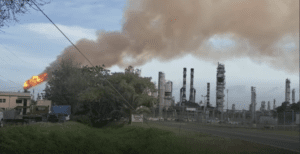 The massive fireball and flare at the Limetree Bay Refinery Wednesday afternoon impacted the Enfield Green community and some industrial sites, refinery officials said in a release Wednesday evening.
Enfield Green residents should disconnect downspouts to cisterns if accessible. Do not drink cistern water if you cannot disconnect.
Refinery officials say they will establish water distribution for affected communities.
Limetree reports the incident was "an upset in the refinery at Flare Unit #8," and "resulted in a release of oil droplets which traveled directly west." It has activated its incident command.
The refinery has suspended refining until further notice. According to Wednesday evening's release, "all processing units will be brought to a safe, stable condition."
Limetree officials say they will continue to assess the impact and advise if additional neighborhoods are affected. If you think you may have been impacted by the release, please contact Limetree's Incident hotline at 340-692-3199.
According to Limetree, applicable regulatory agencies were notified at the time of the incident, and Limetree's top priority is the safety and well-being of its personnel, the community and the environment.
The U.S. Environmental Protection Agency recently issued a notice of violation to the refinery related to air monitoring. The refinery disputes the findings.
Like many refineries, the Hovensa plant had a long history of flares, sulfurous odors and aerosol sprays of oil that impacted neighboring residents. And the Limetree plant had a large flare not long before restarting.
For more Source coverage of the history of releases at the former Hovensa refinery, see the stories below:
– DPNR, Hovensa Respond to 'Smell,' Water Issues
– Workers Evacuated as Hovensa Tank Spews Oily Steam Cloud
– Hovensa Completes Cleanup from October Oil Spray
– Hovensa Sprays Oil For Third Time This Year
In August of 2011, Hovensa released just over one ton of hydrogen cyanide gas out of its stacks.
In 2005, the refinery released a cloud of flammable hydrogen gas containing trace amounts of hydrogen sulfide.
Also in 2005, the refinery released an oily steam cloud forcing some employees to be evacuated.
In December of 2010 and January of 2011, Hovensa had two actual leaks of hydrogen sulfide.
Residents of areas near the refinery have long complained of health impacts. In 2010, several Estate Profit residents filed suit.