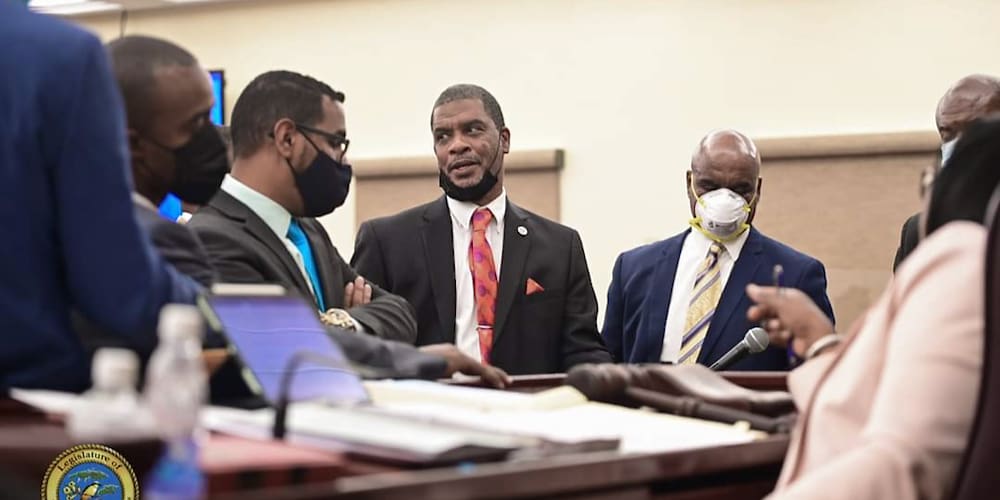 Meeting in full session on Tuesday, the 34th Legislature approved four bills appropriating $5 million for various long-anticipated improvement projects on St. Croix.
The four measures approve using $272,000 from the St. Croix Capital Improvement Fund to renovate the Police Athletic League Headquarters; more than $2 million from the St. Croix Capital Improvement Fund to replace the landing pier at the Ann E. Abramson Marine Terminal in Frederiksted; almost $2 million from the Communities Facilities Trust Account for various St. Croix projects such as the King's Alley Hotel pier, Gallows Bay Marine Facility dock and the Gordon A. Finch Molasses Pier ramp; and $675,000 from the Community Facility Trust Fund to the Caribbean Drag Racing Association, allowing for the St. Croix Motor Sports Complex to be renovated.
While Crucian lawmakers applauded, it was their St. Thomas colleague, Sen. Dwayne DeGraff who put it in perspective.
"I see a round-robin for Frederiksted and Abramson pier is finally going to get the money to get that fixed, my colleagues asked about money to fix the roads in Frederiksted town and the Clean Sweep in Frederiksted. Man, this is a triple crown winner for Frederiksted," DeGraff said. "Being from Savan … I know how you feel to be the underdog, so hip-hip for Frederiksted today."
Crucian senators celebrated the St. Croix revitalization driven bills.
"Ann Abramson pier is very important. I grew up jumping off that pier and fishing on that pier. It is important that we revive that area, especially if we intend on having ships come to our ports, we must invest in our infrastructure," Sen. Franklin Johnson said. "Today is a good day for the Virgin Islands, it's a beautiful day for St. Croix as these measures in this block really do address the infrastructure in St. Croix and it's needed badly."
Sen. Javan James Sr. said he too thought fixing the infrastructure, especially that of the pier, would bring more life back to the St. Croix boating community. He also added: "I am really glad to know that the Police Athletic League will be renovated."
Sen. Kurt Vialet said it was important to enhance St. Croix, but the restoration of all the historic cities are of equal importance whether it be Charlotte Amalie, Cruz Bay, Frederiksted or Christiansted.
All four bills were sent to Gov. Albert Bryan Jr. to await a decision.
The 34th Legislature approved 13 additional bills:
Bill No. 34-0019 – A resolution to honor Ronaqua Russell, the first African American female aviator in the United States Coast Guard to receive an Air Medal.
Bill No. 34-0003 – Requires the Department of Planning and Natural Resources to reduce the time limit that a zoning administrator must act on a building permit application and implement an electronic permitting system.
Bill No. 34-0005 – Clarifies the number of governmental boards and commissions any Virgin Islands government commissioner or director can serve on.
Bill No. 34-0023 – Establishes the Invasive Species Eradication Community Program and provides a funding source for the payment of bounties under the program.
Bill No. 34-0025­ – Establishes criteria for Public Services Commission members and changes the number of its members from nine to seven.
Bill 34-0026 – Requires the Virgin Islands Water and Power Authority to establish criteria for the Virgin Islands Water and Power Authority Governing Board. If signed into law, it would also change the number of board members allowing for a quorum of four instead of five.
Bill No. 34-0024 – Appropriates more than $3.5 million from the Government of the Virgin Islands to the Department of Justice to settle payments for lawsuits, outstanding Worker's Compensation payments to medical providers and Clean Sweep Frederiksted for beautification projects done in Frederiksted.
Bill No. 34-0028 – Authorizes registered nurses and certified registered nurse practitioners, who are employed by a certified home health agency, to pronounce death.
Bill No. 34-0041 – Does several things, including placing medical education criteria on permanent and institutional licensees; allowing the Commissioner of Health to issue licenses to radiological technologists; and creating a Good Samaritan Law that provides legal protections.
Bill No. 34-0042 – Authorizes the Board of Medical Examiners to temporarily conduct the business of the various Boards of Examiners for Medicine, Surgery, Dentistry, Pharmacy, Nursing, Optometry, Physical Therapy, Chiropractic and Podiatry for 120 days should any board lack a quorum.
Bill No. 34-0036 – Appropriates excess money from the Debt Service Reserve Fund to fund capital improvement projects across the territory.
Bill No. 34-0021 – Establishes the Public Services Commission as a semi-autonomous agency.
Bill No. 34-0059 – Extends the territory's state of emergency.
The Legislature also confirmed nine nominations for positions on various governmental boards and agencies:
Amy Durand – Virgin Islands Board of Pharmacy
Amailyn Augustus – Virgin Islands Board of Social Work Licensure
Maureen Burke-Ventura – Virgin Islands Housing Finance Authority Board of Directors
Kirk Lewis – Virgin Islands Board of Aquaculture and Mariculture
Erica Johnson – University of the Virgin Islands Board of Trustees
Raymond Burton Jr. – Virgin Islands Board of Architects, Engineers and Land Surveyors
Damian Cartwright – Virgin Islands Board of Architects, Engineers and Land Surveyors
Pedro Williams – Virgin Islands Public Services Commission
Derek Gabriel – Department of Public Works Commissioner
The Legislature rejected the nomination of Karen Korsgren for a position within the Virgin Islands Real Estate Commission.
Sens. DeGraff, Johnson, James, Vialet, Donna Frett-Gregory, Novelle Francis Jr., Marvin Blyden, Genevieve Whitaker, Samuel Carrión, Alma Francis Heyliger, Kenneth Gittens, Carla Joseph, Steven Payne Sr., Milton Potter and Janelle Sarauw were present for the hearing.