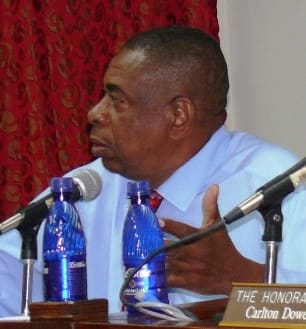 Former V.I. Senator Celestino A. White Sr. has denied allegations against him in a lawsuit by eight men who say they were the victims of human trafficking and forced labor after they were recruited for hurricane home repairs on St. Thomas under a FEMA program in 2019, but instead were never paid, suffered inhumane working conditions and threats of death or bodily harm when they complained.
The men, who live in Puerto Rico, Pennsylvania and Louisiana, allege in their lawsuit that they worked 31 days straight repairing hurricane-damaged roofs on St. Thomas in 93-plus degree heat without food, bathroom facilities and sometimes water, and were never paid before they were abruptly fired when they complained, then forcibly evicted from accommodations arranged by their employers.
The lawsuit alleges, among other things, that White coordinated with others to forcibly evict the men within 24 hours of their firing – allegations he has denied in his answer to the suit filed in V.I. Superior Court by his attorney, Arturo Watlington Jr.
The plaintiffs in the case are Benjamin Osorio, Jeremy Santos Ramirez, Norberto Rivera Frese, Luis Enrique Camacho Mattos and Rafael Ernesto Pastrana Lugo, all of Puerto Rico, Abiel Osorio Cotto, a citizen of Puerto Rico residing in Pennsylvania, and David Paul Gautreaux and David Lambert of Louisiana.
Besides White, who is listed in the suit as doing business as Celestino White Consulting and Management Firm, other defendants are TJ Sutton Enterprises, LLC, doing business as TJ Sutton, LLC; AECOM, Inc.; AECOM Caribe, LLP; Citadel Recovery Services, LLC; Bluewater Construction, Inc., doing business as Bluewater Staffing Company; Thomas J. Sutton; and landlords Jane Doe and John Doe.
The unknown landlords have been identified since the complaint was filed. They are Ramsey's Hotel and Scott Hotel Bellavista in Estate Thomas and Havensight, said St. Thomas attorney Peter J. Lynch of Flag Law VI, who is representing the plaintiffs.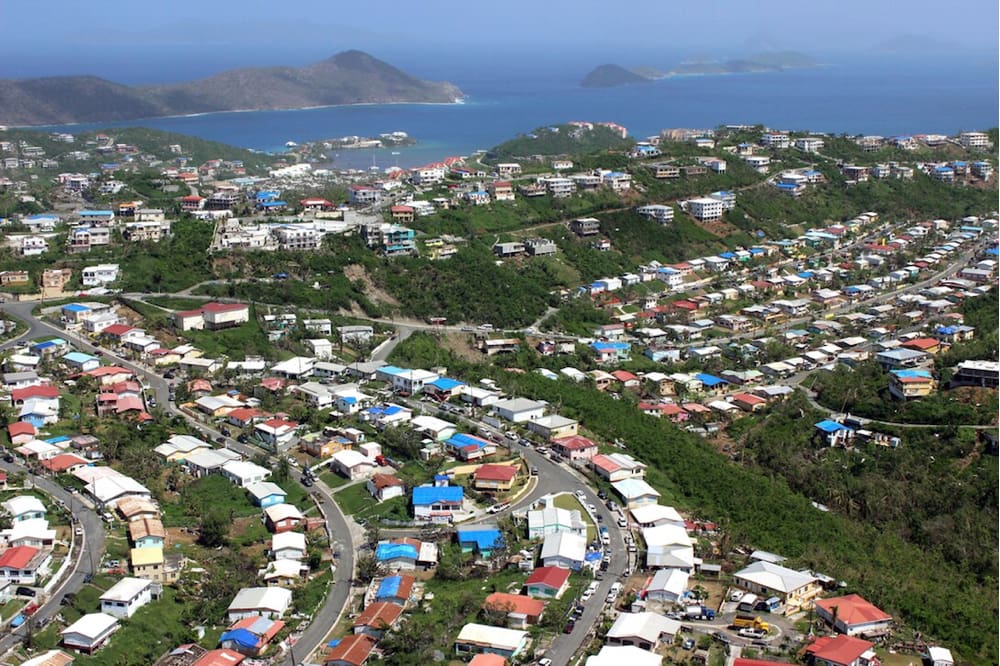 Lynch filed the lawsuit in V.I. Superior Court in November. Defendant TJ Sutton removed the case to the District Court of the Virgin Islands, and with the other defendants asked for extra time to respond, which the court granted. They have until May 13 to answer.
In his answer, filed on April 1 in Superior Court despite the case being moved to District Court in February, White "specifically states that he never partook in any unlawful act against the Plaintiffs and is without sufficient information to admit or deny any other information contained in Plaintiffs' complaint."
White denies that he coordinated with the Sutton defendants and Citadel to forcibly evict the plaintiffs; that he discriminated against them; or that he "acted with malice or reckless indifference to one or more of the Plaintiffs' rights to be free from forced labor or trafficking for forced labor," as the suit claims.
White, an Air Force veteran and former V.I. police chief who served 11 terms as senator and sits on the Port Authority board, also denies the suit's allegations that he operated a place of public accommodations for housing workers as part of the hurricane disaster recovery relief program, or that the plaintiffs were his tenants.
According to the lawsuit, the eight men were hired by the Sutton defendants and Bluewater on Jan. 14, 2019, to provide construction services under the STEP recovery program, also known as the Emergency Home Repair Program Virgin Islands, funded by the Federal Emergency Management Agency, on the promise of earning $2,200 weekly.
The Virgin Islands Housing Finance Authority contracted with prime contractor AECOM for the STEP program, which in turn contracted with its related entity, AECOM Caribe, which then contracted with Citadel to provide construction services in the recovery effort, the lawsuit states. To satisfy its obligations, Citadel contracted with the Sutton defendants for the work, which contracted with Bluewater for manpower, according to the suit.
Bluewater, represented by attorney Michael L. Sheesley, filed its answer to the lawsuit in V.I. District Court on May 3, stating, "Bluewater Construction, Inc. has never had contact with TJ Sutton Enterprises LLC, has never met, hired or otherwise employed any of the plaintiffs in the current lawsuit, has never contracted with any of the plaintiffs in the current lawsuit, and has never done business as 'Bluewater Staffing Company.'"
"The Complaint, as filed, is sanctionable, perjurious, false and meritless," Bluewater stated in denying all of the allegations against it.
The STEP program, under which the plaintiffs were hired, was plagued by funding delays that affected dozens of workers, with FEMA releasing some of the money before halting contractor payments in June 2020, citing cost reasonableness concerns about the program, which ultimately repaired more than 6,500 homes.
"To say that the VIHFA has been in a dog fight to ensure that local and stateside contractors get paid for this program is not an overstatement," Housing Finance Authority Executive Director Daryl Griffith told a Senate Disaster Recovery and Infrastructure Committee hearing in February.
In April, FEMA approved $418.5 million in STEP invoices for payment, according to the V.I. Office of Disaster Recovery.
"It is welcomed news that we are one step closer to making whole the many local and stateside contractors whose work helped to get Virgin Islanders back in their homes after the storms," Gov. Albert Bryan Jr. said in a news release announcing the payments.
The Office of Disaster Recovery said FEMA has requested additional documentation and time to complete its review of the remaining $111.8 million in invoices under the STEP program and has committed to a deadline of July 31 to finish its review.
The STEP program has since been replaced by the EnVIsion Tomorrow Housing Recovery Repair Program, funded by the U.S. Department of Housing and Urban Development with an initial $60 million grant that could expand to $200 million, according to the Office of Disaster Recovery.
Unlike the FEMA program, which is designed as a reimbursement program to local governments and can cause delays in payments to contractors, HUD payments are expedited more quickly because they are paid soon after the invoices are submitted, the Office of Disaster Recovery said in a press release when the program was launched in September 2019.
"[Housing and Urban Development] makes you go through a lot of the requirements before the program starts," Griffith told the Source in an August 2019 interview. "So there's a lot of compliance that you have to do in terms of making sure that the authority has the policies and procedures in order and all the procurements are done in advance."