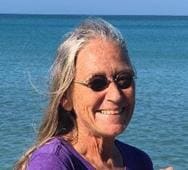 It is with great sadness that we announce the passing of our beloved coach, sister and daughter, the late Mrs. Gayle Ann Krukonis Deller of Pearl Estate. She passed peacefully at home on March 16.
She was born Feb. 15, 1953, in Lawrence, Mass. She was preceded in death by her husband, George Deller, of 40 years.
Gayle moved to St. Thomas in 1976. She started teaching physical education at Julius E. Sprauve School on St. John in 1980. From there she taught and coached softball at Ivanna Eudora Kean High School, and taught and coached track and field at Ulla F. Muller Elementary.
Ms. Deller was also a swim instructor for the American Red Cross and trained lifeguards from St. Thomas all the way down to St. Kitts. She hosted the Against the Tide Breast Cancer Swim at Magens Bay Beach every year and taught hundreds of children and adults to swim all over the island.
She is survived by her parents: Dr. Edward and Priscilla Krukonis; sister, Debbi Krukonis (Vin Peloso); brother, Edward Krukonis Jr. (Judy Freeman) and his children: Christopher (Michelle), Samantha and Nicholas; brother, Jeffrey (Julia) Krukonis; sister, Amy (Darrell) Miller and their children: Michael, Isaiah, Rebekah and Joanna; brother, Dr. Eric Krukonis (Dr. Susan Murray) and their children: Joshua and Benjamin; along with many aunts, uncles and cousins.
She is also survived by her St. Thomas friends and family: Porsha Brockman, Roy Sterrod, Merlene Smith-Frett, Jacque Nelthropp, Therese Hodge, Rochelle Jackson-Todman, Dr. Mestemaker, the Julius E. Sprauve Elementary School family, the Ivanna Eudora Kean High School family, the Ulla F. Muller Elementary School family, and the Bertha C. Boschulte Middle School Burning Blazers Steel Band.