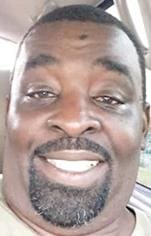 With profound sadness and heavy hearts, the family of Patrick Charles announces his transition. "Bobby," as he was popularly known, departed this life Sunday, April 11, at 58.
For many years in association with his father, Reynold Charles Sr., Bobby assisted in the management of Charley's Trucking and later became president of its replacement Patrick Charles Enterprises. The company provided tractor-trailer and trucking services to local businesses, including the transporting of post office mail, trash hauling, heavy equipment operations and various other trucking operations designed to meet the needs of all three islands. Until his death, he worked tirelessly to ensure the success of the family business venture.
He was preceded in death by his mother, Beryl Charles; sister, Rachael; uncle, Chesley Joseph; aunt, Edris Knight; and nephews: Shakif "Fat Man" Alexander.
His survivors include his father, Reynold "Charley" Charles Sr.; stepmother, Veeda Rey-Charles; children: Y' Wain, Y' Vaughn and Patrique Charles; grandchild, Deja; sisters: Audrey Lake, Lynette Gumbs, Janice, Nordelita Alexander, Annette, Patricia (Patsy), Maria Henry, Maria-Casandra, Laurie, Dr. Keisha Judd, Toya, Esther, Zelene and Joi Charles; sisters-in-law: Joanne James-Charles, Elena Charles, Jacqueline Rosado-Charles, Antanell Ottley and Ebonee Brookes; and brothers: Reynold Charles Jr., also known as "DJ Pete," Nordel, also known as "Abbye," Anthony (Tony} Ottley, Eddie, also known as "Popeto," Victor, also known as "Devon," Carey Nicholls and Ronald Stout Sr.
He is also survived by his brother-in-law, Danny Judd; uncles: Walston (Jose) Charles and Arthur Cochrane; and nieces: Renee Fleming, Janine Ba, Franchesca Charles, Gabriela Samms, Reya Charles, Juleen Williams, Erica Percival, Jahmilia and Tameka Bryan, Ayana Dickson, Dana Judd, Damali Kamilah, Kanika, Mahagony, Arlena and Chatayla Charles, Darlena Mills, Shakira, Shakila, Shakita, Shakima Shakifa, Shakia, Shakyra and Shakyla Alexander, Ny'Elle, Shiloh, and Amahdia Vidal and Shadyra Charles, Zeatillia Francis, DeaSia Grant and Majida Ba.
Other survivors include nephews: Kenneth (KC) Wigfall, Nordel Jr., Jaleem, Sadique, Cairo, David, Victor Jr., Tristan, Courtney, Ximines, Richard and Deyante Charles, Courtney Devin, Dylan and Darian Judd, Ezrick and Carey Ledee, Jamil Alexander, Victor Charles Jr., Shakim "Jamil" Alexander and Shakir "Shakil" Alexander, Shaki "Mr. B" Alexander, Ronald Stout Jr. and Renaldo Stout; and nephews-in-law: Geoffrey Fleming and Moussa Ba.
Bobby provided much love and support to Chantasia and Christina Binard and family. Sharmaine "Betsy" Browne was a caring friend, companion and advocate. He is also survived by special cousins: Denmore Jackson and family, and O'Brien Charles and family; special friends: Rita Aberdeen, Enid Edwards, Nicaole Sibilly, Denfield "Beno" Williams, Raymond Payne, Winston and Debbie Joseph, and Family STX, Jean "Kelly" Webster, Albert "Rudy" Harrigan, Frederick "Snake" Phillips, Pat and Jerry Bryan Jr., also known as "Junior" of STX, Kregg Smith, Arliss Brooks, "Jimpie," Robert "Bobby" Joseph, Chandler "Frenchie" Heath, Mackie Appleton, Luther Seraphine, St. Kitts and St. John; as well as other relatives and caring friends too numerous to mention.
The first viewing will be held from 3-5 p.m. to, Saturday, May 1, at Turnbull's Funeral Home and Crematory Services. The second viewing will be held from 9-10 a.m., Sunday, May 2, at Shiloh Seventh-day Adventist Church with a homegoing service immediately following.
Interment will be at Eastern Cemetery, Smith Bay. Tributes can be sent to lynettegumbs7@gmail.com.
Attendees can wear red or other festive colors; please wear masks or facial coverings.