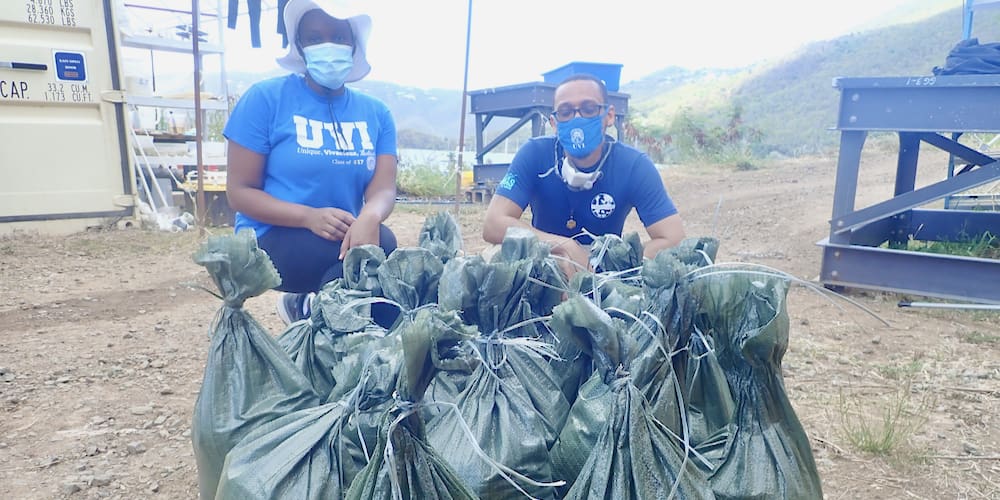 The University of the Virgin Islands Marine Advisory Service is postponing its monthly glass recovery project because discarded glass bottles were left near the former West Bay Supermarket over the past weekend.
"Due to the confusion of glass beverage bottle waste being received on April 24 at the former West Bay Supermarket, there will be no drop-off for glass beverage bottle waste for the remainder of April and May," said Howard Forbes Jr.
The bottles left discarded on May 24 created a hazard as members from VIMAS were unaware that they had been left there. When they did become aware of the presence of the discarded bottles, they realized they were filled with water, from the recent rain, and roaches. The limited team members worked to clean up the debris and now have enough glass to crush for the remainder of the month.
Forbes is the coordinator for VIMAS and worked alongside Jarvon Stout, a specialist at the Virgin Islands Established Program to Stimulate Competitive Research's Community Engagement to coordinate the drive.
The project is headed by both VIMAS and VI-EPSCoR, and its aim is to repurpose glass bottle waste. Glass bottles are to be collected and crushed into sand that will be used for sandbags. The sandbags generated from the project will then be distributed for free to residents for the upcoming hurricane season.
"Public Works distributed at least 20,000 sandbags last year for the hurricane season; I am optimistic that we will be able to produce at least 500 sandbags," said Forbes.
VIMAS has been collecting glass bottles since January. Bottles have been collected from cleanups at Lindbergh Bay Beach, Brewers Bay Beach and downtown Charlotte Amalie, as well as from restaurants and the community glass bottle drop-off that was organized last month. More than 2,000 glass bottles have been collected and crushed, totaling about 1,200 pounds of sand.
Though many bottles can be collected from volunteers of the project, it is more efficient to have residents bring their glass bottle waste to a central location.
"The drop-offs enable us to receive more glass beverage bottles to crush than we would through beach cleanups," Forbes said.
Forbes added that volunteer assistance is always welcomed.
"This is an extremely labor-intensive process that requires a consistent volunteer force. Most recycling efforts [glass, plastic, scrap metal] that have been implemented in the USVI within the last few decades have been coordinated either by local businesses, NGO's, volunteers and nonprofits," he said.
Recycling programs like these "require volunteer support, otherwise, they can't function or will be limited in what they can do," Forbes said.
Those interested can sign up here to volunteer for the project.
VIMAS has been coordinating glass bottle drives for St. Thomas and St. Croix. As of now, there are no active glass bottle recovery drives on St. Croix until the sand machines used to crush the glass bottles arrive from New Zealand. As for the drives on St. Thomas, they are postponed until further notice.
"We kindly ask the public to please not leave any glass bottles at West Bay if no one from our team is outside the building with our tents set up. If you are unsure of whether we are accepting glass, you can check out our webpage, which should provide information about the next community glass beverage drop-off date," Forbes said.