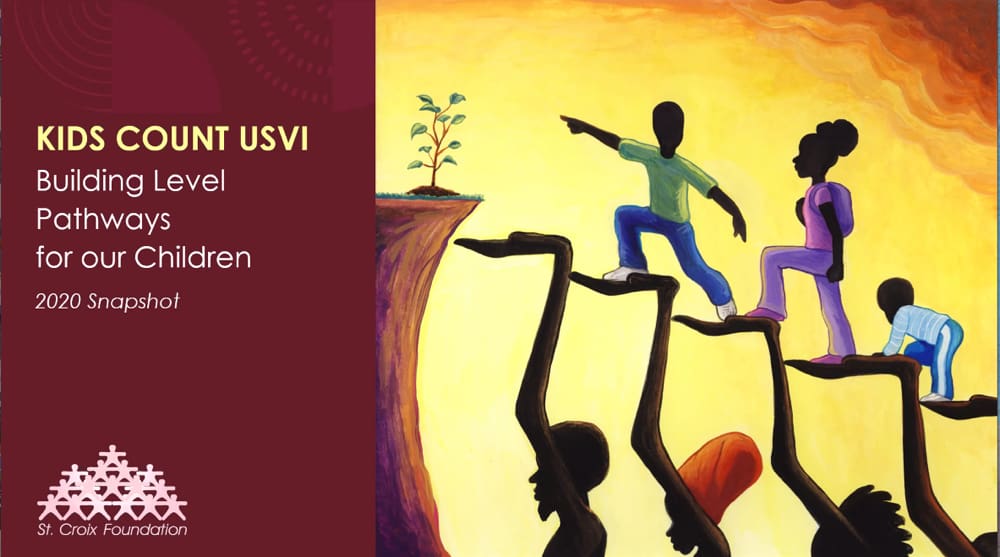 The St. Croix Foundation for Community Development on Tuesday announced its first Kids Count publication – the USVI 2020 Snapshot – outlining the highly collaborative and data-driven approach it will take to do the annual report, due out this fall, with a particular focus on the territory's older at-risk youth population and a granular look at the on-the-ground conditions of children.
"Today is also about laying the foundation upon which we as a community create cohesive and coherent systems of supports for our children and their families, beginning first with data," Foundation President and CEO Deanna James told a gathering of community stakeholders during a Zoom meeting to announce the Snapshot report, "Building Level Pathways for Our Children."
"When we say data, we mean data priorities, data infrastructure, data sharing, data-driven decision-making. As most of you know, for almost 20 years, Kids Count has been an invaluable resource for our community, providing a broad assessment of how our children and their families were faring. Kids Count has also been an essential part of local policy development, as well as St. Croix Foundation's own programmatic agenda," James said.
The Kids Count Data Book, an annual ranking of states and territories on 16 key measures of child well-being, is a project of the Annie E. Casey Foundation, which was founded in 1948 by Jim Casey and his three siblings to honor the struggles and sacrifices of their mother, a widow who raised them in the Seattle area. As her eldest child, Jim helped support the family by starting a messenger service that grew into UPS.
The key to the book's effectiveness is utilizing real-time data to effect real and measurable change, James said, which is why the St. Croix Foundation was tapped to lead the effort in the U.S. Virgin Islands for the first time in 2020.
"Since launching Kids Count nationally, Annie E. Casey has continuously evaluated state and territorial grantees to assess their performance, surrounding not just data collection, but also around their progress in moving the needle on the condition of children," said James.
In 2019, the private philanthropy that is focused on developing a brighter future for at-risk children concluded that "the Virgin Islands, along with a number of other states, had not sufficiently made progress around improving the condition and trajectory of our children," and asked the St. Croix Foundation to take over, James said.
Annie E. Casey has given the Foundation four overarching charges, said James.
"They were, number one, that we activate the data, ensuring that it didn't idle on the pages of a data book, but rather was deployed in a form of policy and programming. Another charge was that we keep the data current. The third charge was that we connect dots, ensuring that all stakeholders – public, private, civic – had a designated seat at the table. And finally, the most important charge was that we move the needle and demonstrate measurable improvements and gains," said James.
What the St. Croix Foundation soon realized, however, is that there is no central or comprehensive repository for data within or among agencies in the U.S. Virgin Islands.
"Here's the bottom line," said Saul Santiago, the project's data analyst. "Over time, geographic, economic and political factors have impaired the territory's ability to build and sustain healthy data systems that facilitate efficient data collection and reporting. It's our belief that these can be overcome, however, and that the U.S. Virgin Islands has the capability to build a complete data infrastructure."
Another issue is that past Kids Count books have largely relied on the American Community Survey for national data, and the Virgin Islands Community Survey for local information, Santiago said. While both sources are highly established scientific surveys of households, and valuable, their extensive data collection process means they have a lag time of one to two years, he said.
"Operating on data from two years ago is not going to give us the full story of how our children and families are faring in 2021 because, as we know, the world is changing very rapidly for us to rely solely on trends," as the COVID-19 pandemic has demonstrated, Santiago said.
"One of the most significant decisions the team made early on was to go beyond the traditional data sets used for Kids Count, so we opened the door to collaboration with nonprofits and government agencies both large and small, and the goal for us is to create a local Kids Count network that links information that may be currently disconnected, and we think Kids Count could be the connective tissue," Santiago said.
To that end, "one of our most important accomplishments thus far is a soon-to-be finalized multiagency unified MOU, a memorandum of understanding, through which we'll be able to standardize the collection and sharing of data for Kids Count" with nine government agencies, Santiago said.
"Organizing the data is going to allow Kids Count to draw connections between current events, such as the violence in our community among our youth, to services and agencies; define both hotspots and opportunities for partnerships; and, to ensure that there is a true value in the data reported through Kids Count, our team recognizes that data and current events are not separate and apart from each other, and that is the relevant piece," Santiago said.
The St. Croix Foundation also will shift the 2020 Kids Count focus to "opportunity youth," said Alethea Frazier Raynor, outreach and engagement coordinator for Kids Count. "These are our youth who are at risk between the ages of 16 to 24. They are disconnected from experiences, individuals and institutions that they need to help them succeed," she said.
"We're not going to neglect our pre-K to 16-year-old children. By no means are we going to do that, but we are going to pivot, shift a bit and pay close attention to this invisible population, our opportunity youth, who are in need of triage," Frazier Raynor said.
"The St. Croix Foundation is embarking on a Kids Count journey, and we are asking ourselves two critical questions: Where are our children, and how are they faring? These are not rhetorical questions. They must be answered. Therefore, St. Croix Foundation is committed and determined to tell the story, with your help, utilizing current data that is qualitative and quantitative," Frazier Raynor said. "We don't just want the numbers to tell the story, we want to have meaningful discussions and provocative conversations with our public and private partners."
The cover of the 2020 Kids Count Snapshot reflects the Foundation's goals, Frazier Raynor said. Artist Marcus Anderson's colorful painting – named "Ujima Journey" after the Third Principle of Kwanzaa, meaning collective work and responsibility – shows the hands of elders collectively lifting children on their journey to the tree of knowledge, opportunity, potential and prosperity, Frazier Raynor said.
"This is work that we all have to be doing together," said Frazier Raynor, ending with the words of American novelist, playwright, essayist, poet and activist James Baldwin:
"For these are all our children. We will profit by, or pay for, whatever they become."
More information about the 2020 Kids Count Snapshot and 2020 Kids Count Data Book is online on the St. Croix Foundation website.