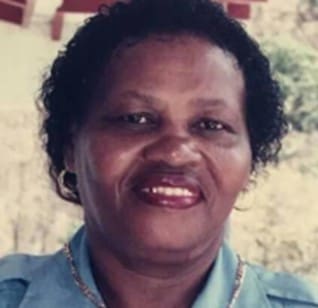 Linelle Ione Williams Fonseca died on Good Friday, April 2.
She was born May 21,1932, on the beautiful island of Tortola. She was the sixth of eight children born to Charles Frederick Williams and Virginia Constantia Todman Williams.
She was preceded in death by her sisters: Olive Williams Garwood, Edith Williams Todman and Gladys Williams Bastian; brothers: Stanley Williams and Earlin Williams; and great-grandchild, Kye Fonseca.
She is survived by her sisters: Ilva Williams Harris and Doris Williams Powell; and all of her seven children: Ray Fonseca and Dr. Allen Steve Fonseca of St. Thomas, Charles Earnest Fonseca and his wife Gwendolyn of Detroit, Jewel Ione Williams, Felecia Leticia Fonseca and Alecia Verna Fonseca, all three of Texas, and Frank Leslie Fonseca and his wife Minerva of Tortola.
She is also survived by grandchildren: Eugene Joseph Jr. (Kirstie), Freddie Futcher Jr., Riise Fonseca Walker (Michael), Jerry Fonseca (Debra), Frank/Najieb Fonseca Jr., Francesca Fonseca, Cherise Fonseca, Faith Williams, Nefta Fonseca (Elda), Niareba Fonseca Kidd (Scott), Nokoa Fonseca (Quinn), Teneshia LaFayé (Erica), Akeem Fonseca, Alia Fonseca, Allene Fonseca, Amber Fonseca, Angelique Fonseca, Alania Fonseca, Alexis Fonseca, Annaleise Fonseca, David Fonseca, Malon Thomas, Francisco Fonseca, Sergio Fonseca and his wife Shamara Mario Fonseca.
Other survivors include great-grandchildren: Olivia and Tenor Joseph, Jalen, and Kamari Walker, Dishawn Fonseca/Rasheed, Mekhi and Zakaiyah Eatman, Ayala, Howard, Anais Jones, Nefta and Nayeli Fonseca, Darian (Vanessa) and Demetri Wright, and Malon Jr. and Makai Thomas.
More survivors are great-great-grandchild, Jazziel Wright; nieces: Marilyn, Shirley, Lucia, Lorna, Barbara, Alicia, Zina, Brenda, Lisa, Tammie, Tanya, Sandra; nephews: Elroy, Aubrey, Clifton, Cecil, Clarence, Leroy, Leslie, Lincoln, Lionel, Paul, Robert, Wilford and Samuel; as well as a host of other family members, great nieces and great nephews, close friends, and work associates.
She emigrated to St. Thomas in the 1950s to further her education and enrolled in night school at Charlotte Amalie High School, where she received her diploma. She attended the University of the Virgin Islands and obtained a degree in police science and administration in 1987. She retired from the V.I. Police Department in May 1992.
Rest in Peace, Mom. We all love you.
The first viewing will be held at the Alexander A. Farrelly Justice Complex (the police station) from 4-7 p.m. on Wednesday, April 14.
The second viewing will take place from 9-10 a.m. at the Methodist Christ Church on April 15, followed by the service at 10 a.m. Relatives and friends are invited to attend. Interment will be at Eastern Cemetery, Smith Bay.