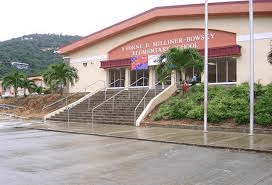 A third-grade class engaged in in-person learning at the Yvonne Milliner-Bowsky Elementary School will temporarily return to virtual learning until further notice due to a confirmed case of COVID-19 affecting one student in the class.
The school's administration was informed by the V.I. Department of Health on April 16 that the student had tested positive for COVID-19. Based on the research of exposure to the virus, the Department of Health has advised district and school leaders that the student's class should temporarily return to virtual learning, while other classes can safely continue in-person learning at the school.
At Bowsky, classes do not intermingle with each other during the course of the school day — this allows the school to quickly identify and isolate students and staff who may have been exposed to COVID-19 when a case is brought to the administration's attention.
These are the facts:  
The student last attended school in person on April 14 and presented symptoms of COVID-19 by mid-morning.
The student was quickly isolated and the parent was called to pick the child up from school.
The student was tested for COVID-19 this week, and the Bowsky Elementary School administration received confirmation from the Department of Health on April 16 of the student's positive diagnosis.
The teacher, students and staff in the affected classroom will undergo COVID-19 testing by the Department of Health.
The affected classroom will be thoroughly sanitized using the appropriate, CDC-approved, cleaning/sanitizing solutions.
"It is to be expected that we will have reports of possible exposure to COVID-19 among students and staff, but the important thing is that all of our schools, including the Yvonne Milliner-Bowsky Elementary School, have the appropriate safety protocols in place, which we have activated at Bowsky," Superintendent Stefan Jurgen wrote in a letter to Bowsky staff, students and parents.
"We are operating during a global pandemic, so the health and safety of our students, faculty and staff are our top priority. Being able to manage these situations with a smaller student population on our campuses will help us strengthen our operations, with possibly more students returning for in-person learning during the 2021-2022 school year. I wish our student a speedy recovery and a return to good health," Jurgen wrote.
The Department of Education will provide an update on the class's return to in-person learning.