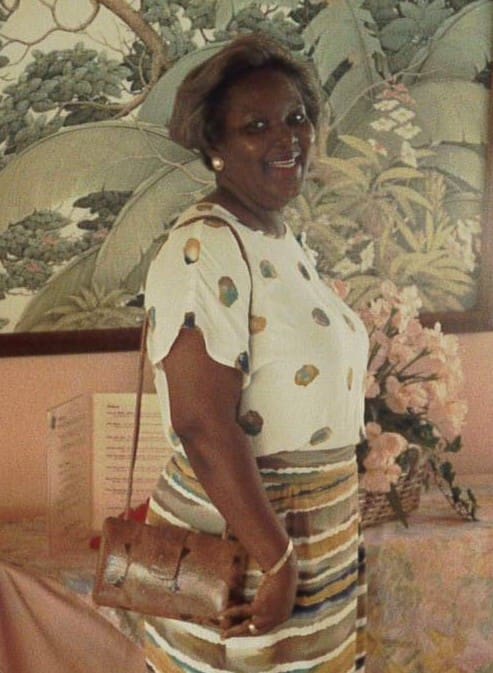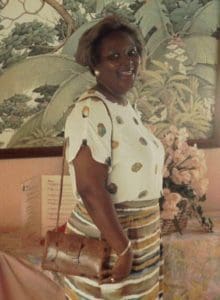 Mariel George McAlpin, 76, of Estate Sion Farm died on Saturday, March 27, at HCA Mainland Hospital in Texas City, Texas.
She is preceded in death by Charles H. A. McAlpin, also known as "Tony Mac" (husband), Valdemir George (father), Ann Smalls George (mother), Millicent George (sister), Beverly Walcott (sister), Marjorie George (sister), Clayton George (brother) and Christian George (brother).
She is survived by her daughters: Doris P. McAlpin and Renee McAlpin-Petersen; son: Henrique A. McAlpin; grandsons: Marcus A. and Malik A. Petersen; great-grandson: Marcus A. Petersen Jr.; sister: Estelleen Andrews; nieces: Doretta Sockwell, Arlene Constable, Patricia D. Constable, Laverne T. Simmonds, Daynelle M. Simmonds, Jada McAlpin, Debra Felix, and Donna Felix-Miller; nephews: Dennis Walcott, Ray Andrews, Ronnie Wiggins, Melvin George, Gary A. Molloy, Melvin A. George, Gustave G. Simmonds, Cory McAlpin, Pedro "Saba" Felix, Carew Felix, and Orlando "Lopes" Felix; aunt-in-law: Wilhelmina Cumberbatch; sisters-in-law: Luetta McAlpin Simmonds, Yvonne McAlpin Fleming, and Elise McAlpin; brothers-in-law: Gilbert Fleming and Orville Edney; and great nieces: Simone Walcott, Zynisha Wiggins, Myesha Felix and Alaysia George.
She is also survived by great nephews: Lance Walcott, DeAires Andrews, Eilon Wiggins, Nicholas Sockwell, Dante Molloy, Tariq Molloy, Kimoy George, Herman Marcus, and Lamar Simmonds; nieces-in-law: Portland Andrews, Christa-Ann Molloy, Wanda Felix, and Desiree Bennett-Felix; nephew-in-law: Steve Sockwell; cousins: Joy McKay, Selma McKay Cornell, Hope Townsend McKay, Elisa McKay, Edwin "ET" Thomas, Florine Osborne, Eleanor Phillips, Rita Jackson, Winston Phillips, Lorraine Nibbs, Patrick Phillips, Yvonne Huntt, Molloy Family, Carol Christian and Family, Janet Crump and Family, Yulette George and Family, Diana Southwell and Family, McKay Family, Cumberbatch Family, Phillips Family, Simmonds Family, Osborne Family, Jackson Family, and Huntt Family; and adopted sisters: Angeline R. Williams, Juliette James and Rosemarie Gonzalez.
Other survivors include godchildren: Michelle Nico, Gustave G. Simmonds, Selah Macedon, Malaki Christian, Daniel N. Salter, Kailah Christian, and Rainia Thomas; and special friends: Cleone Llanos and Family, Janisha Lake and Family, Jasmyne Williams and Family, The Virgin Islands Housing Authority Family, Suzanna Simmonds, Sheryl Jackson, Mryl Hendricks, Sheryl Christian, Jean Nesbitt, Glenice Parris, Cheryl Krauser-Parris, Beverly Smith, and Minerva Nizario, Marina Severino, Newton Family, Annette Hendricks-O'Neal and Family, Luz Melendez and Family, Gerda Hendricks-Norfleet, Janet Bartley-Francis, Lornette Mills, Annette June Taylor, Jacqueline Griffith Family, Dr. Charles Perez, Sharon Tyrell (caretaker),  Cindy Joseph (Turning Point), AARP Zumba Gold, Richmond Senior Center, Carib Gems Red Hat Society, and the Family Support Caregivers Program.
The funeral service will take place at 10:30 a.m., Monday, April 19, at Holy Cross Roman Catholic Church. Interment will follow at Christiansted Cemetery.
Due to the COVID-19 pandemic and public health guidelines, masks or face coverings must be worn at all times.