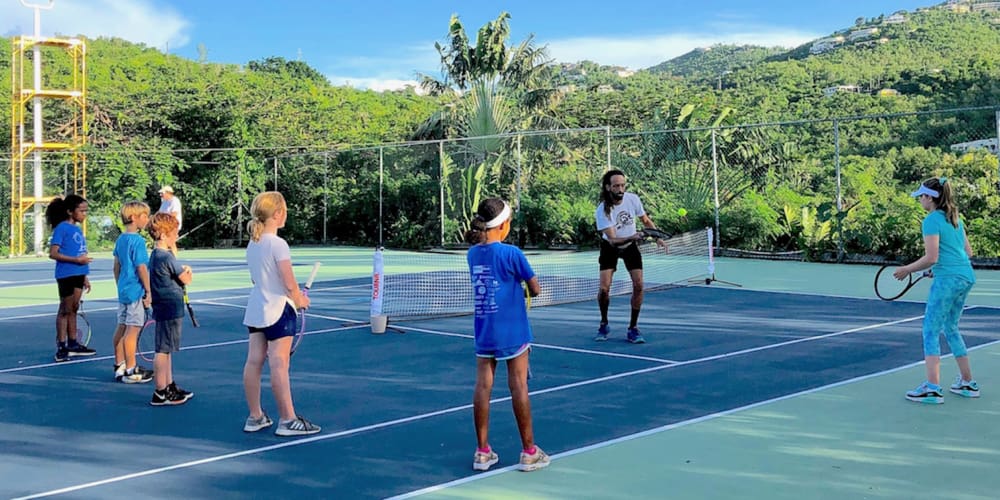 St. Thomas residents and visitors once again have access to lighted tennis courts with the reopening of the courts at Flamboyan On The Bay Resort & Villas.
"After major renovations were completed in October, gates to our tennis courts were unlocked for limited usage while we completed finishing touches, including the installation of new lights," said the resort's general manager, Lori Baskin. "Our club membership was officially established in January and this month, to promote our facilities, we are running a Lucky Locals Sweepstakes."
The first prize is a free annual single membership to the pool and tennis club. According to sweepstakes rules, no purchase is necessary to fill out an entry. "The drawing is open to all island residents, 21 and over, who aren't affiliated with our resort or associated businesses," Baskin said.
Hotel guests are invited to play, free of charge. Locals have the choice to pay $20 per hour during the day, $30 after sunset or opt for pool and tennis club membership starting at $350 for an annual single membership, $525 per couple or $725 for a family of four. Reservations for the courts are required to ensure availability.
The resort hired John Hairston, a member of the U.S. Professional Tennis Registry, as the tennis coach-in-residence. Known throughout the community as "Coach John," he is the founder of Match Point Tennis.
"The Match Point program is designed to offer junior players a platform to enjoy healthy sports activities," Hairston said.
Jesse Spillane, the mother of two elementary school-age participants said she considers Hairston "the tennis whisperer" for kids.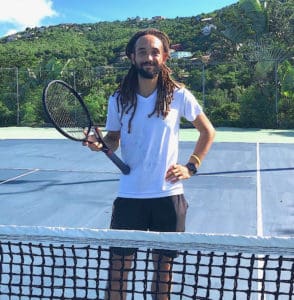 "He is remarkably skilled at keeping them engaged and is such a nice person," she said, adding, "My kids would love to attend every single day of the year."
In addition to the junior clinic, Hairston offers private lessons for tennis players of all ages and proficiencies.
Hairston holds a Bachelor of Science degree in exercise and sport science from Coastal Carolina University.
Prior to relocating to St. Thomas, he was the tennis pro and program assistant for Myrtle Beach, South Carolina, Tennis Center, head varsity tennis coach at Myrtle Beach High School, recreation assistant and fitness instructor at the City of Myrtle Beach Department of Education and, in 2013, tennis pro at The Grand Dunes in Myrtle Beach.
"I've been an island resident since 2016," Hairston said. "For four years, I was JV/varsity soccer coach and exercise science instructor at the Virgin Islands Montessori School & Peter Gruber International Academy."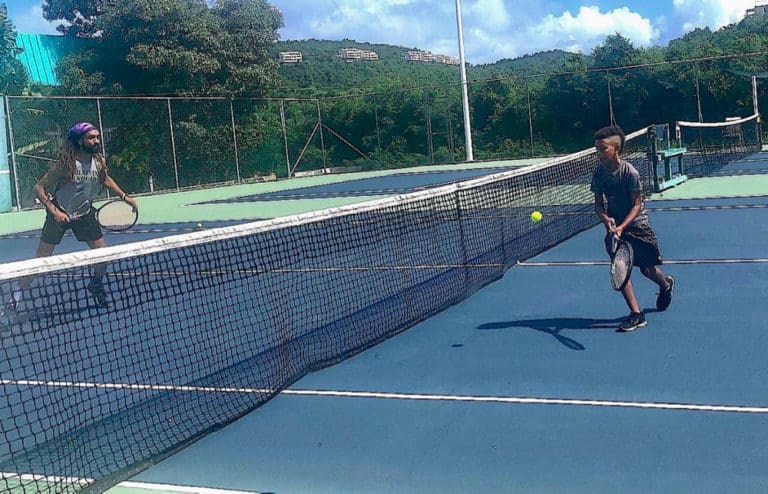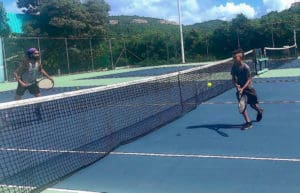 In October 2020, his wife Darian Torrice-Hairston was named director of Nana Baby Children's Home. Shortly thereafter, in an effort to create a loving, stable environment for the home's residents-in-need, the couple and their two young sons moved into the facility on a full-time basis.
"Flamboyan is a great location for Match Point to operate and to promote the game of tennis," he said.
Baskin encouraged tennis fans to check out the facilities and stop by the front desk to register to win a single annual club membership. The sweepstakes will run through March 31 with the grand prize winner scheduled to be announced on April 1.
Flamboyan Resort, the seven-acre property overlooking Magens Bay, also boasts two pools with lounging decks and a hot tub, Wi-Fi access, VLT gaming rooms and an on-site restaurant and coffee shop.
"We have single, double and family memberships available," Baskin said. "Card carriers get discounts at RooT 42 Bar & Grill and Northside Grind coffee shop as well as our hotel guest rooms."
Members also have access to private restrooms with showers.
Other facilities available to tennis players on St. Thomas include courts open to the public in Sub Base at no charge. The tennis park operates on a first-come, first-serve basis.
On the east end of the island, St. Thomas Yacht Club maintains tennis courts for members only.
Several hotels offer court time exclusively to registered guests including the Ritz-Carlton, Secret Harbour and Limetree Beach Resort
Information on hourly tennis court reservations or membership to the Flamboyan Pool & Tennis Club can be obtained by calling Hairston at 540-538-0237 or calling the resort directly at 340-777-6000.