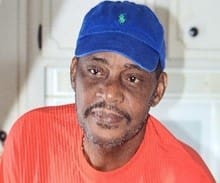 Peter Pascal of Estate New Works died on Feb. 26 in Ft. Lauderdale, Fla.
He was preceded in death by his parents: Frances Pascal-Marcellin and Henry Pascal; his mother-in-law, Coleta St. Rose; sister, Agatha Pascal-George; brothers: Anthony Pascal and Hendrick Pascal; stepbrother, Lawrence Marcellin; niece, Tamara Charles-Laure; nephew, Alex Charles; and brother-in-law, Moses St. Rose.
He is survived by his wife, Patricia Pascal; daughters: Dianna Pascal, Cindy Pascal, Lisa Pascal-Ambrose, Lina Pascal-Stanley and Linda Pascal; father-in-law, Augustin (Morris) St. Rose; sons-in-law: Steve Ambrose, Nattiel Stanley and Sylvester Woodley; grandsons: Malik Cuffy, Jaheel Hedge and Mahkai Woodley; sisters: Paula Pascal, Marcelline Pascal, Andrewna and Juanita; stepsister, Juliana Feviere; brother, Marcellin (Linus) Pascal; stepbrothers: Simon, David and Powel Marcellin; adopted brother, Theophilus (Chino) Herelle; aunt, Claire McKenzie; and nieces: Sandra Prospere, Linda Charles, Celina Amos, Vina Pascal, Deborah Pascal-Allen, Brenda Pascal, Margaret Pascal, Nicole Pascal, Lucy Mesmin, Josephine Pascal-Reid, Nancy George, Celina Amos and Kahesha Alexander.
He is also survived by nephews: Carol, Jimmy and Gregory (Carol) Charles, Jim, Jimmy, Yardley, Kinah, Kirby, Kirt, Kirven Hendrick (Ken), Kato, Thomas Anthony, Donovan and Salvador Pascal, Neal and Nelson Nicholas; sisters-in-law: Juanita Pascal, Veronica (Merlin) Pascal, Shelly Pascal, Evarista St. Rose, Moura St. Rose, Moural St. Rose-Baker, Mourela St. Rose-Cornelius, Eudosia St. Rose and Gertrude St. Rose; brothers-in-law: Ambrose George, Julian (Morrison) St. Rose and David (Larry) St. Rose; godchildren: Desheon St. Rose, Trishon Parrilla, Kirven Pascal and Joseph Herelle Jr.; and family and special friends: Vera Pascal, Nicholas Family, Albert Frederick and Family, Gimmy and Gia Herelle, Michael John and Family, Jn Phillip Family, John Modest and Family, Fostin Family, Prospere Family, Lawrence (Piper) Charlery and Family, Joseph (Chico) Laforce and Dodley (Sweet Daddy).
Other family and special friends include: Nicholas, Bernard Azille, Alfred Hedge, Fatal Family, Herelle Family, Marcellin Family, Michael (Curtis) and Joan and Family, Ayala Family, Ambrose Family, Ward Family, Sonson (Barboys), Bostie, Augustina Felix, Catherine (Cleopha) Francois, Lucy John, Rema Bramble, Rena St. Rose, Trisha St. Rose, Trent St. Rose, Garvus St. Rose, Ron St. Rose, Daaryl St. Rose, Desheon St. Rose, Curvin JnBaptiste, Troy JnBaptiste, Arsha Francois, Lisa Francois, Mary Anne Bertin and Family, Ruth Issac and Remina Baptiste; as well as other friends and family too numerous to mention; and special neighbors: Rodriguez Family, Danny Ortiz and Family, Diaz Family, Abraham Family and Modeste Family.
Funeral arrangements are being handled by James Funeral Home. Relatives and close friends only are respectfully invited to attend the viewing at James Memorial Funeral Home from 3-5 p.m., Thursday, March 25.
The funeral service will be held at 10 a.m., Friday, March 26, at St. Joseph Catholic Church, Frederiksted, V.I. Interment will follow at Kingshill Cemetery.
Due to the global pandemic, coronavirus (COVID-19) and public health guidance, masks or facial coverings must be worn at all gatherings.