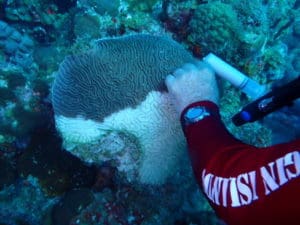 This February, Adventures In Diving STX held a raffle to raise money to help The Caribbean Oceanic Restoration and Education Foundation, CORE, in its efforts to combat stony coral tissue loss disease, a disease that threatens coral reefs. The disease was first seen in the reefs around Miami in 2014; it quickly spread and has now killed 95 percent of the infected coral all the way to Key West.
The CORE Foundation, a member of the Virgin Islands Coral Disease Advisory Committee (VI-CDAC), started monitoring St. Croix coral reefs in 2019 and first saw the presence of the disease in the summer of 2020.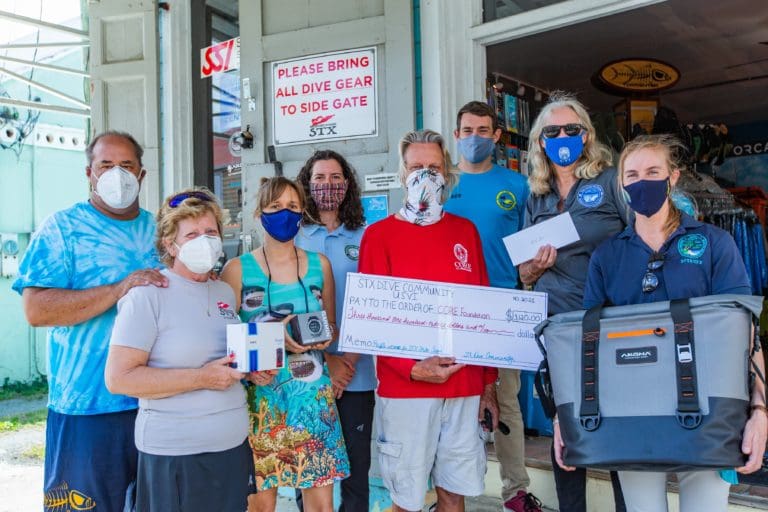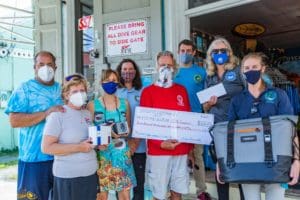 Andrea Hemphill, of Adventures In Diving STX, said, "I became inspired for the SCTLD raffle when I dove Butler Bay Ridge in January 2021. The Butler Bay Ridge is one of my favorite dives. I dived this in November 2020 and didn't really notice much SCTLD. When I dove this ridge in January 2021, I was shocked at how fast the disease had progressed in those two months."
Since the first sighting on St. Croix, a group of dedicated volunteers and representatives from various partners, known as the STX Strike Team, have been treating corals in designated areas: on the west end King's Corner and King's Alley, on the north side at Cane Bay and Eagle Ray.
Treatment consists of the application of a special paste mixed with the antibiotic amoxicillin. To date, over 500 corals have been treated. Funding for the efforts has come from grants and the generous support of community partners like Adventures In Diving STX.
"One of the goals we had, when we opened Adventures In Diving STX, was to provide support to our community," Hemphill said. "COVID-19 made us uncomfortable with sponsoring our Dive-N-Dine event in October 2020, and we were unsure what 2021 was going to bring. So, we came up with the idea of a raffle to help support the STX Strike Team. We bought a couple of products to raffle; Reefbox offered a product, and the rest is history."
This raffle represents the tremendous support from the dive community and residents of St. Croix. The $3,140 raised will help purchase the treatment ingredients that will allow the Strike Team STX to treat about 700 coral colonies. The CORE Foundation and all of VI-CDAC are immensely grateful for the support from Adventures In Diving and the St. Croix community. The effort shows great dedication to the protection of valuable coral reefs. The support of the dive community in raising over $3,000 was inspiring.
To learn more about the stony coral tissue loss disease, visit the VI-CDAC website at www.vicoraldisease.org.  To donate to the work being done by the CORE Foundation (a 501c-3 nonprofit) visit www.corevi.org or contact Mike Funk, outreach coordinator, at outreach@corevi.org.