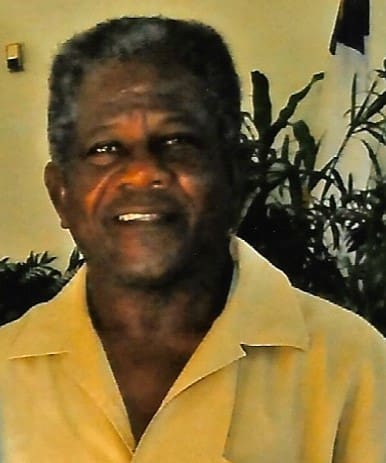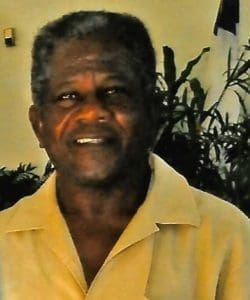 Henry Philip Martin, affectionately known as Sydney, died on Feb. 28 in Coral Springs, Fla. He was born in Jessups, Nevis. Now forever with the Lord.
Henry "Sydney" Martin is survived by his children: Cecile Martin Penn and Rosina Martin (Florida); granddaughter, Aneesha Penn; son-in-law, Haran Penn; adopted daughter, Dorette Warner and family; brothers: Rev. Edmund Martin, (New Jersey) Ira Martin, Attorney Victor Jay Martin, (New York) Attorney Oral Martin, Anthony, Everette Martin (Nevis) and Dr. Michael Martin (Trinidad); adopted brother, Eustace Johnson (Nevis); sisters: Nurse Viola Martin-Clarke, Ruth Martin, Naomi Douglas (Nevis) and Pastor Agnola Martin; adopted sister: Carrie Cornelius (USA); sisters-in-law: Wies Martin (New Jersey), Deirdre Martin, Pamela Martin (St. Kitts), Vanessa Rawlins and Jacinth Johnson (Nevis); brothers-in-law, Pastor James Douglas (Nevis); special niece, Dorsella Powell (Nevis); nieces: Sonia, Beverly, Ario-ola, Akilah, Kessie, Nneka and Damali Martin, Opal Parris¸ Azure-dee Martin-Hall, Tshari David, Lauren Joseph, Sherrie Tyson, (USA), Semona Morton, (St. Martin), Vernesia Douglas-Walters, Jahmeanna Polius and Waveney Brown (Nevis); nephews: Cleff, Patterson, Mervin, Akil, Khary Martin, Dr. Neils Martin, Attorney Chris Martin, Kevis Cornelius (USA), Jammie Harrison (England), Lindsey Douglas, Tyler, Ira, Jabulani, Zachary Martin, Howard Johnson, Craig Cornelius (Nevis), Kenny Martin (St. Kitts) and their families.
Special cousins: Eva, Balvin and Jasmine Brown, Rubylette Thomas, Diane Powell, Louis Wilkerson (Nevis) and Charlie Wilkinson, (England), Ezekiel (Smalls) Farrell and Ilene Lewis.
Cousins: Violet Brown, Enica and Judith Huggins, Vera Ilidge, Alexis Soldiew, Larry Harris, Carmen Walters, Ulando Lescott, Audrey Elliott, Donald, Cardinal Morris and their families.
Special friends: Roosevelt David, Shirley Fahie, Al Burroughs, Whitman Browne, Irick Soldiew, Deryck Walters, Cass Smith, Valentina Martin, Charles Fleming, Dora Huggins, Alphonso Warner, Donald Williams, Ilma Rouse, Mercia Jones, Elodia Wheatley, Kenneth and Meritt Selkridge, Oscar Bailey, Rodney (Bumpy), Mooving, Eroll Bailey, Donald Morris, Michael (Balam), Liburd Patrick Clarke and their families, and Terry Dore.
Other friends and family: Dr. Edward Saunders, Ulando Lescott, Patrick Samuel, Michael Liburd, Errol Nisbett, Averricia Williams, Solomon Philip, Jose Belavista, Vanassa Rawlins,Sylvia Stephens, Alanzo Jackson, James Lewis, Blondina Jeffers, Deletha Parson, Sheila Barry, Vadis Springette, and the Brown, Jeffers and Sargeant families; as well as other relatives and friends too numerous to mention, including the Pastor and members of the Methodist churches on St. Thomas and Nevis.
Relatives and friends are respectfully invited to attend the first viewing from 4-6 p.m., Friday, March 19, at the Celestial Chapel of Dan Hurley Home for Funerals. The second viewing will be held at Wesley Methodist Church, Anna's Retreat, at noon, Saturday, March 20.  The service will follow at 1 p.m.
Interment will be at St. Thomas' Parish Cemetery on Nevis.
The service will be streamed on the Wesley Methodist Church Facebook page.
Arrangements are under the care of Dan Hurley Home for Funerals and Cremation Center of St. Thomas, St. John and St. Croix.
In lieu of flowers, the family requests that an offering be received for the continued repairs of the Methodist Church in Charlestown, Nevis, where Henry was an active member prior to his residing on St. Thomas. 
Due to the global pandemic, coronavirus (COVID-19), and public health guidance, masks or facial coverings must be worn at all gatherings.
Family and friends may offer their support by sharing a special memory or message by going to www.hurleydavisfuneralhome.com