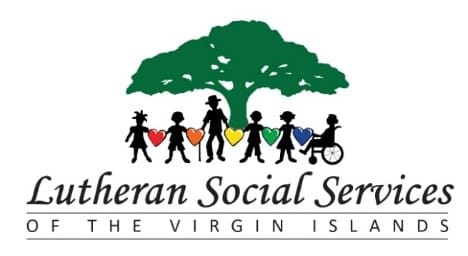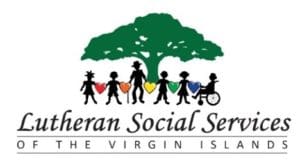 The Market St. Croix presented a matching gift of $10,000 to Queen Louise Home for Children on Friday. The donation fulfilled the Hamed family's December pledge to match up to $10,000 in donations made to Queen Louise Home as a Christmas fundraiser for the program. The campaign helped to raise $31,000 for Queen Louise Home, and the matching gift brings the total contributions to $41,000.
Keziah Sullivan, director of fund development at Lutheran Social Services of the Virgin Islands shared that hundreds of people made gifts to the cause, despite the obvious reality of financial struggles. "There were people reaching out to give $5 because they knew it would double to $10. There were others who had thought about making [a] gift to Queen Louise Home who jumped on the opportunity to have their gift make a greater impact," Sullivan said.
The Hamed family has been passionate about helping children in the community and hosted Christmas tree sales to bring support to Queen Louise Home in earlier holiday seasons. However, in light of the pandemic, they suspended the fundraiser and turned their efforts to an online campaign. "We wanted to give some sense of normalcy and hope to our community and help everyone to reconnect," said Wally Hamed, part owner of the Market St. Croix.
The Hamed brothers — Wally, Shawn, Mafi and Willy — have continued to support Queen Louise Home for Children in honor of their father's legacy. Shawn Hamed, part owner of the Market St. Croix, said, "There are so many people hurting that you don't know about. These children are born into unfortunate circumstances, and those who are fortunate enough to help should. We all should."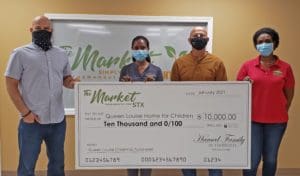 Chief Executive Officer of Lutheran Social Services of the Virgin Islands Junia John-Straker was on hand to accept the check and shared that the program has incurred extra expenses due to the pandemic. "Queen Louise Home for Children has been around for 116 years, and our greatest expense is providing love and care for the residents through the people who are there for them 24 hours a day, 7 days a week. It takes a village to raise a child, and the community's support is the reason we have made it to this milestone."
Funds will go to the home to offset the costs of running the program, including extra expenses for cleaning, food and staffing. It is a 24-hour residential foster care for children in the Virgin Islands who have been abused, neglected or displaced, or for respite care. Children first come to the program through the V.I. Department of Human Services, and it is a part of Lutheran Social Services of the Virgin Islands — the largest private child and family services agency in the U.S. Virgin Islands.
The Market St. Croix (formerly Plaza West) is a Hamed Company, which has recently debuted their new store name, logo and brand transformation campaign. The Market STX and STT stores are committed to improve the Virgin Island community's shopping experience — including offering local produce, meats and products from VI local farmers/entrepreneurs.