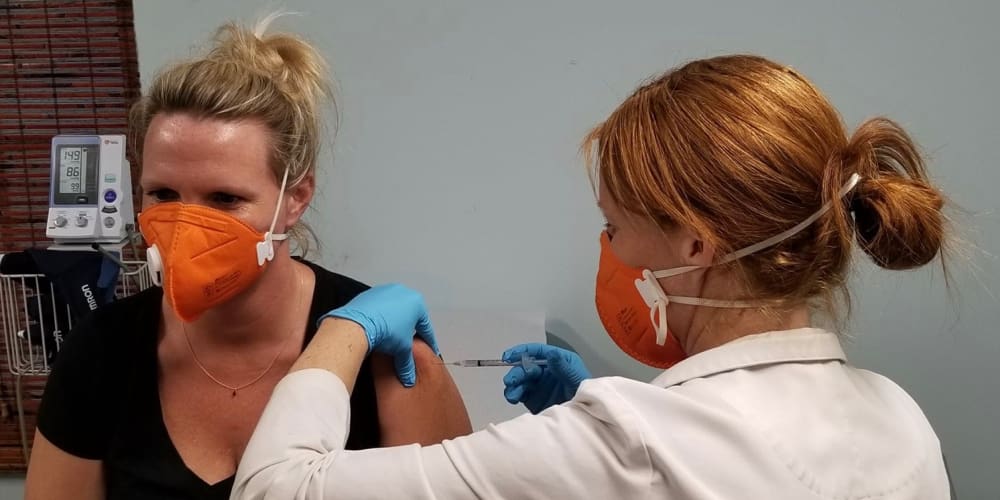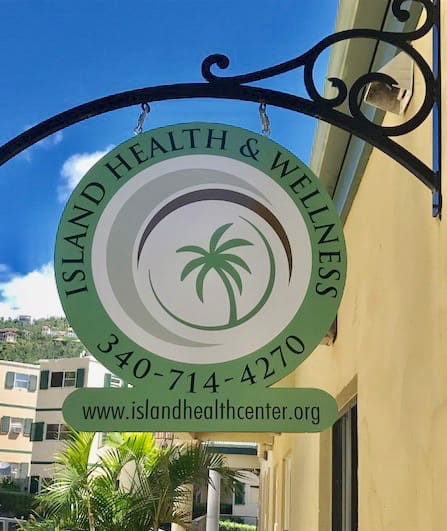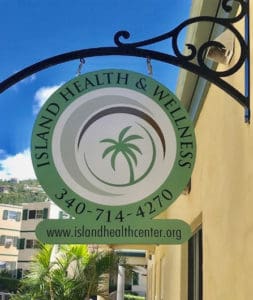 Island Health & Wellness Center, which opened in 2017 with the mission of providing low-cost quality health care, particularly to the uninsured, has taken on the task of providing COVID-19 vaccinations to the estimated 5,000 residents of St. John.
The clinic is the only provider of the vaccine on the island.
"I'm so happy to be doing this. I've always been a believer in vaccinations; I just didn't realize it was so overwhelming," said Sandy Colasacco, the nurse practitioner who heads up the four-person, nonprofit clinic.
Colasacco jumped at the opportunity to be trained by the Virgin Islands Department of Health to dispense the vaccine in December 2020. She got her first vials of the Pfizer vaccine on Dec. 21, and in the past four weeks has vaccinated 227 people in the evenings, after she finishes seeing her regular patients.
Her waiting list for the vaccine now tops 600 eligible recipients and emails and phone calls keep pouring in.
"I know people are anxious to get the vaccine," Colasacco said. "We're doing our best. Please be patient."
Colasacco asks St. John residents who meet the CDC guidelines (currently health care and front-line workers, those over the age of 65; and those with compromised medical conditions) to email her at info@islandhealthcenter.org with their names, ages and phone numbers. She usually responds within 24 hours.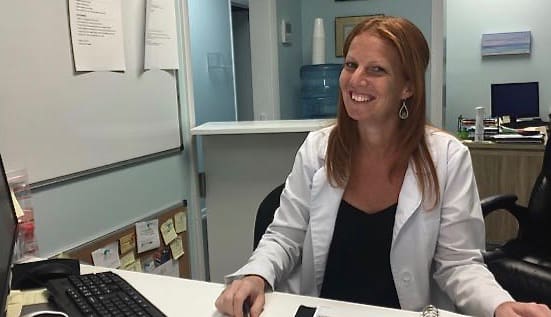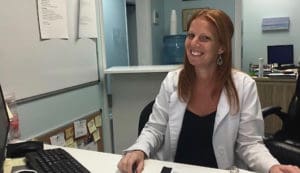 After a busy day at the office, she typically goes home to finish the paperwork that goes with being a COVID vaccine provider. Every dose administered that day has to be registered in a national database by midnight, and the process takes time.
Sympathetic community members have offered to help with the work, but Colasacco has only been issued one portal to input the data, and patient confidentiality rules limit who can access the information.
These days she shuts down her computer at midnight. By the time she opens the computer the next morning, there are several more emails waiting for her.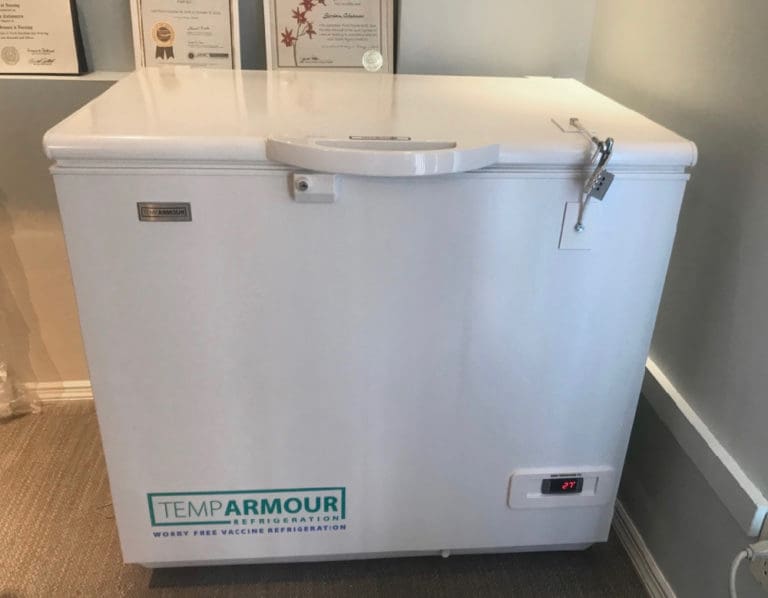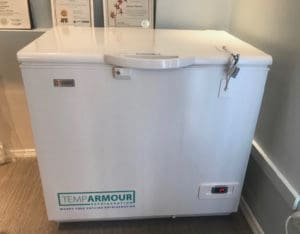 Many of the emails contain questions about the vaccines' viability. She said the public is aware the vials have to be kept at ultra-cold temperatures, and St. John residents know how challenging it is to even transport frozen groceries to St. John after shopping on St. Thomas. Keeping a vaccine sufficiently cold seems much riskier.
Colasacco wants to put their fears to rest. What most people don't realize is that the vaccine can be stored at temperatures between 36 and 46 degrees for 120 hours after being removed from ultra-cold storage, she said.
Island Health & Wellness has two vaccine refrigerators with alarms that alert her by cellphone if the temperature is compromised. These were donated to her clinic by Americares, a global disaster relief agency, after Hurricane Irma decimated the island in 2017. Even without her building's back-up generator, the temperatures in the refrigerators can remain stable for six days in the event of a power outage.
The trick for Colasacco is getting the vaccine back from the central dispensary on St. Thomas and into her patients' arms on St. John within 120 hours.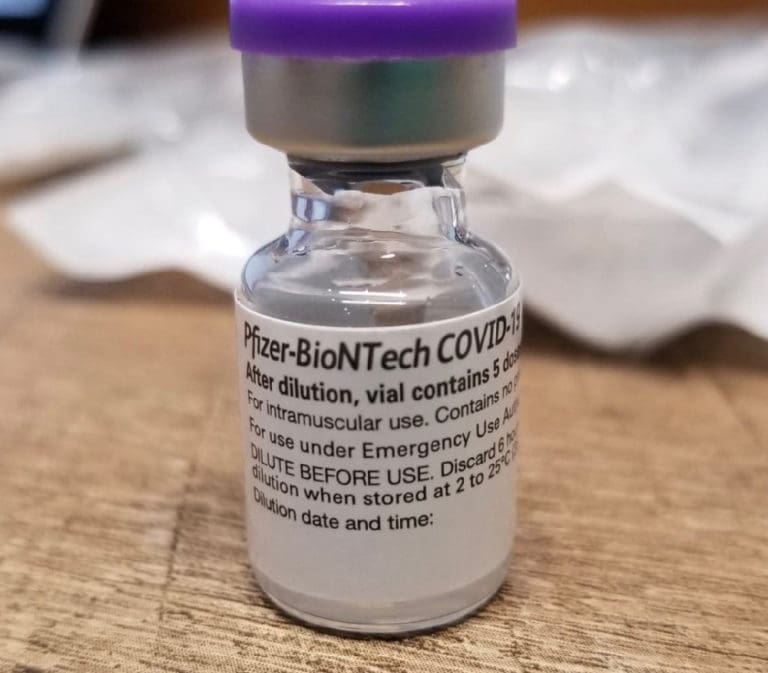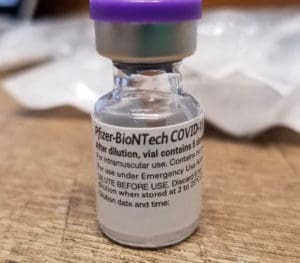 On most weeks, this involves taking a vehicle to St. Thomas on a Monday to pick up her allotment of vaccines. The vials are packaged in coolers equipped with thermometers and alarms that sound if the temperature rises.
Colasacco said she is determined to maintain her regular clinic hours for the patients who depend on her.
"I typically have between 2,500 and 3,000 patient visits per year, and I do a lot of the back-office work. I don't want to sacrifice patient care."
She schedules the COVID vaccinations after regular clinic hours also because patients have to remain under observation for at least 15 minutes after getting their shots in case of an allergic reaction. Her office simply can't hold the additional traffic.
Another trick for her is knowing how many patients to schedule. Each vial of the Pfizer vaccine contains enough for five patients, but some contain as many as two additional doses, and there's no way to know until she breaks them open. When she has a bonanza, she gets on the phone and calls the next person on the waiting list. "So far we haven't wasted a single dose," Colasacco said.
The demand for the vaccine has mainly come from the older population on St. John, Colasacco said.
"I had no idea that there were so many people who were 65 and older on St. John," she said.
She said the demand was increased by the number of part-time residents who have relocated to St. John for a longer period of time this year because of the pandemic.
She offers the vaccine only to those who spend six months or more on the island. Non-residents are not considered when the territory is given its allotment of the vaccine by the CDC, and she wants to make sure residents get their fair share.
Colasacco has reached out to the community to make sure first responders and high priority recipients are vaccinated, but she's seen some resistance.
"There's been a lot of misinformation," Colasacco said. "There is no virus in the vaccine. There is only a protein that imitates the reaction your body would have if you were exposed. There are also tiny amounts of fat to get it in your body, and some salts and sugars as preservatives."
"Yes, there are some side effects, like chills, body aches and low-grade fevers," she continued, "but these are signs that your immune system is kicking in, thinking it's the virus."
Although long-term side effects are still unknown, Colasacco hasn't heard of anything that makes her think the vaccine is unsafe.
Another type of misinformation relates to underlying conditions that can qualify someone who isn't in the current priority groups to be eligible for the vaccine. Colasacco said people who have cancer, HIV or take medications that compromise their immune systems can move up on the list. However, a 30-year-old with asthma, a 50-year-old who has had a heart attack or an individual with diabetes is not on the list right now.
Colasacco hopes that more vials of the vaccine will soon be available, and in the meantime, people have to hang in there, wear their masks, wash their hands and maintain social distancing protocols.
Even those who get the vaccine have to follow these guidelines.
"The vaccine is 95 percent effective, but that means you still have a 5 percent chance of getting sick, although you're unlikely to get a severe case. And we're not sure if you have the vaccine if you can still pass COVID on to others."
It's probably a good thing that the vaccine is only useable for 120 hours after being removed from the deep freeze. That means Colasacco gets to catch up on her paperwork and rest up on weekends.
She started Island Health & Wellness in February 2017, seven months to the day before Hurricane Irma struck, destroying her office. Within two months she reopened in her current location, above the recently renamed Dolphin Market near the Westin Resort.
As a nonprofit organization, she is not allowed to charge anything for the COVID vaccines, unlike medical facilities that are allowed to charge insurance companies an administrative fee.
She decided to open her clinic when she began working as a nurse on St. John in 2009 and realized many patients without health insurance were putting off critical medical care, sometimes with dire results.
She went back to school at Duke University to earn a degree as a nurse practitioner, with the idea of opening a clinic to make health care more affordable. She can dispense medication under the supervision of a medical doctor. Dr. Marilyn Nutter now serves as her medical supervisor.
In 2016, Colasacco conducted a survey that indicated that 72 percent of St. John residents did not have insurance that covered them for primary care and 56 percent had no insurance at all.
To make sure residents can afford to be treated, Island Health & Wellness charges a flat fee of $50 a visit, with an additional $50 for lab fees, but no one is turned away.
"We have a budget of under $500,000. We're a no-frills operation. We get by with grants and donations," she said.
Colasacco maintains a positive outlook in spite of the extra load she has taken on by dispensing the COVID vaccine.
"This is my passion," she said. "This is what I do."