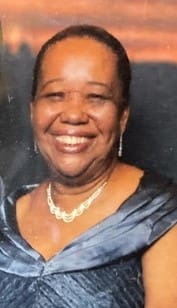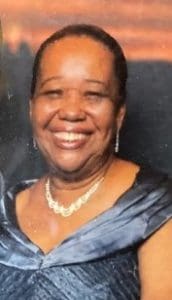 Elsie Galloway died on Nov. 29 at her residence on St. Croix, U.S Virgin Islands. She was 74 years old.
Elsie is survived by her husband, Walford Galloway; daughters: Denise Frederick and Aurelie Bonnekin; sons: Deric, Walford Jr. and Kurt Galloway; grandchildren: Tarik Griffin, Toya Buchanan, Desiree Frederick, Steven Frederick, Kriss Williams, James Lee Williams, Delicia Galloway, Tamara Mueller, Diah Carter and Jada Lawrence Galloway; and many other relatives and friends too numerous to mention. Her daughter Dahlia V. Griffin died in 2007.
Funeral services will be held at 10:30 a.m., Monday, Dec. 14, at St. Patrick's Church in Frederiksted. There will be a virtual live streaming service through Toya's Facebook page.
Elsie Galloway was globally known as the general manager of Hotel Caravelle in Christiansted, St. Croix. She worked at the waterfront hotel for more than 30 years and retired in December 2013. While working at the hotel, Elsie was one of the best known and loved ambassadors of the U.S. Virgin Islands. She traveled the world from Dallas to Denmark promoting the island's beauty, people, food and culture. She would make lifelong friends wherever she stopped. "On a layover in Iceland, she chatted with everyone she saw," said Sid Kalmans, who owned Hotel Caravelle when Galloway was manager. "Within a year of her short layover, we started welcoming guests from Iceland to St. Croix. Her charm was irresistible."
"She contributed a great deal to advocacy and marketing as a board member of the St. Croix Hotel & Tourism Association," said Lisa Hamilton, president of the USVI Hotel & Tourism Association, "She had a million-dollar smile that I will never forget."
Jane Watkins, a friend and travel publicist, said that Elsie's approach to travelers is one she also adopted. "Our guests have names, they are not numbers," said Elsie, who earned numerous awards and recognition from organizations including The Rotary Club, the Hotel Association and more. She listened to her guests. She remembered their anniversaries, birthdays and was always there to welcome them or bid them goodbye.
Sweeney Toussaint, owner of Sweeney's St. Croix Safari Tours, said "What a great lady and ambassador extraordinaire of the Virgin Islands of the United States. On occasions, we'd be attending a cocktail reception after a full day on the conference floor, and, in the midst of a couple hundred people, I would bump into someone and be greeted by "Where is Elsie?" I would say hold one minute, and sure enough from the other side of the room comes this high-pitched laughter and I'd say, there she is. What a personality. Such was Elsie, with her Danish colors, red and white fingernails done especially for her Danish Guests at the Caravelle Hotel. Elsie was the true hostess. Her legacy will be with us for a long, long time."
Elsie was always on the move; whether off to promote the island or going to greet guests, she was all smiles and one of the best cheerleaders for St. Croix. The impact of her work, outreach and hospitality were a positive force for the U.S. Virgin Islands. She will be greatly missed.